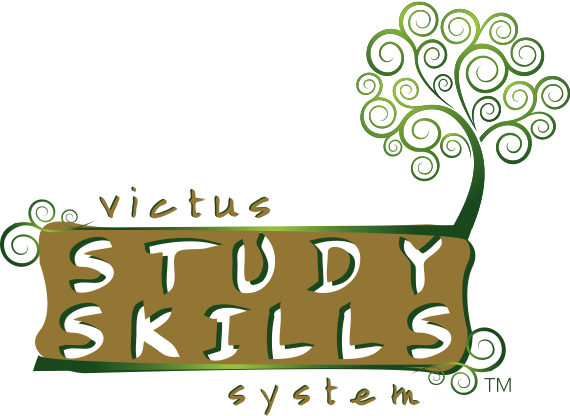 Recently as member of the Schoolhouse Review Crew, I was going an opportunity to use and review the
Student Workbook and Teacher Edition
from
Victus Study Skills System.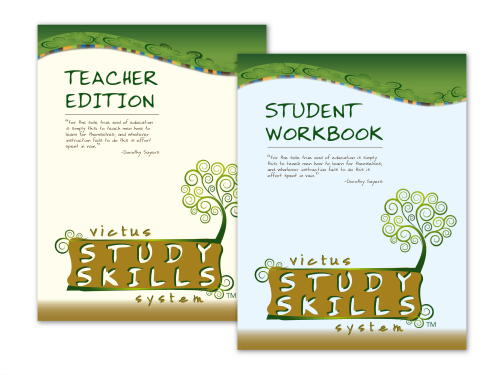 Do your children know how to study? Many students know that they need to study, are told that they need to study, yet they do not know how to do so effectively. The Victus Study Skills System, which is named after the Latin word meaning way of life, has been developed by educators to teach children what they need to know to study effectively. It can be used for students of all ages, but parents using it with younger children will have to be more involved. The optimum age range is grades 5-12.
The Victus Study Skills System teaches students four different concepts: zeal without knowledge is not good, but zeal with knowledge bears fruit, results come from the process, systems must have an aim or a purpose, and a unique, effective system of study has the greatest liklihood of aiding in success. The system has 3 foundational cornerstones of success to apply to academics and life: where am I now, where do I want to be, and how do I get there? The Victus Study Skills System will help children accomplish these objectives: understand there are specific steps and strategies that can learn and apply to increase effectiveness of studying, build specific skills and provide tools they can use to accomplish their mission, develop attitudes to increase their ability to use the system, and understand what their role is in their own success.
The Teacher's Edition ($40) is a spiral bound 82 page paperback book. It is organized into three sections. Section one gives you information on suggestions and procedures to help you understand the foundation and overall scheme of the course. Section Two contains the lessons. There are 10 lessons in the book with each lesson taking around 30 minutes to complete. The course can be completed in 5 days doing two lessons per day, or you could spread it out to 10 days completing one lesson per day. The third section has an appendix with supplemental materials and follow up ideas.
The Student Workbook ($20) is a 65 page spiral bound paperback book. In it the student will complete written exercises to go along with each lesson such as: study habits checklist, learning strengths quiz, creating mission statement, setting goals, creating schedules, note taking skills, and more. The student workbook also contains the same appendix as the Teacher's Edition.
There are other optional components to the Victus Study Skills System including a classroom video, DIY student notebook, and a creating and implementing a personal strategic plan booklet.
I used the Victus Study Skills System with my seventeen year old daughter. She worked around 30 minutes per day, completing one lesson per day. Since she is going to college next year, I thought this would be a good product for her to help her learn to prioritize, set goals, and develop good study skills.
The program was very easy to understand and implement. Each lesson in the Teacher's Edition is split into three parts: purpose, preparation, and procedure clearly laying out what the teacher needs to do. A quick read through ahead of time is helpful for the teacher. The program teaches students to recognize their learning strengths, mission and goal setting, how to manage their time, stay organized, the PQRST study method, and good listening test taking and note taking skills. The appendix is full of resources students can use to enhance what they learned, not just to apply to their life today but in the future as well. I really like how it teaches the student not to put responsibility for things on others but instead accept it for themselves.
The Victus Skills Study System was written with a group in mind but it can absolutely be adapted and used in a homeschool situation. Some students may think it would be more fun to do this type of study in a group. It would work great in a homeschooling co-op situation.
To see what my Crew Mates had to say, click on the banner below.