If you read my blog regularly you know what a BIG fan I am of Math-U-See. I was very excited when Demme Learning (the parent company of Math U See) decided to give Math U See a sister called
Spelling You See
. Over the last several weeks I have had an opportunity to use and review
Spelling You See: Listen and Write (Level A).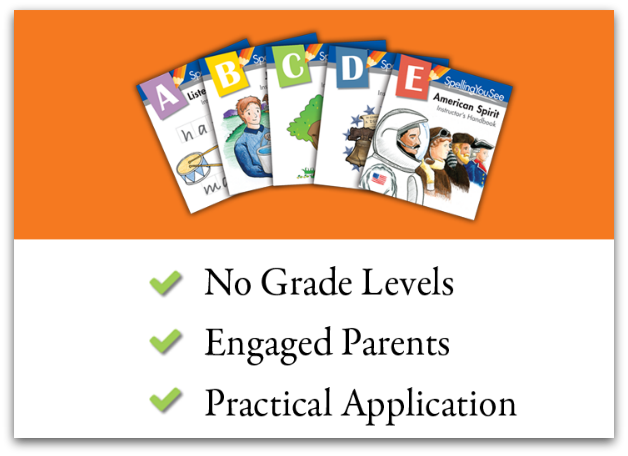 Spelling You See does not use word lists, spelling tests or rule memorization to teach spelling. Instead, children learn spelling naturally through short daily activities using copywork, reading, speaking, and listening. There are 5 current levels of Spelling You See with plans to add two more levels. These levels are not based on grade level, but instead based on ability starting with beginning readers. Spelling You See is appropriate for elementary aged students or remedial work for older students. You can read through the Placement Guidelines to help you decide which level of Spelling You See your child should begin with.
Each level of Spelling You See has an Instructor's Handbook and Student Pack that needs to be purchased.
The Instructor's Handbook can be used with more than one student, but a Student Pack needs to be purchased for every student using the program. Prices are as follows:
Listen and Write (Level A) Instructor Handbook $14 Student Pack $20
Jack and Jill (Level B) Instructor Handbook $16 Student Pack $30
Wild Tales (Level C) Instructor Handbook $14 Student Pack $30
American (Level D) Instructor Handbook $14 Student Pack $30
American Spirit (Level E) Instructor Handbook $14 Student Pack $30
Let's talk about Listen and Write ( Level A)
Listen and Write (Level A) is for children who can focus on a worksheet for at least 10 minutes, identify most of the letters of the alphabet, write letters fairly comfortably, and understands that letters make sounds. Children will learn correct letter formation, pencil grip, and short vowels by completing one lesson page a day spending about 10 minutes each day. There are 36 lessons in Level A with each lesson split into 5 parts A through E, one lesson for each day 5 days a week. Lessons in this level include letter tracing while saying the sound of the letter, writing words, and reading the words back to the parent.
The Student Pack for Listen and Write (Level A) includes a paperback 183 page student workbook with perforated pages for easy removal if you choose, a Guide to Handwriting showing how to form all of the capital and lower case letters, and the Listen and Write Sticker pack containing 3 pages of stickers. The Instructor's Handbook is a 48 page paperback book. In it you will find an introduction to Spelling You See, their philosophy and the 5 different developmental stages of spelling. There is also a Getting Started guide with an overview of Level A and the skills and concepts being learned in this level. Next there are lesson lesson instructions, more information about dictation, frequently asked questions, daily dictation list, and general dictation list.
There are sample lessons available to download.
I used Spelling You See: Listen and Write (Level A) with my daughter Lily who just turned 5 years old during the review period. We worked on Spelling You See daily for around 10 minutes a day, completing one worksheet on most days. Other days she really, really wanted to do another worksheet so I let her go ahead and do two. The stickers we used after completing the worksheet. She would find a sticker that matched one of the words she had written or started with the same sound and put it above the matching word in the book.
The first three lessons of Listen and Write focus on letter formation and consonant sounds. Students trace the letters as they say the sounds that they make. Then they trace three words listening as the teacher says the words. After tracing the word, they write first and last letter of the same word tracing the vowel. Starting with lesson 4 the student begins writing words from dictation. They still trace letters and say the sound as they are writing, but instead of first tracing the word and then writing it, the words are dictated to them and they write it. The middle vowel sound is there for them to trace and they write the beginning and ending consonants. Starting in lesson 7 children begin reading the lessons back after dictation and after lesson 7 they no longer trace the letters, just write the words on their own that are being dictated to them. Starting in lesson 10 it is recommended that you time the dictation exercises.
We love Spelling You See! It is so easy to use. There are not pages and pages of notes or instruction to read through or prepare. The only advance prep that I did was to read through 30 pages of the Instructor's Handbook to get an overall feel for the program and what was going to be learned when. For each daily lesson we grabbed the books, a pencil, and the stickers, and sat down at the table and got started. It was so easy! I cannot imagine anything making it easier to teach. And, it only takes 10 minutes. 10 minutes! For a busy homeschool mom with 7 children trying to fit everything in, 10 minutes is wonderful. And I noticed too that it is a really good amount of time for Lily. She will often want to keep going and do multiple worksheets, but when she gets much past that time period, her concentration is not as good and she gets easily frustrated.
Lily loves her Spelling You See workbook. She wants to sit down and do the lesson every day. She really likes putting a sticker on her page when she is finished. And, in the time period that we have used the program (about 6 weeks), she is already blending her sounds to say the words. We were writing the word "dad" the other day and I said, "Lily let's try and see if we can sound this word out together." She looked at me and said, "Mom, that says dad." I was very surprised that she has been figuring it out so quickly.
I have been very impressed with Listen and Write (Level A) and look forward to reading the reviews of the other levels as well.
To see what my Crew Mates had to say, click on the banner below.