We love to play board games. Recently we had an opportunity to use and review two wonderful games from USAopoly: Wonky: The Crazy Cubes Card Game and Tapple: Fast Word Fun For Everyone.
Tapple is a word game that is recommended for ages 8 and up. It can be played with 2-8 players and takes 10-20 minutes to play. To play the game, you pick a category card, say a word that fits in that category and tap the first letter of the word on the Tapple wheel before time runs out. Then you pass the wheel to the next player. Each card has a blue/white colored side with easier categories for younger players and a red/yellow side with more advanced categories for older players. Players are eliminated if they cannot come up with an answer within before the 10 second timer goes off, name an answer that doesn't match the category, or press a letter for an unacceptable answer. Play in the category continues until one player remains. If more than one player remains and all the letters are sued the remaining players play in an overtime round until one player remains. Continue playing until one player collects three cards and wins. Tapple comes with a Tapple wheel and 36 game cards containing 144 different categories. You do need to provide 2 AA batteries for the timer.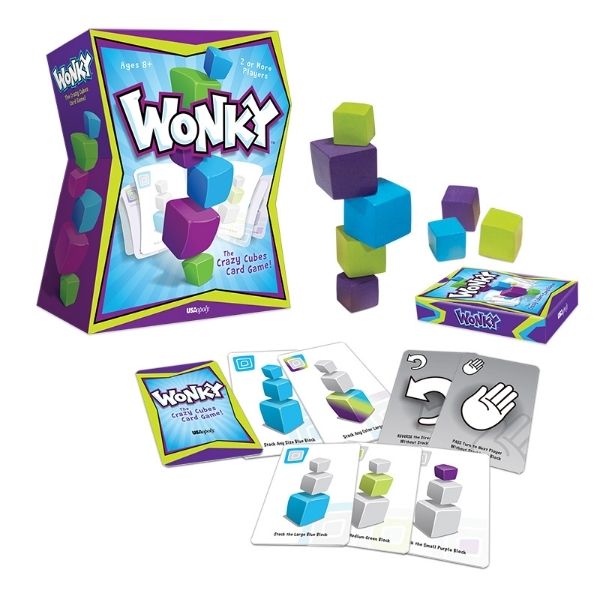 Wonky: A Crazy Cubes Card Game is also recommended for ages 8 and up and can be played with two or more players. In this game, you stack blocks in a tower according to the card you choose to play. Each player starts with 7 cards and can choose which card they want to play. If you choose to play a large blue block card, you place that block on the tower using one hand. You cannot nudge any of the other blocks and the tower must stay standing for a count of three. If you should happen to knock the tower over, you must draw 3 cards and start a new tower. Besides the cards to place a block there are also cards to reverse play, pass, and draw. The first player to get rid of all of their cards without toppling over the tower is the winner. Wonky comes with 54 cards, 9 blocks in 3 different sizes and 3 different colors, and a bag to store the blocks in.
We found our box from USAopoly when we had been gone all day and it was way past supper time. But a package is an exciting thing so we had to open it right away. When the children saw what was in the box, they were willing to wait for supper because they wanted to play the games right away! The great thing about both of these games is that you can get started with them quickly. The instructions are very simple and aside from adding the batteries to Tapple the set up was very quick and easy. Even though the recommended ages are 8 and up, both games can be played with younger children. I have played both games several times with my 4,6,8, and 10 year olds. My 4 year old has needed a little help with Tapple, but my 6 year old has not had any trouble playing both games. I have seen the children playing both games on their own and they required no help getting started or playing the games. The most important thing is that both of these games are lots of fun!
I visited the USAopoly website when I saw them on our vendor list and I was amazed at all the really cool games they had that I had never seen before! I am keeping several in mind for Christmas gifts this year!
To see what my Crew Mates had to say, stop by the Crew Blog!