Zondervan has been publishing Bibles, Christian books, curriculum, and resources for over 80 years. Zonderkidz is the children's division of Zondervan. They have many amazing resources just for children. Over the last several weeks we have had an opportunity to use and review the Faith Builders Bible from Zonderkidz.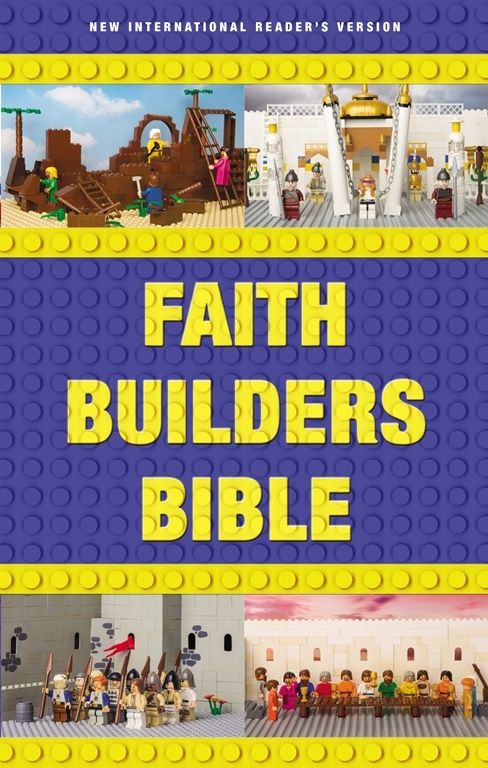 The Faith Builders Bible is a great Bible for the young people in your life. It contains the New International Reader's Version, which is a simplified version of the NIV. The Faith Builders Bible uses the theme of brick building pieces to draw children in to reading the word of God and build their faith as they read. Included in this Bible are 24 full color illustrations of models built out of bricks to enhance the Bible stories. Illustrations include:
Books of the Bible
Noah Builds An Ark
Animals 2x2
Building the Tower of Babel
The Ten Commandments
Building the Tabernacle
Solomon Builds God's Temple
Bringing Down Jericho
Samson's Demolition
David Defeats Goliath
Psalm 23: A Psalm of David
Jesus is Born
Feeding a Crowd
A Change of Heart
Jesus Walks on Water
The Last Supper
Jesus and the Cross
The Lord's Prayer
The ABC's of Salvation
The Fruit of the Spirit
Building With a Strong Foundation
Each of the illustrated pages has a building block verse that the child can memorize.
Take a peek inside.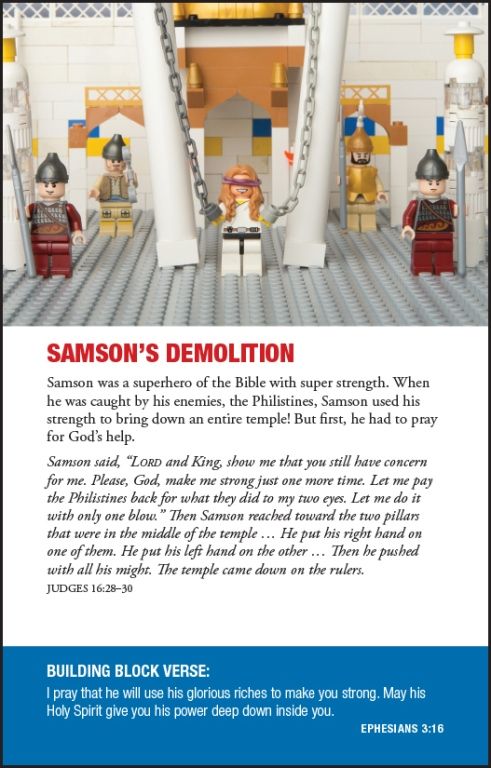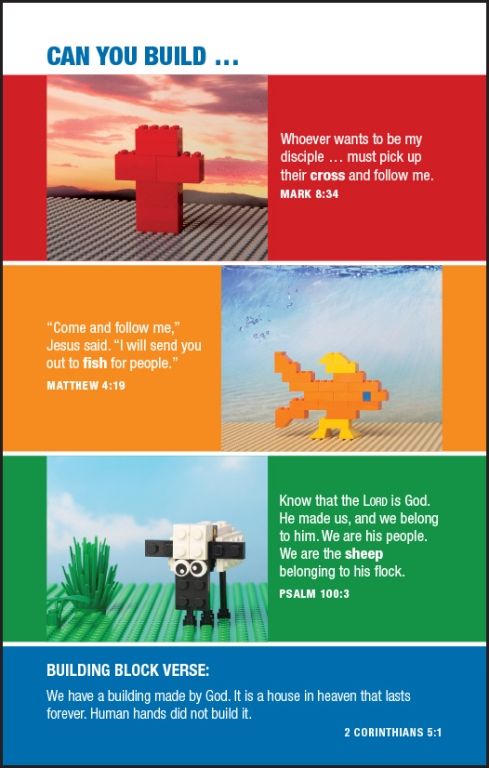 Not only can children read this Bible on their own and see the models being built, they can also memorize the Building Block verses, and build similar models on their own, making using this Bible a very interactive experience for children.
You can purchase the Faith Builders Bible for $24.99.
I was so excited to be able to review this Bible! Two of my boys, ages 8 and 10, are reluctant readers. I have been trying to encourage them to read more on their own. We do a Bible study every morning, but it mostly consists of me reading out loud and them listening and memorizing Bible verses. My boys love building brick models. I can not even tell you how many LEGO they own!
They were thrilled when the Faith Builders Bible arrived (it was a surprise.) Christian decided he wanted to build the nativity first.
And Anthony wanted to build a cross.
We have been using the Bible for our morning Bible study and instead of me reading all of the verses to them, Christian and Anthony have been volunteering to read to us! They take turns looking up the verses and reading them out loud. That has been amazing! We are working on a Bible Study about the days leading up to The Resurrection. Next they are planning on building the Last Supper model.
They give their most prized possessions a place of honor in their beds. They have been taking turns taking the Bible to bed with them and also who gets to take it to Sunday School on Sunday mornings. I think I may have to purchase another.
The simplified NIrV is great for younger readers. The Bible is hardcover and very sturdy. We absolutely love all of the illustrations in the Bible. This is definitely our most favorite Bible!
To see what my Crew Mates had to say about the Faith Builders Bible, stop by the Crew Blog.