Preschoolers and Peace? Some people think that is an impossible concept. But Kendra Fletcher has written an ebook titled: Preschoolers and Peace: Homeschooling older kids with success while loving the little ones at your feet just to show homeschooling mamas how this can be achieved.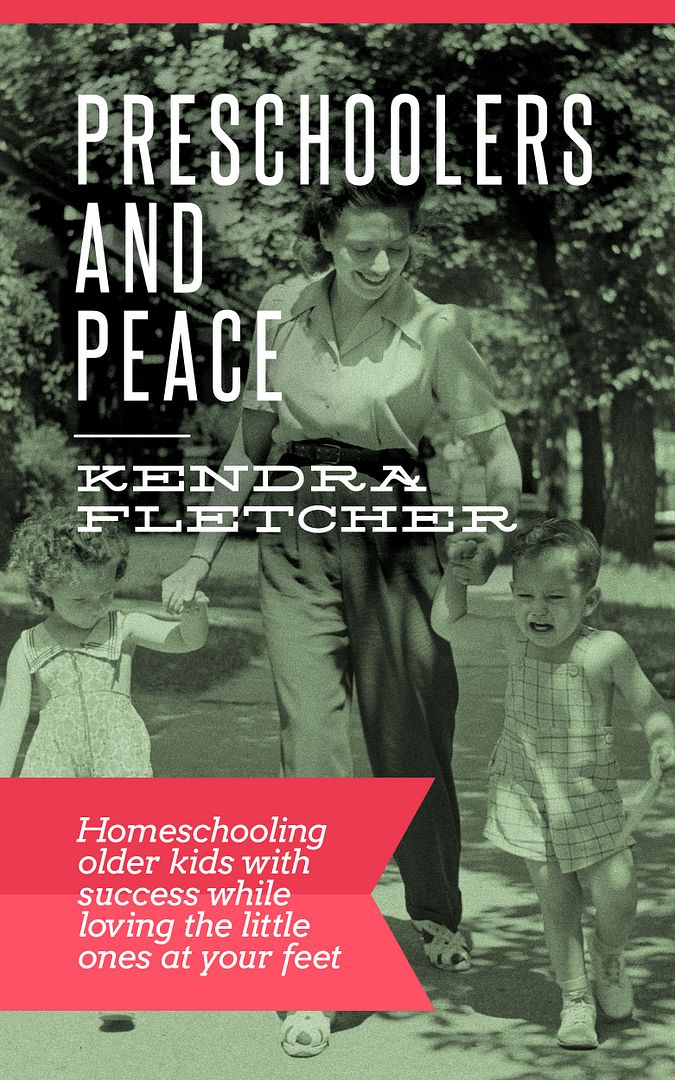 Preschoolers and Peace is a 47 page ebook written for homeschooling mamas with littles. Kendra Fletcher is a mom of 8 children ages 5-20 and has taken many of the tips and tricks she has learned over the years and compiled them into this book. In Preschoolers and Peace you will find chapters titled:
What a Homeschooling Mom Needs
Preparing Yourself to Homeschool Older Kids with Little Ones Underfoot
Planning Around Preschoolers
How Do I Keep Them Busy?
What Does A 2 Year Old's Day Look Like
How Do I Get Any Preschooling Done?
How Not to Just Kill Time
Circle Time: Or How We Pull Little Ones In
Preschool Boys
When All of Your Kiddos Are Preschoolers
Preschool Chores
Planning For Preschool
When Mama is Worn Out (or pregnant)
Meal Planning 101
At the end of the book you will also find a resource list showing some of Kendra's favorite products and further reading.
At the time of this posting, you can purchase Preschoolers and Peace for $2.99.
My first year of homeschooling I had an 8 year, a 3 1/2 year old, a 20 month old, and a newborn. 20 months later we had another baby. 22 months later we added another baby to our family and almost exactly 2 years later we had another baby. I am no stranger to having little ones under foot while homeschooling. That youngest baby is now 3 1/2 years old, but I still like to gain fresh ideas for our homeschool by reading about what works for other people. I read through Preschoolers and Peace in one sitting when all of my children were in bed for the night.
Preschoolers and Peace is great for the busy homeschool mom. The book is short and is split up into short sections making it easy for those who only have a few minutes of time to sit down and read, or are looking for ideas in a particular section. Not sure what kind of chores your preschooler can do? All you need to do is head to that section and start reading to gain some ideas. Need ideas for how to start menu planning? There is a short section to get you started. Preschoolers and Peace has ideas not just for your homeschool, but other areas of your daily life as well. It also includes many things to do with your preschoolers and babies to keep them involved in your homeschool rather then pushed aside so you can get your homeschooling done, which I love. I do not ever want my little ones to feel like they are not part of our homeschool and include them in every part of our day. The resource list in the back of the book is a great list of ideas. I found a few things there that I had never thought of before.
To see what my Crew Mates had to say, click on the banner below.