Hewitt Homeschooling
is a non profit foundation that has over 100 products to offer homeschoolers. They strive to produce affordable curriculum that will save parents time while making lessons meaningful and interesting to the students. We recently had an opportunity to use and review
Gr.8 Lightning Lit Set.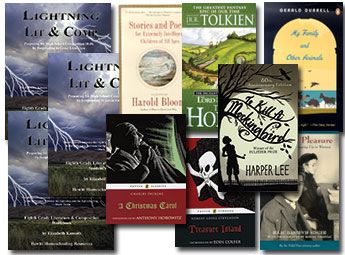 This was not my first opportunity to use Lightning Literature from Hewitt Homeschooling. I have used the Mid to Late 19th Century British Literature with Chelsea, the Grade 1 Lightning Lit set with Christian, and the Grade 3 Lightning Lit Set with Anthony. We have loved each of the sets we used and was really looking forward to the opportunity to use Lightning Lit again.
The Gr. 8 Lightning Lit Set ( $143.95) comes with:
Lightning Lit Grade 8 Student Guide
Lightning Lit Grade 8 Workbook
Lightning Lit Grade 8 Teacher Guide
Stories and Poems for Intelligent Children
Treasure Island
A Day of Pleasure
A Christmas Carol
The Hobbit
My Family and Other Animals
To Kill a Mockingbird
The products can also be purchased individually. I did not receive the set with all of the books. Our set included the Student Guide ($30), Workbook ($30), Teacher Guide ($25), and Stories and Poems for Intelligent Children ($19). We own most of the books and the few that we don't can be found at the library.
The Student Guide is a 270 page paperback book. It contains an introduction for each reading assignment, while you read suggestions, a vocabulary list, comprehension questions, literary lesson, mini lesson, and writing exercises. It is written so students can read and work through the lessons independently.
The Workbook is a 277 page paperback book. Students complete the workbook exercises after reading each selection but before completing their writing exercises. There are seven types of workbook pages: exercises relating to major literary lessons, exercises relating to mini-lessons, thinking skill pages, grammar and mechanic exercises, literary analysis practice exercises, puzzles, and extra challenge pages. The first five should be completed while the last two are optional.
The Teacher Guide is a 160 page paperback book. It contains helpful information for guiding your student through the course. You will also find a weekly schedule, answer keys for comprehension questions and workbook exercises, and discussion questions.
Gr. 8 Lightning Lit has twelve chapters for the student to work through, taking 36 weeks if you follow the suggested schedule:
Chapter 1: A Crazy Tale by G.K. Chesterton (included in Stories and Poems for Intelligent Children)
Chapter 2: Treasure Island by Robert Louis Stevenson
Chapter 3: Vivid Imagery in Poetry (stories and poems)
Chapter 4: A Day of Pleasure by Isaac B. Singer
Chapter 5: Wakefield by Nathaniel Hawthorne (stories and poems)
Chapter 6: A Christmas Carol by Charles Dickens
Chapter 7: Figurative Language (stories and poems)
Chapter 8: The Hobbit by J.R.R. Tolkien
Chapter 9: Reflections by Lafcadio Hearn (stories and poems)
Chapter 10: My Family and Other Animals by Gerald Durrell
Chapter 11: Meter in Poetry (stories and poems)
Chapter 12: To Kill a Mockingbird by Harper Lee
I have been very impressed with the Gr. 8 Lightning Lit Set. The literature choices are interesting and age appropriate. It is scheduled so that shorter and longer works are read alternately. I love all of the information that is included in the student guide for the student to better read and understand. I love the inclusion of the vocabulary words and comprehension questions and that each lessons has a main lesson and a mini lesson. I love that there are several choices for writing assignments allowing the student to choose. My favorite part is the student workbook. I think at this age level it is important to review grammar topics and talk about things like author bias, setting, character description, figurative language, etc.. The workbook has a great variety of interesting assignment that will keep your students engaged.
I love the set up of the Teacher Guide. For each chapter your student is completing all of the answers to those exercises in that chapter all altogether, making it very easy on the teacher to go over the answers with the student. The suggested schedule is in the Teacher's Guide, I do wish that was also in the front of the student guide to make it easier for the student. The curriculum is very flexible and you can choose to follow their suggested schedule or adapt it as necessary.
Members of The Crew reviewed many different levels of Lightning Literature, plus My First Reports, and a paper evaluating service. To see what my Crew Mates had to say, stop by the
Crew Blog
!