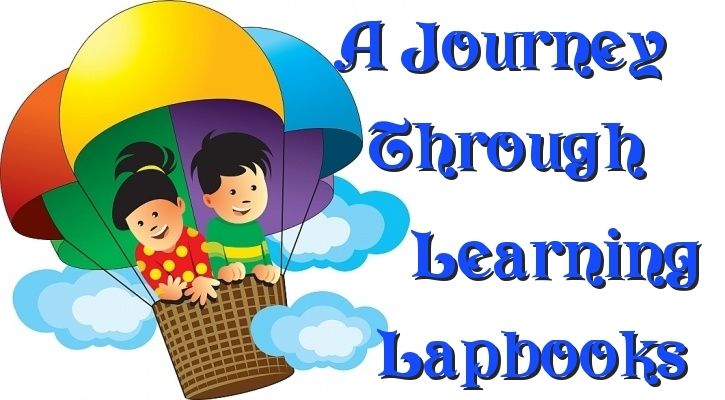 I try very hard to spend one on one time with each of my children during the school day. But, it isn't always easy! I started looking for something that I could do with my 7 and 4 year olds that they would be interested in, but wouldn't require a lot of advanced preparation from me. The answer came from
A Journey Through Learning.
A Journey Through Learning was created when two homeschooling moms (who happened to be best friends) were unhappy with the lack of fun, hands on learning materials for homeschoolers. They started off creating a unit study, and then moved on into creating lapbooks, which are like educational scrapbooks. Lapbooks make learning fun and offer a great way for students to keep and show what they have learned. A Journey Through Learning offers a wide range of subjects areas and even create (with the permission of the publishers) lapbooks for Apologia, Truthquest, and Classical Conversations.
As a member of the Schoolhouse Review Crew, we received downloads to 4 different products from A Journey Through Learning:
Letters,Numbers and Shapes
,
The Earth
,
Knights and Castles
, and
Astronomy and Space.
I have been using the Letters, Numbers, and Shapes Lapbook with my 4 year old, and the Astronomy and Space Unit Study with my 7 year old.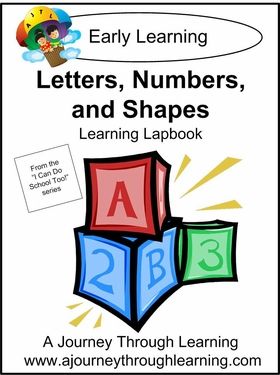 Letters, Shapes, and Numbers
was designed with 3-5 year olds in mind. This lapbook is 51 pages long. It is a 3 folder lapbook. In it you will find: instructions on folding mini books, lapbooks, and making a lapbook storage unit, instructions on the lapbook layout, and 17 color mini books with instructions. The lapbook pages can be printed on either color or white paper.
Table of Contents
Circle
Square
Rectangle
Triangle
Letters of the Alphabet
I Can Write My Numbers
Matching Numbers to Items
I Can Draw Animals
Find and Color the Shapes
I Can Match Letters
My Favorite Shapes
You can view sample pages
here.
The cost of the instant download is $13. They also have this product available on CD, printed, and already assembled. See all the pricing options
here.
To complete this lapbook, you will also need File Folders, scissors, glue, crayons, and a stapler.
My 4 year old wants to "do school" like her big brothers and sisters. The Letters, Shapes, and Numbers lapbook was perfect for her! I already had a supply of file folders on hand, so all I had to do to get started on this lapbook was print out the pages. I had made lapbooks before, but it had been awhile, so I read through the instructions (don't worry it's really easy! You can even find some helpful How To Videos from A Journey Through Learning
here.
) The layout is shown in the instructions, but also on each page of the mini books it shows you again where you are supposed to place that book. The instructions on each page were simple and easy to follow. We worked on one mini book per day. I did all of the cutting and stapling, and Lily did all of the rest. It only took us around 15 minutes per day. The pockets for the numbers and counting items were a little narrow, so I had to trim the cards a bit in order to get them to fit. Lily's favorite part was tracing (and coloring) her letters and drawing pictures to go with each one.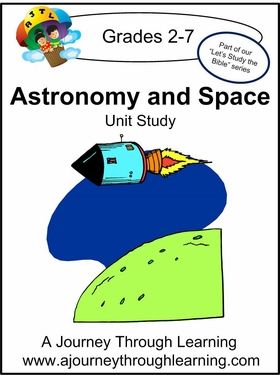 Anthony (7) is fascinated with the Solar System. I thought the
Astronomy and Space Unit Study
would be perfect for him. It was written for grades 2-7. The unit study is 70 pages long and includes: instructions for completing the study, Information page on each topic to read to your child, an activity page on each topic, vocabulary study pages, book log, book report page, NICK notes page, additional reading suggestions, and narration pages.
Table of Contents
Genesis 1
Where Do You Live?
The Solar System
Constellations
How Do We Have Day and Night?
How Big Is the Universe?
Stars
The Sun
Galaxies
Astronauts
Comets
Asteroids
The Moon
Phases of the Moon
The First Man on the Moon
Rockets
Telescopes
Meteoroids
The Planets
Mercury
Venus
Earth
Mars
Jupiter
Saturn
Uranus
Neptune
You can see sample pages
here.
The cost of the download is $13. You can see other pricing options
here
.
You will also need a 3 ring binder to store your pages in with 8 to 10 divider tabs. Some of the activities need certain supplies so you should read ahead so you can have the supplies on hand.
Anthony (7) is at the young end of the age range for this study so we did not go as in depth with it as those with children in the older age ranges might. We did one reading page and activity per day. I read the text to Anthony, and he dictated the answers back to me to write down for him. We did not do the vocabulary study pages, or other extra sheets (book log, book report etc...) although I think those would b great for older children. We did read some other picture books from our book shelves and the library to expand on the topics.
Anthony has been enjoying working through this study, and I have been glad to have the one on one time with him everyday learning about something he really enjoys. It was very easy for us to get started. I quickly read through the introductory material and glanced ahead at the activity pages so I could have the necessary supplies for the hands on activities. I then printed everything out, 3 hole punched it, and put it in a notebook. The study starts with Genesis 1 and the Creation of the Universe. The activity was copywork of a section of the Bible verse. Anthony had never done copywork before, so I did part of it and asked him to finish up the rest. I went upstairs to start lunch and after came back to check his work. He had written the copywork backwards! He thought it would be more fun that way. What a kid! His favorite parts have been the hands on activities. We have made a space diorama, made sun s'mores, a sun craft, and a rocket. He also loves to draw and likes doing the drawings on the activity pages. I like that the study was not just on the stars and planets but also included other topics that have to do with outer space. Anthony gained quite a bit of knowledge through this study. Now that we are finishing up Astronomy and Space Unit Study, I think we will try out the Earth Lapbook next.
I was very impressed with the products we reviewed from A Journey Through Learning and I look forward to using other products in the future.
To see what other Crew Mates had to say, click on the banner below.