It is always nice when a vendor you have liked in the past shows up on our vendor lists again. In 2012 I got to be the coolest homeschool mom ever when we reviewed Amazing Science! Volume One from ScienceandMath.com. I was glad to have an opportunity to review one of their other products this year Mastering 5th Grade Math-Volume 1- Essentials of Fractions.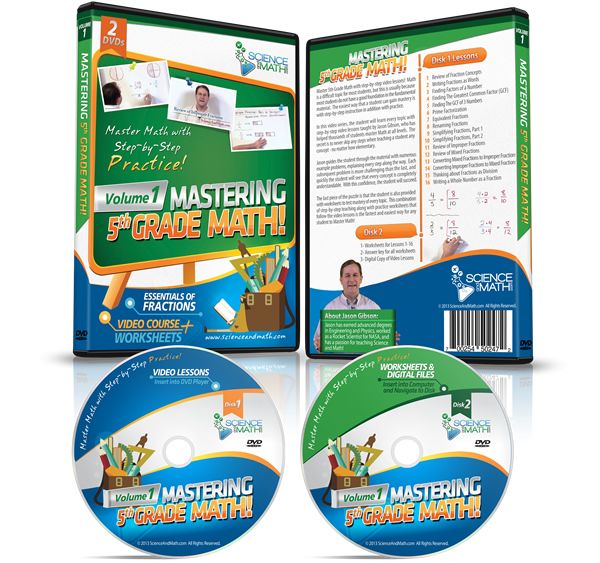 Mastering 5th Grade Math-Volume 1-Essentials of Fractions ($15.99) is a video course with included PDF worksheets for children in grades 4-6. Jason from ScienceandMath.com teaches students each concept step by step using multiple examples of each topic. After viewing each video segment, children have an opportunity to practice what they have learned by completing worksheets on the topic. Each topic has 1-3 worksheets to complete. There are 16 different lessons on the DVD:
Lesson One: Review of Fractions Concept
Lesson Two: Writing Fractions as Words
Lesson Three: Finding Factors of Numbers
Lesson Four: Finding the GCF
Lesson Five: Finding the GCF of 3 different numbers
Lesson Six: Prime Factorization
Lesson Seven: Equivalent Fractions
Lesson Eight: Renaming Fractions
Lesson Nine: Simplifying Fractions Part One
Lesson Ten: Simplifying Fractions Part Two
Lesson Eleven: Review of Improper Fractions
Lesson Twelve: Review of Mixed Fractions
Lesson Thirteen: Writing Mixed Fractions as Improper Fractions
Lesson Fourteen: Writing Improper Fractions as Mixed Fractions
Lesson Fifteen: Thinking of Fractions as Division
Lesson Sixteen: Writing Whole Numbers as Fractions
View a sample lesson and download the corresponding worksheets for the lesson.
The physical DVD comes with 2 disks. One is your DVD with the video lessons and the other is the disk containing the worksheets and answer keys to print out from your computer. If you are interested, there is also a download option available for purchase on the ScienceandMath.com for $14.99.
I used this DVD with my 10 year old 4th grade son. We watched the video segment and completed the worksheets to go along with the lesson one per day. The lesson segments are short enough that you could do multiple lessons per day, but since we were using this as a supplement and he really hadn't been introduced to many of the concepts presented in the DVD yet, we watched one lesson per week and completed the worksheets the other days in the week. The video segments are less than 10 minutes long and it took Alex under 10 minutes to complete the worksheets. I printed off all the worksheets from the computer to punch holes in and store in a notebook so they would be easy to find and I would have everything ready for the lesson.
Fractions can be a very hard topic for children to understand. I can remember when my now sixth grade son was learning fractions a few years ago and the curriculum we were using moved very quickly and he just couldn't get it. He had a very hard time. I wish I 'd had this DVD then! I think it really would've made a difference. We really like Jason's enthusiasm for everything he teaches. The DVDs segments are in small digestible chunks with several step by step examples of each concept and more hands on practice by completing the worksheets. The concepts are explained in a clear and concise manner. You have the ability to work at your own pace.
Can I child complete the assignments on his own? Yes. I worked with Alex because it was a review and because as I mentioned before he had not been introduced to these concepts before and I wanted to make sure he really understood before we moved on. But, I think most children in the age range for this DVD could easily watch the lessons and complete the worksheets on their own.
Mastering 5th Grade Math-Volume 1- Essentials of Fractions does follow Common Core Standards if that is something that is important to you. There are other DVDs in the Mastering 5th Grade Math series that you can purchase separately or as a bundle. You can see those at ScienceandMath.com
Members of the Crew reviewed Mastering 5th Grade Math-Volume 1-Essentials of Fractions, Amazing Science! Volume 1 and Algebra 1 Volume 1 with Fractions through Algebra Companion Worksheet CD. To see what my Crew Mates had to say, click on the banner below.