One thing I have a hard time with in the area of housekeeping, is trying to decide what to do when and how often certain tasks should be completed. Some are so easy. Dishes for example. If we don't do those twice a day, then we won't have anything to eat off of. Laundry too. But some household tasks like cleaning out closets or cleaning the light fixtures are not so easy to figure out. And honestly, I do not want to take the time or effort to try and plan all of these tasks out. That's why I was excited to have an opportunity to review the
Motivated Moms iOS App (with full year server access)
from
Motivated Moms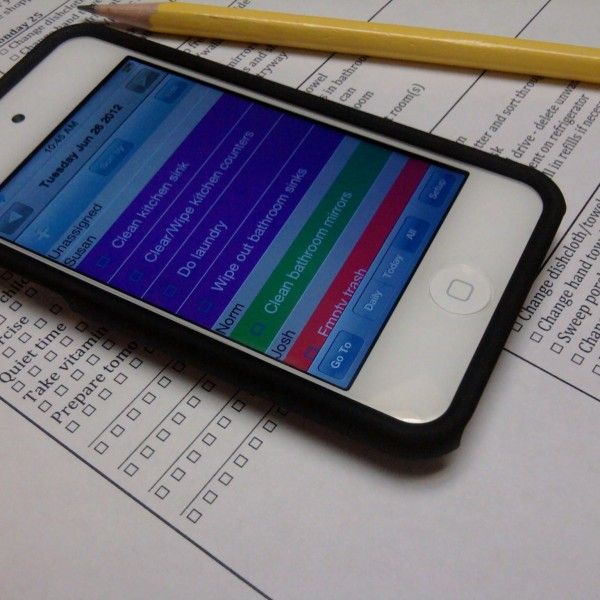 The Motivated Moms iOS App is for moms of all ages and will work on iPhone, iPod Touch, or iPad. It is a pre-planned daily checklist of household chores. You have the option to have your tasks sorted by room, alphabetically, or by the person you assign the task to. As you check off tasks, the task is moved out of the way to the bottom (there is something so satisfying about checking a task off of the list!) If there are tasks on the list that do not apply to you, you can hide the task. We do not have a microwave, so I hid that task from the list. You can also add tasks in your own tasks and customize how often they are to be completed. You are able to sync the app to multiple iOS devices. So if I am upstairs I can check off the upstairs items on my phone and when I open the app downstairs on the iPad everything I have completed is already checked off.
The Motivated Moms iOS app can be purchased for $1.99 for 2 months worth of pre-planned tasks. You may purchase additional months for .99 each or an entire year for $7.99.
Don't have an iOS device? There is also an Android app(lite version) available and your choice of printable ebook planners. You can find the planners
here.
I have been using the Motivated Moms iOS app for about 6 weeks now. I really like it! It has gotten me motivated to do some chores that really needed doing. It is not a program that is going to have your whole house spotless in a day. Instead it is designed to keep your house up (or get it caught up if it isn't already) by tackling chores in bit size pieces. Instead of cleaning 3 whole bathrooms in one day, you wipe out sinks every day, clean toilets once a week, and tub and showers every other week. Some of the tasks are quick and easy like changing out hand towels or emptying your purse, while others may take a bit longer like cleaning the oven. Although honestly if the longer tasks are completed on a regular basis, they won't take as long to do. I think there is a good mix of quick and easy and a bit more time consuming and I did not feel overwhelmed at all. That is not to say that I have gotten everything completed every day. I have not. But, I am getting so much more done than I was before I started using the app. I split up my chores into 3 daily slots: one in the morning, one after lunch, and one after afternoon schoolwork. I really like checking tasks off of my list and the ability to customize tasks when needed. I love that the app allows you to sync between devices! I love that I do not have to think about what needs to be accomplished that day and that the app includes tasks I never even think of doing like clipping kids fingernails or emptying out my purse.
If there was one thing that I wish was different it would be the ability to see the whole month or year at a glance. This way I would easily know if I miss a task when it would be showing up again. You can easily see the daily tasks and figure out the weekly ones, but some of the less common tasks are not so easy to figure out when they show up again without scrolling through every day of the year.
To see what my Crew Mates had to say about the Motivated Moms iOS App and Motivated Moms ebooks, click on the banner below.