Egglo Entertainment has produced resources to put the focus back on Jesus during the Easter season and all through the year. The children and I have had so much fun with the products we received from Egglo Entertainment to use and review. We received:
Glow in the Dark Egglo Eggs ($11.99)
The Egg-cellent Easter Adventure Book ($12.99)
The Egg-cellent Easter Adventure Book Audio Download ($2.99)
Egglo Treasure Scripture Scrolls ($4.29)
The Egg-cellent Easter Adventure Program Guide ($14.99)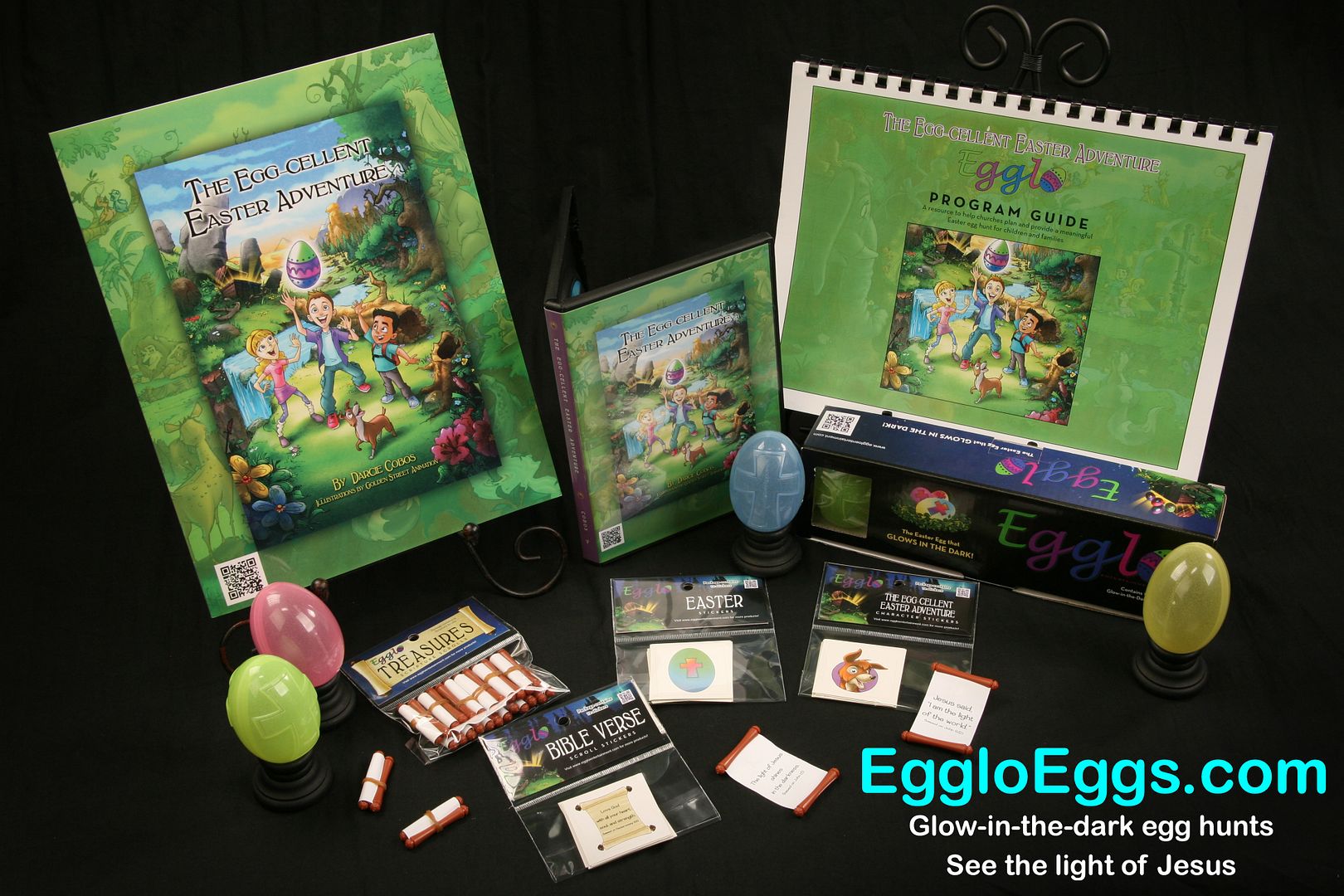 Easter can be a lot of fun for children, but as Christians we want to make sure that while having fun we keep the focus where it belongs on Jesus. Egglo Entertainment has created a line of products to go with their Glow in the Dark Egglo Eggs to help children remember that Jesus is the light of the world and to teach them His truths. The products were designed with children ages 4-13 in mind but they certainly can be used with children a little bit younger or a bit older.
Let's talk about each of the products we received.
Here is the set of 12 Glow in the Dark Egglo Eggs. They came in 4 colors: green, yellow, pink, and blue with a cross design on one half of the egg. Eggs need to be charged by sunlight for 20 minutes or light bulbs for 60 minutes. They will glow for 45-60 minutes and then start to diminish.
The Egg-cellent Easter Adventure Book is a 40 page long illustrated story book. In this story, Hardy, Anastasia, Pascal, and their dog Zeke go on a wonderful adventure that begins in the attic when they find a glowing Easter Egg. They are transported all around the world on a scavenger hunt finding more eggs in exciting locations and leading them to the greatest treasure of all.
The Egg-cellent Easter Adventure Book is also available as an audio download. It can be listened to alone or for children to listen along while reading the story book. The audio book takes around 30 minutes.
The Scripture Scrolls come in packs of 12. Each of the scrolls has a verse based on; 1 Corinthians 15: 3-4, Deuteronomy 6:5, Proverbs 3:5-6, Matthew 5:16 and 28:20, John 1:4, 1:5, 3:16, 8:12, and 12:46.
The Egg-cellent Easter Adventure Program Guide is a 60 page downloadable guide containing instructions, snack ideas, invitations, decoration ideas, activity ideas, discussion cards, coloring pages, decorations, Easter egg cutouts, Bible verse scrolls, question and answer suggestions for Scripture and the Egg-cellent Easter Adventure Book, and game suggestions to help you plan and put on a glow in the dark Easter Egg hunt to suit your needs. You can make as many copies of the items included in the guide as you need for your event. The guide is in full color. My copy pictured above was printed on my laser printer which only prints black and white.
My children were very interested when the Egglo package arrived. Since we had to use the product and write the review before Easter, we decided we would have a special Valentine's Day egg hunt. We thought this fit in well with the theme and would illustrate Jesus's love and light to the children are for more than just Easter. The children were very excited!
I read through the storybook to my 2,4,6, and 8 year olds. We went through some of the questions and answers in the program guide. They enjoyed the story and couldn't wait to get started on the egg hunt. We bought red, white, and pink M&M's and chocolate heart candies to stuff into the eggs along with the Scripture scrolls. I had lots of help getting ready for the egg hunt.
Then they had to wait until dark. I had planned on having the egg hunt outside, but when it came time to hide the eggs it had gotten very, very windy outside and it was not very warm so we decided to have the hunt in our playroom instead. I hid the 12 eggs and told each child they could find two (just enough for 6 children!)
After everyone found their two eggs, they got to open them. Since we were doing a Valentines theme we talked a lot about how God loved us so much he sent his only son to live among us and suffer and die on the cross so we could be with Him forever. We talked about how there is nothing they could do to make the Lord not love them. We talked about how the glowing eggs symbolizes that Jesus is the light of the world. Then they could open their eggs, read their Scripture scrolls, and eat their candy.
I think the Egglo Entertainment products are a great way to put the focus of Easter back on Christ. We really enjoyed the glow in the dark egg, the storybook, and the discussions we had to go along with it. The program guide gives you so many ideas and printables that you can customize your event no matter what size your church, Sunday School, homeschool group, or other group event.
One thing that bothered my children was when we were filling the eggs they were mismatched. The blue tops had to have pink bottoms instead of the eggs being all pink or blue. This was the only way they would fit together. And while I just loved the Scripture scrolls since they fit into the eggs perfectly, added a great element to point the children back to Christ, and they loved unrolling them and reading them, I wish they had the full verse on there instead of an adaptation.
We will definitely be using our Egglo Entertainment products again this year for Easter to have an Easter egg hunt. The children loved the idea of a scavenger hunt like the children went on in the story book so we will have to do one of those as well with our Glow in the Dark Egglo Eggs.
To see what my Crew Mates had to say, click on the banner below.