Being part of the Schoolhouse Review Crew gives us a lot of opportunity to review curriculum. But we also get to review other educational products that help with learning. Our latest review has been for a really interesting product, a bone conduction headset from Forbrain-Sound For Life Ltd.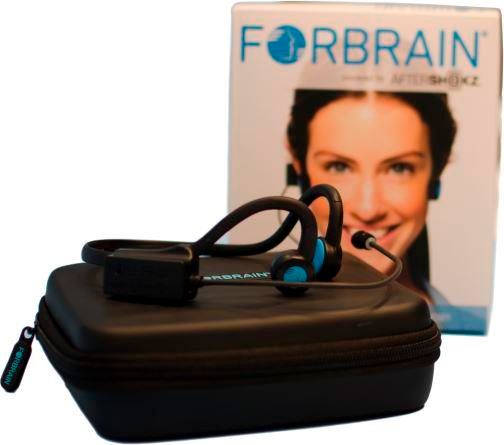 Do you have a child that has speech, memory, or attention issues? Forbrain can help improve pronunciation, rhythm, fluency, sound discrimination, memory, and attention.
When we speak normally, we loose a lot of sound through air conduction and environmental noise. The Forbrain headset delivers sound through the bones which amplifies the sound, delivers it 10 times faster, and filters out the outside sounds. Using the Forbrain headset retrains your brain and improves the way you hear yourself, helping to correct your speech and memory.
The headset goes around the back of the head and the ear pieces sit on the bones beside your outer ears. The microphone sits comfortably in front of your mouth so you can easily hear yourself. Forbrain uses a rechargeable battery and the device is charged using a USB cable that you connect to your computer. Once charged it lasts around 6 hours before needing to be charged again. It has a 30 day money back guarantee and a 2 year warranty. The purchase price is $359.
Once the Forbrain is on, all you have to do is read, recite, sing, or speak aloud. It is recommended that you use it daily for around 15-20 minutes a day depending on the age of the user for 6-10 weeks. It is not recommended for children under 3, people with epilepsy, Parkinson's, or those with hearing loss in both ears. It also should not be used for more than two hours per day.
I was interested in reviewing this product because my 10 year old son has speech issues. He has been tested and was recommended for speech therapy but our insurance does not cover it and it is quite expensive. We have been using a speech therapy program at home that has made some improvement but we had hit a wall with some sounds, especially the letter "r" and his overall clarity. I was very excited to have this opportunity.
I received:
sturdy, zippered case
headset
USB charging cable
User Manual
Quick Start Guide
3 spare mic covers
When the headset arrived, I plugged it in to my computer to charge for around three hours. Then we put it on to test it out. He used it for around 15 minutes per day, 5 days a week. Anthony read his reading lessons aloud with the headset on. He also used it for some speech therapy exercises and worked on memorizing and reciting poetry. I really like that you don't have to do anything complicated or specific to use this device. All you have to do is put it on and speak aloud. And it literally takes only minutes a day.
The first day we had it, I wasn't really listening for changes in his speech. We were just putting it on, testing the microphone and getting a general feel for how it worked. But the second day as he was reading, I could already hear an improvement in the "r" sound! I told Anthony that his "r" sounded so much better! His response was, "I know. I can hear it!" Wow! I could also hear the improvement in his clarity. He definitely speaks better when he is wearing the headset. I am hoping that as we continue to work with it, it will not be just an improvement but a completely "normal" sound and that it will continue when he is not wearing the headset.
I decided to try it out to see if I could experience what Anthony does wearing the headset. But, I have fluid in my right ear and when I wear the headset it creates a strange sensation in the back of my teeth and jaw. I do think this has something to do with the fluid as Anthony has not had any kind of odd sensation. He does not mind wearing the headset at all and likes the way it makes him hear himself.
To see what my Crew Mates had to say, stop by the
Crew Blog
!