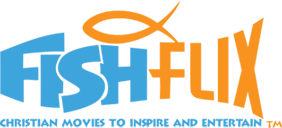 FishFlix.com sells Christian DVDs to educate, inspire, and entertain. On their site you will find a wide variety of faith based movies and TV shows to watch and enjoy with your family, use in a Bible study, or for educational purposes in your home or homeschool. I was recently given an opportunity to review VeggieTales: Puppies and Guppies DVD.
VeggieTales: Puppies and Guppies features 8 different stories to teach children about responsibility and kindness. The DVD is 88 minutes long and can be purchased for $7.99.
In Puppies and Guppies, Larry the Cucumber and Laura the Carrot see a cute little puppy and of course want to have one too! But to prove they are responsible, Pa Grape gives them a little test, taking care of his guppies.
Episode 2 is called Junior Gets a Pet. In this episode, Junior Asparagus makes friends with an unlikely pet: a buffalorange. When it seems that Ichabeezer wants it too, Junior learns an important lesson about obedience.
The third episode is called The Guppy Whisperer. Jimmy and Jerry bring home a new pet, but do not know how to make him stop crying. Laura has learned from taking care of Pa Grape's guppies and shares her knowledge to help Jimmy and Jerry.
Episode four is Cool as a Cucumber. Larry gets a lesson about how we can't let the idea of being popular take over being who God wants us to be.
Laura at Bat is the sixth episode. Laura Carrot wants to be a home run batter, but will she put in the effort required to succeed?
The seventh episode is called Popcorntastrophe. What is that horrid smell? Larry, Bob, and Madame Blueberry discover the culprit, burned popcorn. This story is a lesson on forgiveness.
The last episode, Larry's Cardboard Thumb, Larry talks Petunia into giving him a chance to work on Larry's Cardboard Thumb. This episode is a lesson on honesty.
The DVD also has 4 Sing along songs:
Puppy Friends Forever
God Sees Our Full Potential
Do the Right Things For Your Pets
VeggieTales in the House
It has been quite awhile since we watched VeggieTales. I turned Puppies and Guppies on for my 5 and 7 year old daughters and they loved it! They were glued to the TV and have asked to watch it over and over again. The stories are sweet and teach a good message that children can understand and relate to. My girls especially loved the pet episodes. The music is cute. This DVD would be great for homes with young children, daycares, or preschool Sunday School classes.
FishFlix.com has a huge selection of faith based DVDs to choose from. They are offering a $5 off coupon if you join their email list. Join by visiting www.fishflix.com/5gift or text 5-GIFT to 44222. They are also offering free shipping on orders of $40 or more.
Disclaimer: I received a complimentary copy of this DVD for the purpose of writing a fair and honest review. I received no other compensation and all opinions are my own. I am disclosing this in accordance to the FTC regulations.