*this post contains affiliate links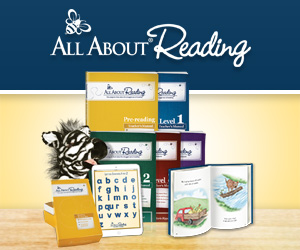 I have been using
All About Reading
for years, right after the first edition of Level One came out. It has been a well loved program in our house. I have had the opportunity to use and review a LOT Of reading programs, but I have never found one that I think is better then
All About Reading,
I highly recommend it!
I wanted to share with you 7 Reasons Why I Love All About Reading.
It is multi sensory and appeals to children with a variety of learning styles. There is something about the process of building, writing, and saying the words that helps the program make sense to young readers.
After the initial set up that involves punching out word cards and putting magnets on tiles, you do not need to do any kind of preparation for the lessons. This is a huge plus for the busy homeschool mom! The lessons are scripted and tells you exactly what to say and do. All you have to do is follow along!
It is complete. You do not need to hunt down or spend extra money on different components. All you have to do is buy your package . If you have never used All About Reading before, you will have to buy a Reading Interactive Kit but this is used over again through all the levels. A magnetic white board and some dry erase markers come in very handy with this program.
It is completely customizable. You can work at your child's pace. I have had children that have gone very slowly though the program and some that have flown through it. A lesson can be completed in a day or spread out over a week. There is a ton of review built in to the lessons so your children will not forget what they have learned.
You can use it with multiple children! As a mom of many this is a huge plus for me! The readers, cards, tiles, and Teacher Manual can be used over and over again, and I have to say mine have held up great over the years. The readers are beautiful hard cover books and are still in wonderful condition even after being read over and over and over again. The activity books for each level are consumable. I wrote this post on using the same level of AAR with both of my boys at the same time.
It's fun! My children love the activities in the activity book. They love the stories and the illustrations. They enjoy using this curriculum every day!
And the most important reason....It works! All About Reading's systematic, multi sensory approach with plenty of fluency exercises and built in review will work. I have had three struggling readers. With my first struggling reader I thought he would never read. He is mildly dyslexic. I tried everything I could think of and then discovered AAR. He is now 12 and reads everything in sight. For my next two reading did not come easy, but I knew this approach would work. We have moved slowly through the levels, but my now 9 and 10 year olds will be using Level 4 this year and they are reading independently. They have done so well!!! My daughter has had an easy time learning to read and finished all of Level One and half of Level 2 in first grade. The program will work. If your child is struggling, move slowly, keep the lessons short, and stick with it!
*links in this post are my affiliate links. I only form affiliate relationships with companies whose products I actually use and can recommend!!!!