Egglo Entertainment
has produced resources to put the focus back on Jesus during the Easter season and all through the year. These products remind children that Jesus is the light of the world and teach them His truths. For review purposes we received:
The Egglo Glow in the Dark Eggs come in boxes of 12 with 4 different colors in each box: blue, green, yellow, and pink. The eggs need to be charged ahead of time by putting in the sunlight for 30 minutes or 45 minutes under a fluourescent/blacklight or 60 W incandescent light. Eggs can be filled with candy, stickers, scripture scrolls or other goodies for a glow in the dark egg hunt. They also could be used for scavenger hunts or in crafts.
The Egglo Bible Verse stickers come in packs of 12. They can be used to put into the eggs, or to decorate the eggs. Each sticker contains a verse based on 1 Corinthians 15: 3-4, Deuteronomy 6:5, Proverbs 3: 5-6, Matthew 5:16 and 28:20, John 1:4, 1:5, 3:16, 8:12, and 12:46.



The Egglo Glow in the Dark Hunt Event Curriculum is a 60 page, full color, downloadable guide containing: instructions, snack, decoration, and activity ideas, discussion cards, activity pages, invitations, question and answer pages, game suggestions, Easter Egg Cutouts, and ideas to help you plan an event to suit your needs.
The Egglo Treasure Scripture Scrolls come in packs of 12. Each scroll has a verse based on 1 Corinthians 15:3-4, Deuteronomy 6:5, Proverbs 3:5-6, Matthew 5:16 and 28:20, John 1:4, 1:5, 3:16, 8:12, and 12:46. The scrolls fit perfectly inside the Egglo Glow in the Dark Eggs.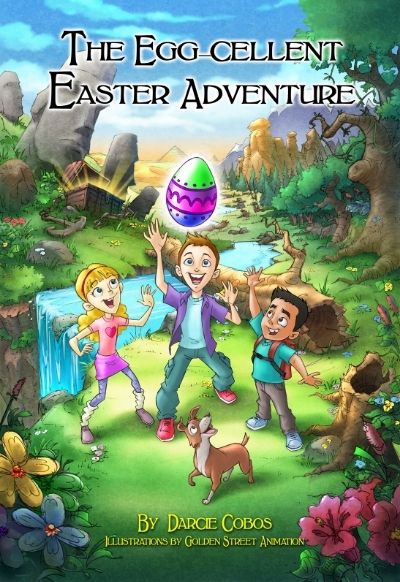 The Egg-cellent Easter Adventure Book is a 40 page, illustrated, full color, paperback book. In the story, Hardy, Anastasia, Pascal, and their dog Zeke go on an amazing adventure when they find a glowing egg in their attic. They are transported all around the world finding clues in each egg, learning how to work together, and being led to the greatest treasure of all.
Last year when we reviewed Egglo Entertainment, we did a Valentine's Egg Hunt, but the weather was awful and we had to do it indoors. This year, the children really, really wanted to do an outdoors egg hunt. So, I put the eggs in the sunlight during the day on Valentine's Day. At dusk, I filled the eggs with M&M's, heart candy, and the scripture scrolls and stickers. We used some of our eggs from last year too so that each child could find 3 eggs.
I went out and hid the eggs and just before full dark they went out to find them.
My camera did not easily capture the glow of the eggs on camera
The children had a great time with their Valentine Egg Hunt. We think the glow in the dark eggs are really cool, and using those along with the other products will put the focus of Easter back and Jesus and also can show children Jesus's love all through the year. The eggs are strong and durable, and they glow. How can that get any better? The story book is a great, interesting story that will keep your children wanting to read and has a great message attached to it. It is a little lengthy, but it didn't have any problem keeping the attention of my children. The guide has a lot of great suggestions and ideas to create more than just an Easter Egg Hunt for your group but to instead create a Christ-centered event that uses Easter Eggs. You will find everything you need within the guide. I am planning on using some of the question/answers for my Sunday School class for Easter and the snack ideas as well.
We have greatly enjoyed using these products from Egglo Entertainment.
To see what my Crew Mates had to say, click on the banner below.