*this post contains affiliate links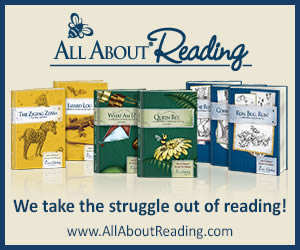 I started using
All About Spelling
several years ago when Alex was having trouble learning how to read. I at first was unsure about spending what I thought at the time was a lot of money for a spelling program, until I realized I would not have to buy workbooks for my children to use the program, and honestly I was to the point that it could've been 3 times the cost and I would've found a way to buy it if it would work. I was so impressed with the multi sensory approach to the program and was amazed that he started reading! We have continued on with All About Spelling ever since.
At that time there was no
All About Reading
. There were some readers to compliment Levels 1 and 2 of AAS, but no full All About Reading program. I did buy the readers to go along with the Spelling program and loved the readers. Shortly after that, they started to develop and entire reading program called All About Reading. I had an opportunity to
review Level One
back in 2012 and loved it! They have since added a new level every year. For Alex it was a bit too late since they were adding levels a year behind where he was, but he has continued on with All About Spelling.
Now I have a 7 and 9 year old that I teach together when possible. They went through Level one of All About Reading and Spelling last year. This year I started them on Level 2 of AAR and since I had the readers from back when Alex used them decided I was just going to do the Spelling program and then read the corresponding stories. That would be enough right?
Wrong.
What I began to notice was that both boys did quite well during the spelling lessons. They could spell the words as I dictated them with the tiles and then with a dry erase marker on the board. They could write them in the brief sentences. They could spell them aloud if asked. But when it came time to read the stories in the readers. They did not recognize those words! They had to sound out EVERY SINGLE LETTER in EVERY SINGLE WORD.
What they were lacking in was fluency. They were not seeing those words often enough. They were not getting enough practice with the words. They were getting frustrated with reading which was making me back off with the amount that they were reading which caused them to see the words even less and made the fluency problem worse.
So I went ahead and purchased the components to
All About Reading Level 2
, except for the readers. We have been working on one lesson per week and then going back and reviewing the spelling rules and words. In the 4 weeks that we have started to use AAR Level 2 I can already see a huge improvement in their fluency and their reading. The boys both enjoy the little games (although if you have an older child you can choose not to use them) and we break the fluency worksheets down so that it is not an overwhelming amount of reading at one time. They are starting to recognize the words in more places than just their spelling lists!
I just have to mention too how impressed I am with
All About Learning Press's
customer service. I mentioned that I had the readers before there was an AAR program. What I didn't know when I bought the rest of AAR Level 2 was that they had made changes to the readers when they came out with the reading program and my edition did not match the current one. When we went to read our first story in the reader, I emailed customer service asking about it. I received a very fast response and I was told that when they made the changes to the readers they decided they would exchange the old editions for the new ones! All I had to do was pay the shipping to ship the books out there and they would exchange them and pay the return shipping. I was so glad I did not have to buy new readers! And they even emailed me a PDF copy of the story we were supposed to be reading :)
If you have young children and are looking for a reading and/or spelling program, check out All About Learning. Their materials are fantastic!
*Links in this post are my affiliate links. I only form affiliate relationships with companies whose products I actually use and can recommend!