*this post contains affiliate links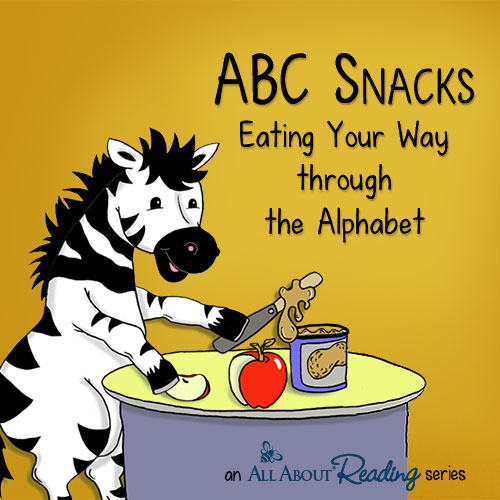 Last year
, I shared about the new series All About Reading had posted called ABC Snacks Eating Your Way Through the Alphabet to go along with their Pre Reading Program. There is a snack to go along with each letter of the alphabet designed just for little hands to make. After printing out all of the snacks, you can put together a cookbook just for your child. There are also teaching tips, book suggestions and tips for Pre-Reading on each snack. The girls LOVED this! We did a few of the letters last year, but we had already finished All About Reading Pre 1 and after a few weeks, it was one of those things that kind of fell to the side with all of the other things we were doing.
But, the girls have been asking about it. This year we are using My Father's World Creation from A to Z which teaches a new letter every 6 days along with a corresponding Bible and Science theme. So, we are going to use this snack list to go along with each of our My Father's World letters. Last week we made the Obvious Octopus Hotdog which the girls loved and have requested over and over again since then.
This week our letter is "W" so we made some Wiggly Worm Trail Mix.
We used
Goldfish
Teddy Grahams
Pretzels
M&M's
Gummy Worms
The girls put a half cup of each item in a bowl and mixed it up, adding the worms last.
The boys heard us in the dining room and came to investigate. They decided they wanted to help. Even the two oldest boys showed up, but somehow avoided the picture.
We gave a scoop to each person for our afternoon snack. They even saved some for daddy when he got home. This snack was a big hit!
Check out all of the other
ABC Snacks!
*This post contains affiliate links. I only form affiliate relationships with companies whose products I actually use and can recommend!!