The Schoolhouse Expo is starting tomorrow!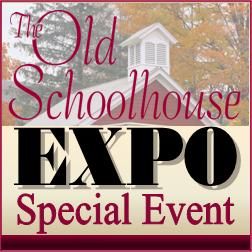 The Old Schoolhouse Expo is a special 5 day event that is scheduled from Aug 19-23rd from 1-8 pm eastern time. For the $24 cost of a ticket, you will have an opportunity to listen to popular speakers from the comfort of your own home! And, if you cannot listen during the scheduled time, no worries! The recordings will be available to everyone who purchases a ticket so you will be able to listen at your leisure.
The list of speakers include:
Ray Comfort
Dean Butler
Barbara Beers
Antony Kolenc
Diana Waring
Hal and Melanie Young
Dr. Jay Wile
Kim Kautzer
Jessica Hulcy
Todd Wilson
Carol Topp
Adam Andrews
Andrew Pudewa
Ann Dunagen
Christine Field
David C Gibbs III
David Stelzl
Davis Carman
Evonne Mandella
Terri Johnson
Tyler Hogan
Andy Harris
Marie Rippel
Jennifer Courtney
Deborah Wuehler
Joachin Fernandez
Heather Laurie
Malia Russel
Eli Dahan
Click
here
for more information and to purchase a ticket.
Have questions on how the Expo works, click
here
to access the FAQ page.
I can't wait to hear Dean Butler, Marie Rippel, Terri Johnson, Tyler Hogan, and Deborah Wuehler speak just to name a few! Andrew Pudewa's talk ,Teaching Boys and Other Kids Who Would Rather Build Forts All Day I have heard before and it is outstanding!