I had been looking for several months for a good American History curriculum that I could use for the children. I had looked at several, but none of them had everything I wanted. I had heard of the
Notgrass Company,
but I thought that all of their products were for High School age children. I was very surprised when they showed up on our vendor list to find out they had an American History curriculum suggested for grades 5-8 but able to be used with younger siblings as well. I took a look at the
America the Beautiful Curriculum Package
along with the
America the Beautiful Student Workbook
and discovered it was just what I was looking for! I have to say, that after using and reviewing it for several weeks, it has more than exceeded my expectations!!!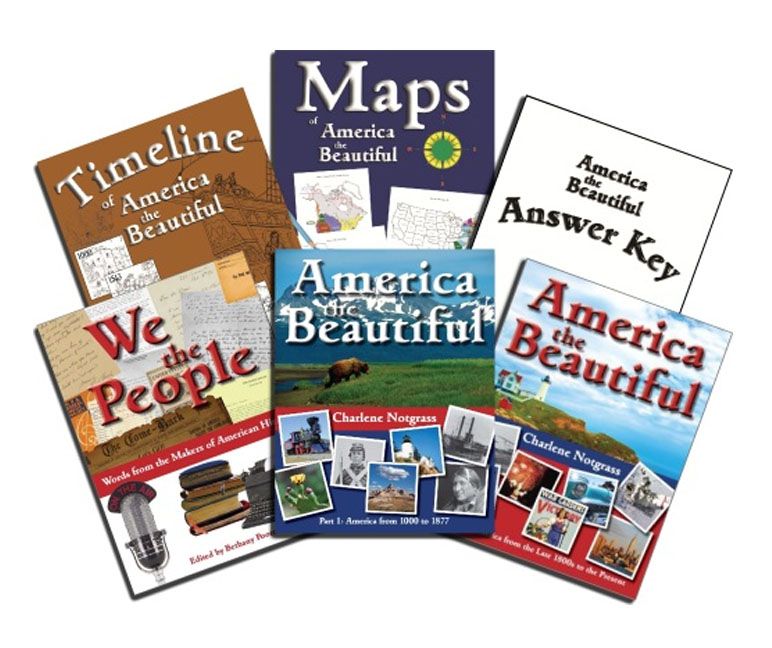 America the Beautiful was designed for students in grades 5-8 (ages 10-14.) It is more than just a history curriculum. It is a one year, Christian based American history, geography, and literature course. There are 150 lessons in the course beginning with God's Wonders that He placed in America even before people lived here, and continuing up to the present through the presidency of Barrack Obama. The America the Beautiful Curriculum Package includes:
America the Beautiful Part One-
This is a hardcover 452 page textbook containing the first 75 lessons starting with life before Europeans and continuing through the Civil War. In addition to the text, it contains both color and black and white illustrations, and also assignments and activities to be completed for each lesson.
America the Beautiful Part Two-
This is a hardcover 572 page textbook containing lessons 75-150 starting with America expanding West of the Mississippi and ending in modern times. In addition to the text the book contains both black and white and color illustrations and also assignments and activities to be completed for each lesson.
We the People-
This is a hardcover 220 page book that contains 150 original journal entries, newspaper articles, advertisements, poems, songs, letters, short stories, speeches, and other historical documents from American history. Illustrations in this book are black and white.
Maps of America the Beautiful-
This is a 61 page paperback consumable book of 30 maps specifically drawn to accompany this curriculum. There are mapping activities at the end of each lesson and children can refer to maps while reading the lesson.
Timeline of America the Beautiful-
This is a 57 page paperback consumable illustrated timeline of American history from AD 1000 to the present. Some facts are already written in for the students, and after most lessons the student will add a fact that they learned in that days lessons on the timeline. The illustrations are in black and white and can be colored if the student would like to color them in.
America the Beautiful Answer Key-
A 55 page paperback book with the answers to the Timeline, Lesson Review, Student Workbook and vocabulary assignments.
The 6 books in the America the Beautiful Curriculum Package can be purchased for $99.95. Components can be purchased separately as well. Extra consumable books can also be purchased if using this curriculum with multiple children.
Also available to go along with the curriculum is:
America the Beautiful Student Workbook -
This book was designed for 5th and 6th grade students, but older children (and a little younger) may enjoy it as well. It is 150 page consumable coil bound book containing cross words, find a word, matching, codes, drawing assignments, and other activities to review what was learned that day. The Student Workbook can be purchased for $11.95.
America the Beautiful Lesson Review-
A 110 page consumable coil bound book designed for 7th and 8th graders, but could also be used for younger children who enjoy the activities. The book contains daily review questions, literature review questions, and weekly quizzes. The Lesson Review Book can be purchased for $9.95.
There are 10 works of literature assigned in the America the Beautiful Curriculum.
You can purchase the Literature Package from Notgrass for $59.95 or buy or borrow the books from another location. The literature selections are:
The Sign of the Beaver by Elizabeth George Spears
Amos Fortune: Free Man by Elizabeth Yates
Brady by Jean Fritz
Bound For Oregon by Jean Van Leeuwen
Across Five Aprils by Irene Hunt
Little Town on the Prairie by Laura Ingalls Wilder
All-of-a-Kind Family by Sydney Taylor
Blue Willow by Doris Gates
Homer Price by Robert McCloskey
Katy by Mary Evelyn Notgrass
So how does it all fit together? There are 30 units in the curriculum with 5 lessons per unit. Students complete one lesson per day, but if you find the pace isn't working for you or you want to stretch it out to last longer than a year, you can easily adapt it to fit your schedule. Each lesson has an assigned reading in the text. At the end of each lesson in the text, the activities are listed including: Thinking Biblically (Bible assignment), Map Study (using the Maps of America the Beautiful book), Vocabulary (words to look up and define), Literature (reading assignment from We the People, assigned Literature book or both), and the Student Workbook or Lesson Review assignments. Some lessons also include a Creative Writing Assignment. You choose which activities you would like your student to complete. Length of the lessons will depend on how many activities you choose to complete. One day per week an optional family activity is also included in the lesson. Some examples of these activities are: making an Iroquoian Longhouse, making Navajo Flatbread, Pocahontas Museum, creating Colonial Printing, cooking a Plantation dinner, and much more. Assignments are given in the lesson with specific instructions for each activity in the back of the textbook. These activities were designed to be completed with parent involvement. Each activity has a list of supplies that are needed.
I have been using America the Beautiful with my 9 and 11 year old boys, with the younger children listening in to the readings. My eleven year old could easily read and complete the assignments without help, but we like to do history as a family so I have been reading aloud the text and literature assignments. I purchased an extra set of consumables (Timeline, Map, and Student Workbook) for my 9 year old. After we finish reading aloud from the text and literature assignment Nick and Alex complete the Map, Timeline, and Student Workbook assignments. My 9 year old is a little younger than the suggested age range and needs a little help at times with the Student Workbook, and filling in the Time Line entries. We have been completing one lesson per day and it usually takes 30-45 minutes to complete a lesson.
First of all, I have to say that the title America the Beautiful is perfect for this curriculum, because the textbooks are absolutely beautiful!! Hard cover, high quality, and full of wonderful black and white and color illustrations. I really did not expect them to be so beautiful! America the Beautiful truly has every element I was looking for in an American History curriculum! It is Christian based and I love that every lesson ends with a scripture that applies to that lesson. I love teaching history using historical fiction, but also like to have a text to fill in all of the facts, figures, and other important elements. America the Beautiful uses both and even goes one better because in addition to great literature ( the literature choices are fantastic!) and a wonderful text book, it also uses We the People which is a collection of original source documents, letters, songs, speeches, articles and more. The text is very interesting to read and the illustrations help give a visual understanding of what is being read. We love making timelines. I think timelines really help the children not only remember dates but to understand an order of events in history. The Timeline of America the Beautiful is another beautiful book in this curriculum! We love the black and white illustrations! Mapping exercises to teach geography is another element that is important to me in a history curriculum. We love the Maps of America the Beautiful book and that the assignments help the boys understand where the lesson we are reading took place in relation to other lessons that we have studied. The boys really like the assignments in the Student Workbook. These fun exercises help reinforce and review what we discussed in that days' lesson.
Another one of my favorite things about America the Beautiful is that it requires very little teacher preparation! The only advanced preparation you need to do is decide which activities you are going to assign to your children, and take a look at that week's family activity. If you choose to do the Family Activity, you will have to buy the necessary supplies to complete it and make time to do it. The lessons themselves are open and go. All you have to do is start reading or assign reading to your students if they will be working independently.
I would highly recommend America the Beautiful!! I am thrilled with this curriculum and look forward to continuing on with it this year. In fact, I was so impressed with the Notgrass Company that I purchased Exploring Government to use with my daughter who is a senior this year.
Members of The Crew reviewed America the Beautiful and Draw to Learn. To see what my Crew Mates had to say, click on the banner below.