One of our favorite products that we were able to review last year was
Kinderbach
. We reviewed the online subscription and loved it (read my review
here
.) I was so excited that this year we bought an iPad just in time to review the
Kinderbach app
for iPad or iPhone!
Kinderbach is a unique approach to teaching children ages 3-7 music appreciation and to play piano. Children learn how to read notes, learn intervals, rhythm and music patterns through a series of fun video lessons, fun characters, and printable worksheets. The lessons teach everything the child needs to know and parents do not have to have any musical experience. The videos lessons are short, making the program very flexible and able to go at the child's pace.
The Kinderbach app for iPad or iPhone features levels 1,2, and 3 containing one full year's worth (150 videos) of music education. From the website, " Miss Karri introduces preschoolers to the keyboard characters with stories and fun tunes. Kids will enjoy playing simple songs, identifying music direction and pitch, learning rhythm notes and their beat value. Levels 1 to 3 cover proper hand and finger position, as well as note reading by pattern for voice, and keyboard. " The app includes video lessons, coloring pages, and 6 different games.
-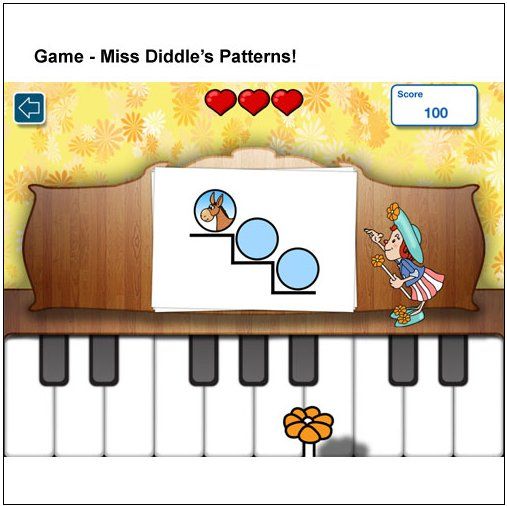 A mini keyboard is included on screen for use during the video lessons.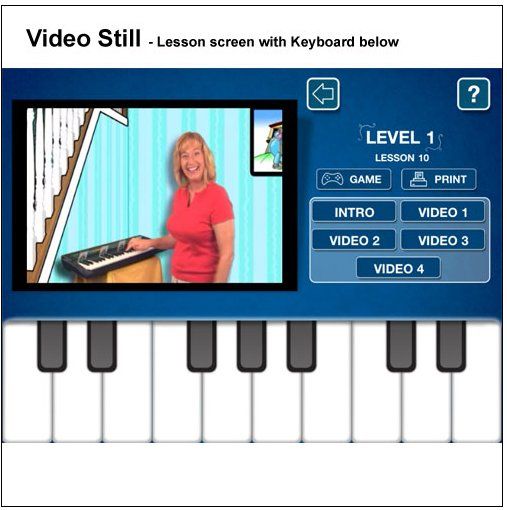 You can try the
Kinderbach app for free
! With the free download you will have the opportunity to try the first game and first two lessons. You can then choose how many lessons you want to purchase. Once you purchase a lesson it is yours to keep and there is no subscription necessary.You can purchase individual lessons for .99-$1.99 a lesson or a complete level for $8.99. Or, if you decide after the trial that you love the app and want to purchase all 3 levels, you can choose to purchase the
Classroom Kinderbach School Version
for $26.99.
My 3,5, and 7 year olds have been having a great time using the Kinderbach app. I mentioned above that we had an opportunity to review the online subscription last year, the iPad app is even better! To use the online subscription, I had to set up the laptop, log the children in, and get them to their lesson. On the iPad, they can do it all themselves. The app is not a modified or shortened lesson, it is the full lesson that you would get on the DVD's or using the online subscription. But, by purchasing the app, you get to keep all of the lessons that you purchase. When we had the subscription, I did not get as much done as I had hoped in the 3 month time period. With the app I don't have to worry or rush to fit it in because we get to keep it forever! The app includes the mini keyboard so you do not have to have a separate keyboard. I love the portability of the app. You can take Kinderbach with you where ever you go!
My 7 year old loves the games that are included in the app. Each level has 2 games to go along with it. There is a finger dance game, a train game to find the train station and Dodie's house, a beat bugs rhythm game, a musical memory game, an underwater song playing game, and a music pattern playing game. Anthony loves the Beat Bugs game! There has been an issue with the train game, but the developers are aware of it and working rapidly to fix it and update the app. I love good customer service and companies who are always working to improve their products and meet the customers needs. Anthony can't wait to play the train game.
One disadvantage of the app is that while you have the ability to print from the iPad, this option only works with an Airprint supported printer. If you do not have one of the printers on the list you will not be able to print out the worksheets. But, the full PDF files for each level are available
HERE
for $1.99 each or you can buy all three for $5.95. By purchasing the PDF files, you can download to your computer and print as many copies of the pages that you need.
One thing I would like to see different about the app is the ability to "save" or "bookmark" where you have left off instead of having to remember and get back to the correct video.
Often parents think that preschoolers are too young to be able to learn or play an instrument. Or, they believe it requires a large investment of time and money. Kinderbach proves all of those misconceptions wrong! It teaches young children to learn and play the piano in a fun and engaging way, in the comfort of your own home (or even on the go), for a minimal amount of money. If you have an iPhone or iPod, try the
app
, or if you don't try out the
online subscription.
Kinderbach has offered my readers 30 % off any online or DVD order. Use coupon code TOS_crew2012.
The app will be 50% off for one day only Friday Oct 19th!!! Buy it for only $12.99!
To see what other crew mates have to say click
here
.
Disclaimer:
I received a complimentary code to download the classroom version of the Kinderbach app for the purpose of writing a fair and honest review. I received no other compensation.