WealthQuest
For Teens mission is to have this generation of teens prepared to meet the financial realities of adulthood with confidence and competence. Jill Suskind, a public high school teacher created this program for teens ages 14-19, though it can be used with adults too. WealthQuest for teens is not a get rich quic program, instead it is a financial literacy program designed to empower teens with habits and attitudes about money that lead to wealth.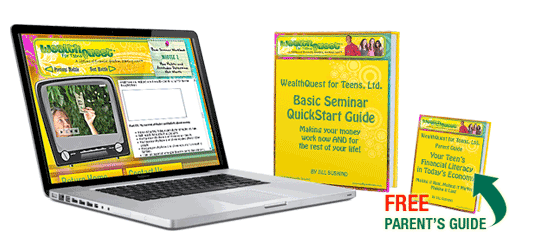 Wealthquest for Teens is designed to take about 6 weeks or so to complete but can be adapted to fit your needs. The first component of the program is a video and interactive workbook seminar containing 7 modules: 1. Welcome, Intentions, and Overview of Program 2. Your Habits Determine Your Net Worth 3. The First Thing You Need In Order to Become Rich: Income 4. The Second Thing You Need In Order to Become Rich: Knowledge About Money 5. The Third Thing You Need In Order To Become Rich: A Great Money Management System 6. The Fourth Thing You Need In Order to Become Rich: A Really Good Reason! 7. A Look at Financial Freedom.
The second component is a downloadable workbook for teens to complete. This workbook contains 30 short daily lessons. It can either be printed out or read from a computer screen and the answers written in a notebook.
The third part involves setting up a free account on
www.moneytrail.net
,creating 6 accounts for your silo system, and work on moving tracking, spending, and saving your money. Students are then asked to choose a book on money management and read it.
With the purchase of the WealthQuest for Teens program, the fourth part, a downloadable Parent Guide is also included. This a 60 page e book for the parents to read before or while their teen is working through the program. It contains 7 chapters: Teen Financial Literacy: Defining the Goal, Problem and Solution, Origins and Overview of the Online Video Program: The Basic Seminar For Teens, Recognizing the Old School Model: Mistakes Parents Unintentionally Make, The New School Model: What to Teach and How to Measure Success, Allowance and Jobs: The Pitfalls and the Possibilities, Teen Philanthrophy: The Black Belt Level of Teen Financial Literacy, The New Normal: Financial Literacy as a Peer Group Movement For Teens and a Grassroots Movement For Parents.
The cost of the WealthQuest Basic Seminar For Teens is $39.95. Click
here
to order.
My 15 year old daughter completed the WealthQuest Basic Seminar. She finished the video series quickly over a couple of days. We downloaded and printed the workbook and the activities in it only took about 10 minutes to read per day. She easily set up and started using the online money account and read a book on money management. The whole program took her about 4 weeks to complete. I asked her to tell me what she thought of the program. She said, "WealthQuest for teens was a wonderful program that every teen should study. The things I learned such as what my attitude towards money should be, how to make my money work for me, and how to set my goals expanded on my knowledge on how to handle my money. I now use the Silo System modified to suit my needs (I don't have to buy any of my own necessities.) It was a fun, worthwhile course."
I liked that the program was enjoyable for Chelsea and she is putting what she has learned into practice. The program was easy to use. I loved the interactive feature that allowed the student to type their answers on the screen as they were watching the video.
I wish that there was a way to rewind the videos. Even though you can watch each video multiple times it would've been helpful to go back and hear parts of the video again without having to listen to the whole thing. The parent guide was helpful but not absolutely necessary to the program. I appreciate the fact that it was written in a "conversational tone" but at times I thought it went a little over the top and made it hard for me to read and take it seriously (the use of OMG, and blah, blah, sob, sob, blame, blame are two specific examples.) Quotation mark instead of apostrophes are used in the Parent Guide which was also distracting. The program is a "peer led" program which is not always a good thing. You also may be interested to know that it is a secular program although it does encourage the teen to donate money to their favorite cause it does not discuss church or tithing.
To see what other crew mates had to say click
here.
Disclaimer: I received a complimentary WealthQuest For Teens Seminar for the purpose of writing a fair and honest review. I received no further compensation.