Samson's Classroom
is an online series that helps students in grades K-5 become better readers. The program focuses on 3 areas: spelling, sight words, and reading comprehension. For the last several weeks I have had an opportunity to use and review Samson's Classroom with my eight year old son Alex.

Let's talk about the 3 different areas in Samson's Classroom (Samson by the way is the cute dog in the graphics.)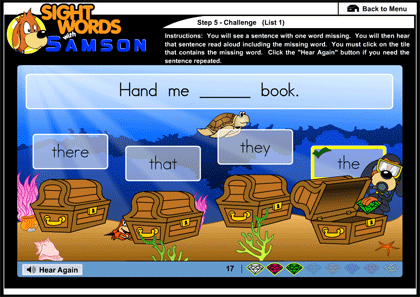 Sight Words With Samson
helps students master the 224 most common words used in the English language. Sight Words With Samson is divided into four levels. Each level has 7 lists with 8 words in each list. They go through 5 steps with every list. Step one is to learn the words. The words are spoken, shown, spelled and said in a sentence. In the second step the student builds the words that is spoken and spelled by clicking on the letters that are shown. In the 3rd step the student clicks on the word as it is read in a complete sentence. In step 4 they spell the words that is spoken by clicking on the letters in the alphabet. Step 5 (pictured above) a sentence is read and the child fills in the missing word. As each step is completed feedback is received and an online trophy is earned. Children have to master each of the 5 steps to earn a star for that list and move on to the next list. As they complete each level they earn a different color belt.
Reading With Samson
is reading comprehension. It is split into 4 levels with 15-25 passages in each level. The student reads a passage and then answers questions about that passage. They earn hammer swings for getting correct answers and hammer points on their swings.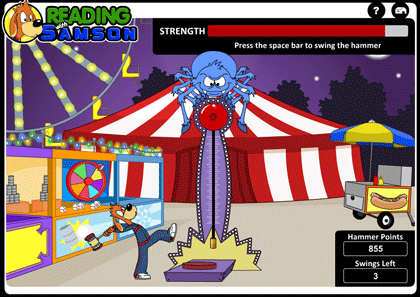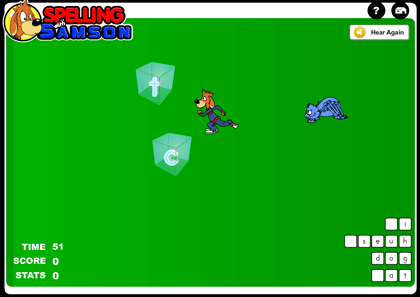 Spelling With Samson-
over 5000 spelling words in prepared lists, or you can choose to input your own words. There are 4 areas to Spelling With Samson: Study Zone- master the words on your list, Missing Letters- help Samson his way through the missing letters, Spelling Scramble- watch out for Terrance the Tarantula as you collect letters and turn them into words, and Crunch Time- watch out for Wally the Walrus as you try to keep Samson warm and dry by spelling all the words correctly.
You can try a demo of Samson's Classroom by clicking
here.
The cost of Samson's Classroom for one user is $30 per year or for a family of up to 4 is $50 per year. To see all the pricing options click
here
.
The main reason I was so excited about the opportunity to review Samson's Classroom was because of the reading comprehension section. For the first time this year, my son will have to take a standardized test and I thought this would be a great way to practice. Now as 8 year old boys sometimes do when they think they are getting more "work" he grumbled a little bit when I told him about the new website. But, once we started using it, he actually asked to do it! Alex is a struggling reader and so I have been doing the reading comprehension section with him by reading it out loud and him answering the questions. We also are working on building his vocabulary with the sight words and spelling sections. Earning the trophies and the different color belts have been a great motivator for him even though he grumbles a bit when he has to go back and redo the step when he makes a mistake.
He was so excited about using the website, that he got very disappointed when our laptop wasn't working. I didn't want to dim his enthusiasm so we loaded Samson's Classroom on the iPad using an app called iSwifter. Samson's Classroom worked great on the iPad too!
There is immediate feedback for the child and a lot of encouragement. The words and sentences are spoken clearly and are easily understood. The program is simple to log in to and to use. There are not a lot of bells and whistles (that is a positive thing!) but simple graphics and fun activities. Earning hammer time swings and points didn't make a whole lot of sense to me because the points don't really get you anything but possibly your name on a leader board, but Alex thinks it is great fun and will do an extra assignment just to earn more hammer swings. Parents can easily see exactly how their child is doing through their dashboard. There are also many printable flash cards and work sheets that can be printed out for extra practice or reinforcement. Samson's Classroom has definitely been a great addition to our homeschool.
To see what other crew mates had to say click
here.
Disclaimer: I received a complimentary subscription to Samson's Classroom for the purpose of writing a fair and honest review. I received no other compensation.