Kinderbach
was one of the vendors that I was most excited about on the TOS Crew list this year. I was unable to review it last year, but was really, really hoping to be able to review it this year. I was so excited to have the opportunity, especially since our subscription started around Christmas and the children had just gotten a keyboard as one of their gifts this year. The timing was perfect for us to begin using Kinderbach's online piano lesson program.
Kinderbach
teaches note reading, rhythm, singing, and composition to children ages 3-7. They use cute and
fun characters
to help children learn their lessons through a series of short videos and hands on worksheets. Children will get to sing songs, play songs with entertaining characters, enjoy games and puzzles, and play the piano. They have the opportunity to develop a love of music and musical skills at a very young age. Parents do not need to have any musical knowledge, Kinderbach does all of the teaching for you.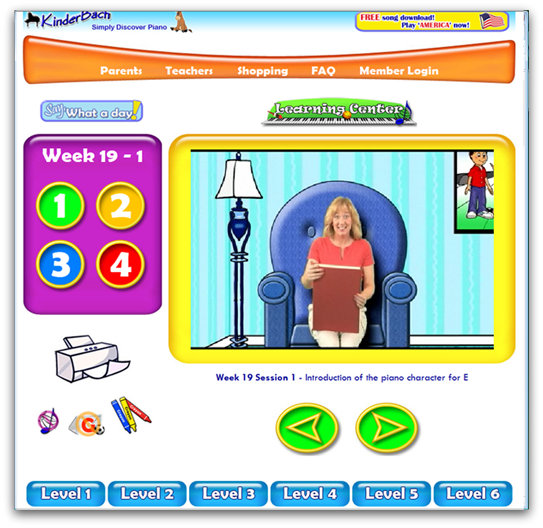 Kinderbach has a total of 240 available lessons in 6 levels. Each level has a printable PDF lesson book full of coloring pages, music, crafts, and games to go along with the lessons. After completing the entire program your child will be able to:
Know all the notes on the piano by location and letter name
Be familiar with the grand staff,
Read some individual notes on staff and all notes by pattern on staff,
Understand and read rhythms from eighth to whole notes,
Have improved listening skills so that he/she can interpret rhythms, intervals and patterns heard.
Play familiar melodies,
Play hands together or separately,
Have a working music vocabulary,

Understand basic composition methods
Kinderbach is available for purchase to use
online
(including new apps for the iPad, Android Tablets, Kindle Fire, or Nook) with high speed internet, or you purchase Kinderbach on DVD. A yearly online subscription is $95.88, or you can purchase monthly for $19.99 a month. You can purchase DVD
activity packs
by level. Each pack contains 3 hours of video lessons on DVD, 1 PDF activity guide on CD with a parent guide, and 1 audio CD with performance and demonstration tracks for $40.45 per level. You can save money by buying
value packs
(more than one level at a time) and they also have
songbooks
available for purchase. Kinderbach offers a
30 day money back guarantee.
For a free online trial click
here
.
Use the following coupon code TOScrew2012 to get 30% off of any Kinderbach purchase! Good for one whole year!
I wrote in my introduction that Kinderbach was one of the reviews I was most excited about this year. I am happy to say that the program has exceeded my expectations! I have been using the online version with my 10,8,6,4, and 2 year olds. We have what is considered high speed internet, but it is pretty slow. I have had no problems, pauses, or delays playing the videos. We have been completing 4 videos 3-4 days a week. They love watching the videos! They love the characters, especially Dodie and the "beat bugs." We have had a lot of fun playing our rhythm instruments (although I will admit that 5 children playing rhythm instruments for hours on end can get a little tiring for mom ;) I really like the printouts that go along with the lessons. My 6,4, and 2 year olds enjoy doing them, while my 8 and 10 year olds do not. They love the songs that they have been singing. I love that the program does not just teach notes on a keyboard, but teaches music appreciation also. The children are learning things that they would need to know if they ever decide to go on to another instrument.
Anthony, Nick, Alex watching videos on laptop
Christian and Lily watching videos on Nook Color
If you are looking for a program that is going to teach children to just play songs on a keyboard quickly, this is probably not it. We are in week 9 of the online lessons (4 videos per week) and have yet to actually play a real song on the keyboard. We have played the keyboard and played beats to go along with songs, but have not actually played a song using different notes.
To see what other crew mates had to say click
here.
I received a complimentary online subscription to Kinderbach for the purpose of writing a fair and honest review. I received no other compensation.