Crossbow Education
are specialists in teaching aides for children and adults, with Dyslexia and Visual Stress. Their goal is to help identify dyslexic tendencies and provide tools to aid in everyday tasks. They carry a variety of products including reading rulers and colored overlays, sand timers, phonics and spelling, and language arts materials. They also have a lot of links to helpful information about dyslexia and visual stress on their homepage. We received the
10 pack of Eye Level Reading Rulers
to use and review.
The eye level reading ruler is a 6 inch long colored overlay text highlighter. It is made of a combination of opaque and transparent plastic that both underlines and highlights the text in colored tint. The ruler contains two windows, one for one line of reading and a wider one for reading paragraphs. The ruler has a gloss or matt surface and helps to reduce glare, assist with tracking, and improve focus.
The ten pack we received contains one ruler in each of the following colors: yellow, celery, grass, jade, aqua, sky, purple, magenta, pink, and orange. The reader can use all 10 colors and decide which color (or more than one color) works best for them, and then in future orders can order a 10 pack of that color. There is "right" color, the color that works best will depend on the individual reader. The 10 pack costs $16.95 and can be ordered
here
. The eye level reading ruler is also available in a
5 pack
for $9.45.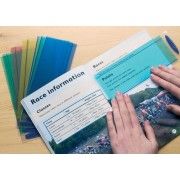 My 8 year old son tested out the eye level reading rulers. We liked that the rulers had both a glossy and matte finish. Another benefit is the double window, the small being for one line, and the larger being wider to read a paragraph. We used the small window to help him focus and concentrate on one line at a time. It did help him focus just on what he was reading and not to be distracted by all of the words on the page. We tried all of the different colors and he decided that orange worked the best for him. The rulers are very durable and easy to slip into a book and take it with you.
We do not do a lot of reading out of textbooks. Most of what Alex reads are smaller readers. The 6 inch reading ruler is much longer than the book which made it a little awkward for him to use. The rulers can be easily trimmed down to the size you need them to be, but I would like to see them offered in a smaller size as well.
To see what other crew mates had to say click
here.
Disclaimer: I received a complimentary pack of reading rulers for the purpose of writing a fair and honest review. I received no other compensation.