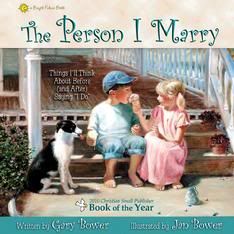 Jan and Gary Bower, parents of 12 children are also the writers and illustrators of wonderful picture books for childhood and beyond. Their books are not just enjoyable to look at, but also carry important messages. Some of their titles include, The Person I Marry, There's A Party In Heaven, A Jingle in My Pocket, What Do Heroes Wear? and others. From their website, " As exciting and fulfilling as it is to be an artist and a writer, other things rank higher on our list when it comes to who we are. We also feel extremely humbled and grateful to be Christians, best friends, parents of twelve, and grandparents of nine." You can see all of the titles their family has to offer by visiting the
Bower Books
website. We were asked to review an electronic version of
The Person I Marry
written by Gary Bower and Illustrated by Jan Bower.
The Person I Marry, Things I'll Think About Long Before Saying I Do, is a hardcover 32 page beautifully illustrated book for $11.99. This adorable heartwarming book talks about the important things to think about long before marriage like commitment, purity, and true love. It also talks about the characteristics one should look for (and also show themselves) such as: respect, honesty, thoughtfulness, faithfulness, and patience that help make a strong marriage. Winner of the 2010 book of the Year Award from the Christian Small Publisher Association, The Person I Marry makes a great book for children, teens, or a gift for a newly married couple!
The Person I Marry
from
Bower Books
on
Vimeo
.
This book (and others on the Bower Books website) has the most beautiful illustrations I have ever seen! If they are this beautiful on a computer screen, I can only imagine what they look like in person! But, the beauty of the illustrations is not the only thing that made this book great. The message it is conveying is such an important one, and one you cannot start to teach too early, that it's not the outside but the inside of a person that counts the most. The book is written in rhyme which I think makes it all the sweeter and helps keep the attention of the younger children. I read this book to all of my children (14,9,7,6,4,2,8 months.) The boys quite honestly were not that interested in it, mostly because they are at an age where they don't think they will ever get married. The girls really liked the book. I really was most interested in it for my 14 year old daughter. The world today has some interesting (not in a good way) views on marriage that I do not want my children to have. I want her to have a strong knowledge of what marriage is and isn't and I think this book presented all of those things in a fun and beautiful way that makes it easier to talk to your teen about. The Person I Marry is exactly what I hope we as parents model for our children and what I want for them in their marriages.
To see what other crew mates had to say click
here.
I received complimentary access to a digital version of The Person I Marry for the purpose of writing a fair and honest review. I received no other compensation.