Marshall Publishing
is your source for, "lots and lots of award winning DVD's, books, and CD's your whole family will enjoy for a lifetime!" Their goal is to produce award winning, quality videos to watch today and remember for a lifetime. Many of their products can be enjoyed by all ages and are not readily available in stores. We received
Lots and Lots of Fire Safety Songs DVD and Fire Truck Book Combo
to use and review.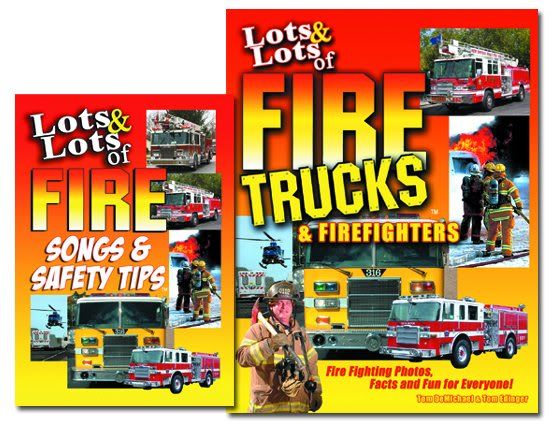 The Lots and Lots of Fire Safety Songs DVD and Fire Truck Book Combo comes with the Lots and Lots of Fire Songs and Safety Tips DVD and the Lots and Lots of Fire Trucks and Firefighters Book.
The DVD is divided into two sections: a Classroom Section which contains a short 12 minute information packed program and users can play or select any of the individual segments for 30 minutes of learning fun.
Various award winning segments include:
Lots and Lots of Fire Trucks
Call 911
Fireman Jim's Safety Tips
Stop, Drop, and Roll
Your Home Safety Plan
It's An Emergency
Heroes Brave and Tall
Great Big Fire Trucks
Fire Trucks in Action
The book is , " a fun book, a learning tool, a reference guide, and a wild ride with the brave men and women who risk their lives fighting fires and saving lives." It is 124 pages and full of black and white, color photos and illustrations, and full of information on the following topics:
Meet Firefighter Joe
Firefighter's Tools and Equipment
Rescue Vehicles
Fire Fighting Facts
Fire Science Basics
Fire Prevention Week
Fire Prevention Safety Tips
What is a Firefighter?
Firefighters in Action
Words of a Firefighter
Old Time Firefighter's Alphabet
Classic Fire House Traditions
History of Fire Trucks and Fire Fighting
Antique Fire Trucks
Greatest fires in History
Firefighting Timeline
Fire House Museums
Cool Fire Related Websites
Sing Along Lyrics to Lots of Fire Trucks
The normal retail price of this book/DVD combo is $49.90. The web sale price
here
on the Marshall Publishing Website is $29.95. Marshall Publishing is offering a generous discount for TOS review readers by entering coupon code: TOSF1 at checkout making your final price $19.95! Order by clicking
here
, or calling 888-300-3455 between 9 and 7 CST.
The boys (4,6,7,9) and I really enjoyed the Lots and Lots of Fire Safety Songs DVD. It teaches important information in a concise manner. The music is catchy and fun to sing along too. I keep hearing the boys singing Call 911 as they go throughout their day. Having the option to choose to watch the classroom version (12min video) and then choose each of the extra separately is a nice feature especially if you are pressed for time.
The Lots and Lots of Fire Trucks and Firefighters book really wowed me! I don't know what I was expecting but I wasn't expecting a book that had so many colorful eye grabbing photos and was literally jam packed with information! It is like an encyclopedia of fire. My little guys loved looking through the pictures and listening to me read parts of it aloud. My 9 year old read through it on his own. I was amazed by the amount of information the book contained and touched by the inclusion of The Fireman's Prayer, Fireman's Wife's Prayer, and the other readings in the Words of a Firefighter chapter. I love that they included The History of Firefighting and the Firefighting Timeline.
After watching the video several times and reading through the book and looking at all of the photos, two of my little guys decided they want to be firefighters when they grow up. And Firefighter Joe inspired Anthony to make a fireman out of Legos using his picture as a model.
I found this DVD/book combo to be a wonderful tool for teaching my children not only about fire safety, but the history of firefighting/firetrucks also. While we all watched the video together, I only looked at pictures and read aloud from some parts of the book to the younger ones. There are a lot of statistics listed in the book showing how many people were killed by different fires, houses were destroyed, and firefighters lost their lives that I didn't think was necessary to read to my children. While learning about fire safety is necessary, it is up to each individual family how much they would want younger children especially to learn without giving them too much information that might cause them to be overly fearful. The recommended age on this product was grades 4-8. It definitely can be used for older and younger children within your and your children's comfort zone.
To see what other crew mates had to say click
here
.
I received a complimentary copy of Lots and Lots of Fire Trucks and Firefighters and Lots and Lots of Fire Songs and Safety Tips for the purpose of writing a fair and honest review. I received no other compensation.