I have shared many times on my blog about my 2nd grade son who is a struggling reader. Reading and phonics do not come easy to my son, but he has a very strong desire to be able to read. We are using an online reading program called The Reading Kingdom (my review on it is
here
)that he is making great progress in. But, he wants actual physical books to be able to read during our afternoon reading time.
We started using a new Spelling Program this year called
All About Spelling
which has been great for Alex. Using the letter tiles to "build" his words makes it more concrete to him. He has started to be able to segment words and sound them out.
All About Spelling
has readers that go along with its Level 1 and 2 spelling program. There are 3 volumes to go with Level 1 and 2 volumes with Level 2. The readers are hard cover and beautifully illustrated. I bought Level 1 Volume 1 on a recommendation and I am so glad I did! When Alex's older siblings got their books out for afternoon reading time, Alex asked me if I had any stories for him. I grabbed it off the shelf and he was so excited! The best part was he could read the stories! In the Teacher's Guide for the Spelling program, it tells you what stories to read after each lesson. We do the lesson and in the afternoon he reads the corresponding story. He is so proud that he can read a book all by himself! I am so glad we started using
All About Spelling
and the corresponding readers this year. It has been such a blessing for us!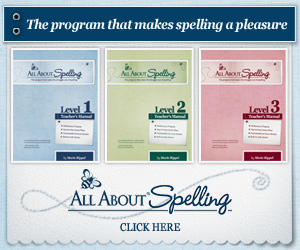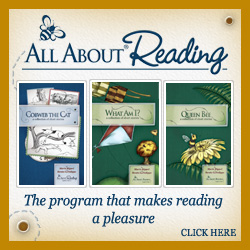 Post contains my affiliate links.