Janice Campbell has homeschooled 4 boys from pre-school through college. She has written many articles and books over the last several years as well as resources for home and family centered living with a special emphasis on literature, writing, and homeschooling high school and beyond. Her goal is to provide links, resources, and articles to help make things easier for the homeschooling parent so they can spend their time on things that matter. You can find all of her products on her
Everyday Education website.
We recently had the opportunity to use and review
Excellence in Literature I, Introduction to Literature.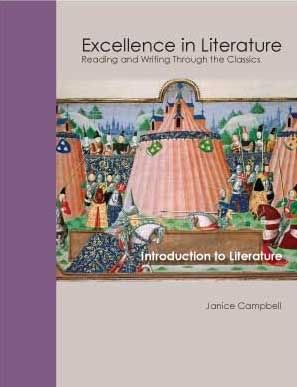 Introduction to Literature is a college preparatory literature and composition course. Different focus works which may include: novels, poetry, short stories, and drama were chosen for both their literary quality and place in their historical literary development. Context readings will show your student information about the author, historical period, and literary and artistic context of the focus work. There is also an option for your student to pursue an honors option. From the website:
By the end of the course, students will:
Understand the process of writing, including the use of tools such as a writer's handbook, dictionary, and thesaurus.
Have specific understanding of selected representative texts by major authors of the periods studied.
Have a general understanding of the historical and cultural contexts of the works.
Be able to analyze literary texts and present thoughtfully developed ideas in writing.
Demonstrate competence in essay organization, style, and mechanics.
Introduction to Literature contains 9 unit with each one taking about 4 weeks to complete. Here is a list of the focus works in each unit. Context readings will also be assigned for each unit.
Unit 1: Short Stories by-
• Sarah Orne Jewett:
A White Heron
• Edgar Allen Poe:
The Purloined Letter
(This one is not scary, if you're concerned about that.)
• Guy de Maupassant:
The Diamond Necklace
• O. Henry:
The Ransom of Red Chief
• Eudora Welty:
A Worn Path
• James Thurber:
The Secret Life of Walter Mitty
Unit 2: Around the World in Eighty Days by Jules Verne
Honors: 20,000 Leagues Under the Sea by Jules Verne
Unit 3: A Connecticut Yankee in King Arthur's Court by Mark Twain
Honors: The Prince and the Pauper by Mark Twain
Unit 4: Jane Eyre by Charlotte Brontë
Honors: Shirley or Villette by Charlotte Brontë
Unit 5: Pygmalion by George Bernard Shaw
Honors: Murder in the Cathedral by T.S. Eliot
Unit 6: Treasure Island by Robert Louis Stevenson
Honors: Kidnapped by Robert Louis Stevenson
Unit 7: Animal Farm by George Orwell
Honors: 1984 by George Orwell
Unit 8: The Tempest by William Shakespeare
Honors: A Midsummer Night's Dream by William Shakespeare
Unit 9: Gulliver's Travels by Jonathan Swift
Honors: The Pilgrim's Progress by John Bunyan
You can view a sample unit by clicking
here
.
Here
is the list of books used for all 5 years of literature courses for grades 8-12.
To complete this course, you will need either a print or e book version of Introduction to Literature, access to the books being studied, a writer's handbook, and other common study and reference tools (dictionary, thesaurus, pens, pencils...etc.)
Excellence in Literature Introduction to Literature can be purchased as a print book for $29 plus $4.95 priority shipping and handling. An ebook can be purchased for $27 saving you the shipping cost and giving you instant access. Click
here to
order. You also have the option to purchase all 5 years for $139 plus shipping for the print book or $135 as an ebook. Click
here
to order English I-V The Complete Curriculum.
Introduction to Literature
is not the first of the literature series that we have used. Going on multiple recommendations, I purchased the print book of
American Literature
to use with my 14 year old daughter for 10th grade. Each of the Excellence in Literature choices, Introduction to Literature, Literature and Composition, American Literature, British Literature, and World Literature are all going to follow the same basic formats but will increase in difficulty as far as the required readings and assignments.
Excellence in Literature was exactly what I was looking for in a high school Literature/Writing curriculum! One of the most important skills that a college bound student is going to need to have is the ability to write. Excellence in Literature speaks directly to the student making them responsible for their own education and completion of assignments. It doesn't tell them what to think, but instead teaches them how to think and analyze literature. I love that in addition to the focus works, the assignments also include context works about the author, historical period, and works of art to give the student a larger view of the focus work. The literature selections are outstanding, and because they are classics are able to be purchased very inexpensively,borrowed from the library, or in the case of e- books, you can find them for free. Examples of the different types of papers are in the back of the book so the student has an idea of what is expected of them. The only thing that you as the parent are responsible for is grading the paper. A grading rubic is included to help you with this I know that I have a hard time grading my daughters writing and found the grading rubic to be a big help in knowing how I should be grading her.
This course is challenging. My 14 year old who loves to read has been challenged by the writing assignments as she gets used to analyzing literature and not just reading for pleasure. She spends about 6 hours a week working on her literature/writing assignments. If you have a child that is not a strong reader, dislikes writing, and cannot manage their time well, this may not be the perfect fit for them. But, if they are willing to put it the time and effort it takes to complete these courses they will definitely benefit from them. I plan on using Excellence in Literature through the rest of Chelsea's High School years.
To see what other crew mates had to say click
here.
I received a complimentary e book copy of Excellence in Literature Introduction to Literature for the purpose of writing a fair and honest review. I received no other compensation.