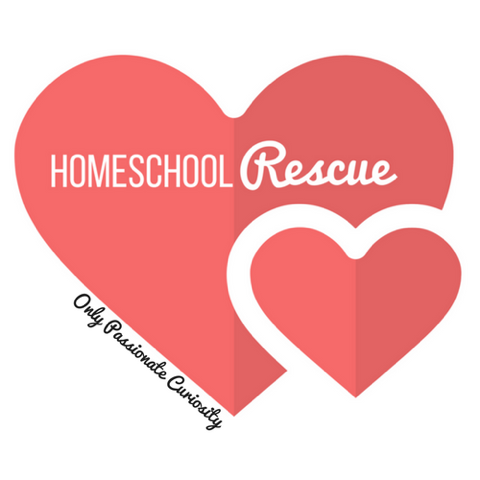 Are you a homeschool mom who is feeling burned out or like your homeschool needs a reboot? Heather from
Only Passionate Curiosity
has a brand new course for homeschool moms called
Homeschool Rescue
that might be just what you need to get your homeschool back on track.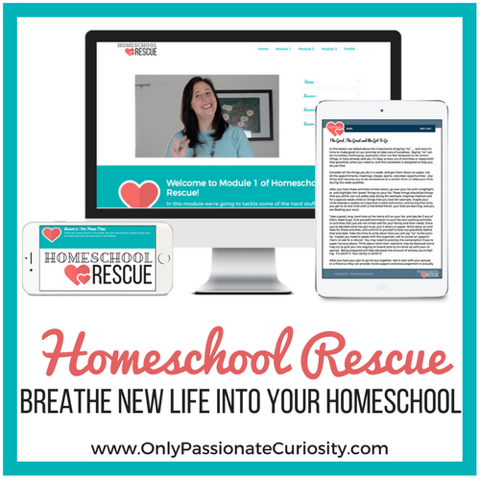 Homeschool Rescue is an online course for homeschool moms. Each lesson has a video to watch plus downloadable homework assignments. Purchasing the course gives you lifetime access to the content. You can work through the course at your own pace, or there is an option to join the Homeschool Rescue Facebook group and work through the course in a group setting that starts on June 1st and ends on July 31st.

The Homeschool Rescue course must be purchased by May 31st for the summer session, even if you are going through the course on your own. The course will be offered again later in the year when the FaceBook group works through the course again. Cost of the course is $97 and includes lifetime access to the ecourse, 20+ videos, worksheets, audio files, group "live-course" experience from June-July, access to the Facebook community, and bonus planners. You also have the option to spend $137 to have access to all of that plus three one on one coaching sessions with Heather.

The Homeschool Rescue course has five lessons with each lesson containing different modules. The first lesson starts with trouble shooting your homeschool and covers topics such as dealing with common homeschool struggles, finding a homeschool community, how to determine real goals for your children, and how to stop comparing your children and homeschool to others. The second lesson discusses time management and organization and talks about why and how you should say no, where all your time goes, setting up your homeschool to be productive by designing a routine that works, and setting up your children to work independently. The third lesson talks about curriculum and will help you learn how to troubleshoot curriculum choices, make your curriculum work for you, and stop putting off hands on learning for another time. The fourth lesson covers setting your students up for success and discusses topics such as teaching children to complete their chores and their school work, setting rules your children will follow, choosing consequences that will work for your children. and encouraging positive attitudes. The last lesson is on teaching older students and talks about keeping open communication, teaching teens to pay attention to details, and time management skills.

I have been homeschooling for 12 years. I have children ages 6-20. My oldest graduated 3 years ago. I am comfortable in my homeschool routine and not in a place of burnout or crisis. But the Homeschool Rescue course still appealed to me when I was given an option to review it. Why? I think that no matter how long you have been homeschooling or how much experience you have in something there are always things that can be learned that can help you make positive changes. There are days that we all struggle and there are certain areas that are harder for us to deal with that we can use some help in. I am terrible at time management so that was one area that I was very glad to see that this course covered. (I am also one of those people who have a terrible time saying no. If you are too make sure to watch the video "No is Not a Dirty Word!") I have been working through this course completing a couple of lessons per week.
Using the course is very easy. Once you sign up and have your log in and password you head over to the course homepage.
Click on the module and you will see the different lessons.
Click on the lesson you need.
Then you will see the lesson video, downloadable homework, and links to additional resources.
The videos vary in length. Some are fairly short less then 15 minutes while others are around 30 minutes. The homework assignments also vary in how long it will take you to complete them. They are not very long but do require some thought and being honest with yourself. I thought the bonus planners were a nice addition to the course.
The Homeschool Rescue course is full of practical tips and advice. Some of it you may know already but it's helpful to hear it from someone else. Heather does not prescribe a one size fits all solution to homeschooling but instead offers ideas to get your homeschool running more smoothly. I like that you can work through the course at your own pace and that you have lifetime access to it. Others may enjoy going through the course along with others via the Facebook group. I appreciate that Homeschool Rescue offers both options.
I have been blessed by Homeschool Rescue! It has caused me to take an honest look at some of the things that need to be changed in my homeschool. To see what my Crew Mates had to say stop by the
Crew Blog
!