Institute for Excellence in Writing
(IEW) is very well known in homeschooling circles for their writing programs. We have used many of their products over the last several years and have had great success with each one. I was glad to have an opportunity to review the newly updated second edition of
High School Essay Intensive
.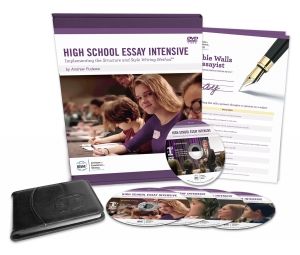 High School Essay Intensive ($79) is intended for grades 9-12 and comes with:
5 DVDs ( 6.5 hours of instruction) in a imitation leather case

Portable Walls for the Essayist

Student Handouts
In the DVD case, you will also find instructions for streaming the lessons enabling students to watch on the go in places they may not have access to a DVD player.
The DVDs are split up into 4 different sections:
General Strategies for Essay Writing
is the longest section and is split up onto two different DVDs. The first DVD focuses on Length and Structure of the General essay. It starts with an initial timed writing exercise and then goes on to cover topics such as: What is an Essay? How do you figure out how many paragraphs you need to write when given a certain assignment length? What are two questions writers needs to ask?, The TRIAC Paragraph Model, and Essay Models. The second DVD focuses on Invention and Style of the General Essay and covers topics such as: Canons of Rhetoric, Invention, Practice, Style, Sentence Openers, and more.
The second section is
Understanding and Preparing for the New ACT Essay
. Some of the topics covered in this section include the General Guidelines for the New ACT, and different strategies for planning, writing, and proofing your essay.
The third section is
Understanding and Preparing for the Redesigned SAT Essay
. This section covers the general guidelines, annotating, planning, writing, proofing, and using effective vocabulary.
The last section is
Strategies for the Personal Essay
. This section covers topics that are important when writing a personal essay for things like college entrance. It covers general guidelines, strategies for planning, editing, and proofreading your essay and how to make it stand out in a crowd.
Students are strongly encouraged to take notes while viewing the DVD. The 25 page handout includes spaces for students to take their notes, helpful information such as possible essay structures, lists of -ly adverbs and prepositions, plus sample essay prompts and assignments.
Portable Walls for the Essayist
is a laminated tri fold folder that focuses on essays. It lists the different types of essays, Essay Models, the Essay Writing Process, TRIAC Paragraph, Essay Writing Strategies, Sentence Pattern Variety, Specific Models of different types of essays, Transitional Words and Phrases, and Prepositions. It is a great visual reminder of what is taught in this course. It is sturdy and available for your student to refer back to when they need a reminder of what they have learned.
High School Essay Intensive was taught as a live course that was 6.5 hours long. On the video you see Andrew Pudewa teaching a room full of students. While you absolutely can use it that way in your homeschool, you also have the flexibility to break it over a period of time, or choose to complete the sections in any order that makes sense for your household. If you have a child that is preparing for the ACT or SAT you would start with those sections and work on the others as needed. I was interested in using this with my 15 year old son to brush up on his essay writing skills, so we started at the beginning of the course with General Strategies for Essay Writing. I had him watch the DVD in 30 minute increments and follow along with the student handout.
This course is taught directly to the student and needs no parent involvement, unless the parent wants to watch along with their children. Mr. Pudewa is a wonderful, engaging, speaker! He is so interesting to listen to, injects humor and interesting stories as he is talking, and definitely holds the attention of the listener. He breaks the writing process down step by step in a way that is easy to understand and adapt to the different essays the writer will face. I had never heard of the TRIAC Paragraph model before, but it makes so much sense.
High School Essay Intensive will benefit all high school homeschoolers by giving them the knowledge they need to tackle any essay that will come their way!
To see what my Crew Mates had to say, stop by the
Crew Blog
!