When I was making plans for the school year, one of the things I had on my list was to use a few Progeny Press Study Guides for Alex throughout the year. We have used Progeny Press several times over the last few years. Progeny Press carries a wide variety of literature study guides for elementary all the way through high school. I was recently given an opportunity to use and review Stone Fox Study Guide from Progeny Press.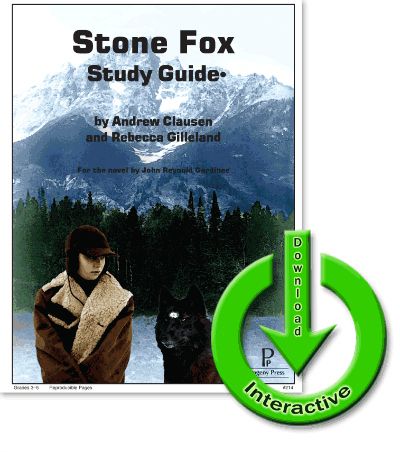 Progeny Press study guides shows children how to think through the themes and ideas presented in the stories and how to better understand and enjoy literature. To use the study guides, students will need a copy of the book, the guide, a dictionary, thesaurus, a Bible, and possibly at times internet access. At this time, study guides are available as a CD, printed workbook, or as a download. Many of the downloadable guides are interactive. The guides are divided into categories by grade. Lower Elementary is for grades K-3, Upper Elementary for grades 3-5, Middle School for grades 5-8, and High School for grades 8-12. You can purchase the corresponding books from Progeny Press, purchase them from somewhere else, or even choose to borrow from the library. Answer keys are included with the guides.
Stone Fox is listed as an Upper Elementary study guide. I received the interactive download for my review. The guide is 60 pages long. As it is interactive you can choose to have your child type the answers in on the computer. I have even put other Progeny Press guides on the iPad and had the children use them in the Notability app. This time, I decided I would print it out for Alex as he does a better job getting his work done with paper and a pen.
The guide contains brief notes to the teacher, book synopsis, about the author, background information, and suggestions for pre-reading activities. The assignments are split up into sections: Chapters 1-2, 3-4, 5-6, 7-8, and 9-10. Some of the activities include: vocabulary questions, comprehension questions, digging deeper, thinking about the story, similes and metaphors, sayings and proverbs, word search, cause and effect, story structure, theme, and review puzzle race.
Alex completed the book before beginning to work on the study guide. He worked on completing one section per day. Then we went over the answers on each section together.
I think the Progeny Press study guides are a great way for students to dig deeper into the books they are reading and learn about vocabulary and literary terms as they relate to the books they are studying. The questions and activities are age appropriate. They is a good variety of different activities and topics being covered. Progeny Press has a wide selection of study guides for a wide range of ages so you will be sure to be able to find some books that your children will enjoy reading. You can pick and choose whether or not to use technology via the interactive features, or print it out the old fashioned way.
We will definitely be using more guides from Progeny Press in the future!
Members of The Crew reviewed several different guides from Progeny Press. To see what my Crew Mates had to say, stop by the Crew Blog!