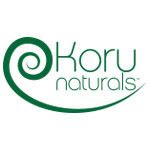 Back in March, I had an opportunity to review two great products from
Koru Naturals
: Emu Oil and Pure Lanolin Lip Balm. You can read my review on those
here.
For many years, the people of New Zealand have used what nature has to offer to treat ailments, protect the skin, and promote good health. Since 2002 Koru Naturals has shared the products they have been using for years. Koru Naturals signed up for another Crew spot and this time sent us:
Skin Clear Cream
Manuka Honey Propolis Soap
Manuka Honey and Manuka Oil Facial Cleanser
Manuka Honey, Tamarind and Manuka Oil Facial Toner
Skin Clear Cream ($19.20) has no artificial colors, fragrances or parabens. It does however contains two main ingredients: raw, unpasteurized Manuka honey and pure steam distilled East Cape Manuka Oil. This formula has been around for over 20 years and they recently have improved the formula by adding:
Kawakawa and Herekeke which are Maori remedies for skin conditions
Burdock Root: Chinese root used traditionally for skin conditions
Thyme: natural astringent and anti-inflammatory extract
Canadian Aspen Bark: a natural preservative
All of the ingredients are listed here.
Skin Clear Cream is ideal for acne prone skin but also can be used as a day/night cream. It is recommended that it be used twice a day to improve the appearance of skin and to help place skin's natural moisture. It comes in a short, round jar with a lid that has to be unscrewed to open it up. A small plastic stick is included. The consistency is similar to mayonnaise. The cream has a fragrance that my boys think smells flowery. I think it is hard to describe. The jar contains 4 oz, which does not sound like a lot, but is really quite a lot of cream.
The Honey and Propolis Soap ($7.90) is a gentle cleansing soap made of Manuka Honey and Propolis. It comes in a 4.93 oz bar. It lathers very nicely and has a pleasant smell that is not over powering.
Manuka Honey and Manuka Oil Facial Cleanser ($13.60) contains 4 oz and comes in a pump. It is free of artificial colors and parabens. It is a gentle cleanser that will not irritate or damage your skin but will cleanse it deeply.
You can see the full list of ingredients here.
The cleanser is clear and is a little thick like honey, but not sticky. You apply by rubbing in circular motions and rinsing off well. The fragrance is similar to the skim cream.
Manuka Honey Tamarind and Manuka Oil Facial Toner ($13.20) contains 4 oz and comes in a pump dispenser. It is clear and thin and has a very fragrant smell. It is designed for oily, combination, or acne prone skin. You use this after cleansing by putting on a cotton ball and applying all over your face.
You can see the full list of ingredients here.
I was interested in these products for my teen boys who are having some difficulties with their skin. They have been using the products for the last several weeks. I can tell a difference when they remember to use the cleaner, toner, and cream consistently for several days in a row (what is it about teenage boys that they have to be reminded of these things all the time!) Their biggest complaint is the smell. They think the products smell like a flower garden and that it is not very manly. I have used the honey propolis soap and love the way it feels and smells.
Members of The Crew reviewed a variety of products from Koru Naturals. To see what my Crew Mates had to say, stop by the Crew Blog!