One of the things about being a product reviewer is that I get introduced to companies that have great products that I had never heard of before. When Brookdale House appeared on our vendor list, I had a really hard time deciding which product I was most interested in, they all looked so good! I finally decided to choose Writing Through Early Modern History Level One Manuscript.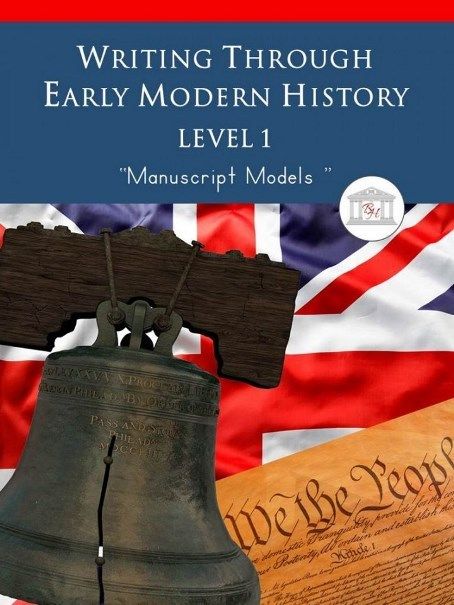 Brookdale House started publishing their own curriculum in 2006 after the author was looking for a writing curriculum for her elementary aged children that utilized copywork, dictation, and narration and when she couldn't find it she decided to write her own. The curriculum is based on the methods of Ms. Charlotte Mason and is organized around the 4 year history cycle. Students learn to write by studying different models written by talented authors from history. A true handwriting font is used so students are also working on their penmanship. In addition to the Writing Through History curriculum they offer a wide variety of product including: Drawing Around the World (Europe and the USA), The Fun Spanish, The Grammar Workbook Set, Sheldon's New Primary Language Lessons, and many more.
Writing Through Early Modern History Level One covers the time period between 1600 and 1850. It is divided into 4 chapters: short stories, time period tales, poetry, and cultural tales. There are two writing models for each selection. The first one has lines below each line they copy. The second one has the writing model written at the top and the blank lines underneath the selection. Some of the selections include:
Historical Selections:
Pocahontas
William Penn
George Washington
The Boston Tea Party
Thomas Jefferson
and more
Poetry Selections:
Isaac Watts
Edward Lear
William Blake
Henry Wadsworth Longfellow
and more
Fairy Tales:
Briar Rose
Hansel and Gretel
Mother Frost
The King of the Birds
and more
Cultural Tales:
African Tales
German Tales
Indian Tales
Italian Tales



Writing Through Early Modern History can be purchased as either a printed book or an ebook. I received the e book version for my review. It is 351 pages long. I chose this level to use with my 1st, 3rd, and 4th graders because it would go along with what they are studying in history. We used this 3 days per week completing one selection weekly. On Monday I would read aloud the selection and have them tell it back to me (narrate.) On Tuesday the children would complete the first copywork assignment and on Wednesday they completed the second copywork assignment. Since we received this review before we started our history curriculum, we started with the fairy tales and then moved on to Pocahontas and the other Indian stories.
Since we received the ebook, the pages have to be printed out. I am printing the selections as we go printing only one of the story since I am reading it aloud and the copywork pages I am printing for each student. The pages are all in black and white making it more economical to print and with multiple children using the product it is definitely cheaper to make copies rather then buy a printed book for each of them. If I had only one child I would purchase the printed book.
We have enjoyed the selections we have completed. I really like that it is organized chronologically through history. We already follow a lot of the Charlotte Mason method so that fir in with our learning style. I did not have the children use their penmanship book along with this because it can be a penmanship curriculum as well which made my life a little simpler. I like that they offer their books in both cursive and manuscript so you can choose what works better with your family.
There are plenty of sample pages for you to look at here.
Members of The Crew reviewed a variety of products from Brookdale House. To see what my Crew Mates had to say, stop by the Crew Blog.