Apologia Educational Ministries is well known in the homeschool community for it's science and worldview curriculum. They also have numerous resources for parents. Apologia continues to add new products every year that will be helpful and easy to use in a homeschool. Since joining the Schoolhouse Review Crew in 2010 I have had an opportunity to review several products from Apologia Educational Ministries as well as purchase several others. We were excited to review one of their brand new products, Exploring Creation Field Trip Journal.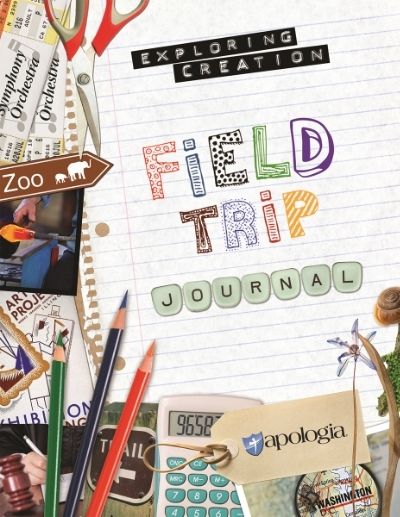 The Exploring Creation Field Trip Journal ($22) is a fun way to record all of your hands on, in person, homeschool learning adventures. Whether in your own back yard or traveling across the country, your family will enjoy filling in the pages of this journal. The book itself is spiral bound with high quality, thick, card stock pages. In the pages of the journal you will find:
Preparing for a Field Trip Pages
Over 100 Field Trip Ideas in the areas of Plants, Animals, Earth, Space/Aviation, Human Body, History/Government, Municipal, Business, Culture, Fashion Museum, and others ranging from local ideas to possible trips around the world.
Place I've Explored pages, Places I've Explored in the U.S. pages, Places I've Explored in the World Pages
How to use the "Field Trip" pages suggestions
10 Specific Trip Pages with a section for mapping, photos or drawings, books read for the trip, emergency contact plan, things you want to see or do, story of your day, date and time, and something I never want to forget
How to use "My Special Spot" page suggestions
4 Special Spot pages for winter, spring, summer, and fall
How to use "As I See It" page suggestions
17 As I See It pages some with prompts such as movements, predators and prey, and earth while other are blank to allow for anything the child can imagine



You can see a sample of the Exploring Creation Field Trip Journal here.
We have used several of the Apologia Science journals, so I knew that I could expect the Exploring Creation Field Trip Journal to be high quality. This journal is a great way for a family or child to record the different things they see and do in our world. You do not have to take an exotic trip somewhere to use this journal, you do not have to go any further than your own town. But, if you do take an exotic trip somewhere, you sure can record that too!
We have been using the Field Trip Journal as a family. We actually had a trip to the zoo scheduled the week that the Journal arrived at our house. The children told me what they wanted to record in the journal and I wrote it down for them. Then one of the boys drew a map and the other drew a picture. Our next adventure was a little closer to home, we went on a field trip to a greenhouse down the road. We also visited a farm and the park.
I think the "My Special Spot" pages are a really great way for children to really stop and take notice of the area around them and how they change from season to season. The "As I See It" pages also allows for children to creatively draw and record things in the world that they think are special.
As an added bonus, Apologia often has a special page with extra links, videos, and information that you can access once you purchase one of their products. I was excited to see that was true for the Exploring Creation Field Trip Journal as well. With my access code, I was taken to a page with numerous helpful links and resources such as virtual field trips, ideas for homeschool field trips, a state by state list of field trip, maps, field guides, so and much more. It is a fantastic resource!
The Exploring Creation Field Trip Journal is a great resource especially for children that like to draw or take photographs. It would make a great keepsake for years to come.
To see what my Crew Mates had to say, click on the banner below.