I love Susan K. Marlow's books! I am always very excited to have an opportunity to review one of her books and was delighted to be chosen to read and review
Tales From the Circle C Ranch
along with
Andrea Carter's Tales From the Circle C Ranch Learning Lapbook
from
Circle C Adventures.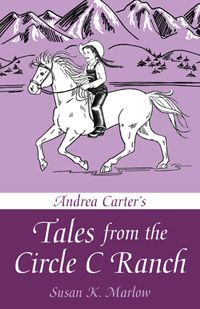 Susan K. Marlow is a 20 year homeschooling veteran and an author. Andrea Carter is the main character in her Circle C Beginnings (6 year old Andi), Circle C Adventures (12 year old Andi), and Circle C Milestones (14 year old Andi) series. Tales From the Circle C Ranch ($7.99) is a short story collection that was inspired by fans' questions. It is split into two parts: The Early Years and The In Between Years. The Early Years has 4 different stories: Britches Are Not For Little Girls, The Best Gift of All, Aunt Rebecca and the Hat, and White Christmas. It starts off in 1873 before Circle C Beginnings and ends in 1878 before Circle C Adventures. The In Between Years has 7 stories : Prince Loco, Chad's Crazy Horse, Hurrah For the 4th of July, A Matter of Honor, Snakes Alive!, Virginia's Riding Lesson, Where the Trees Meet the Bay, and Adios Jeffrey Sullivan. It starts in June 1880 after Andrea and the Long Ride Home and ends in 1881. These stories fill in the blanks about some of the things that happen in the series such as why and when Andi is allowed to wear overalls, and if she succeeds in getting rid of Melinda's beau, Jeffrey Sullivan. We also get to meet Andi's father and visit her friend Jenny in Washington Territory.
Download and read the first story
.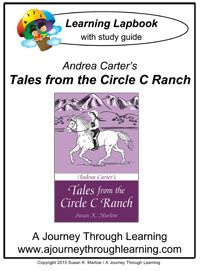 Andrea Carter's Tales From the Circle C Ranch Learning Lapbook with study guide is a 2 folder lapbbok. Directions are given for folding and assembling the lapbook and a key to placing the mini books is provided. A page of informative text is included for each topic plus a mini book to complete. Topics covered in the lapbook relate to the stories in the book. Lapbook topics include: Book Information, Britches, Dresses, and Overalls, An 1800s General Store, History of Photography, Jingle Bells, Blizzards, State Fairs, History of Fireworks, Limericks, California King Snake, Saddles, Pacific Coast States, Crabs, Visiting Cards, The Apothecary Shop, and the Five Elements of a Story. The lapbook is available already printed out for you ($12), or as an ebook that you print yourself ($7.)
As I said above, I love books by Susan K. Marlow. It can be hard to find good, wholesome books for our children to read, but I know that any book by Susan K. Marlow will not have any objectionable content and will also be good stories with a positive message. I am reading aloud the Circle C Beginnings series to my 6 year old daughter with my 4 year old listening in as well, so I thought they would enjoy Tales from the Circle C Ranch. I read aloud the stories from Part 1 to them and then finished the rest of the book myself. We also completed the first folder of the lapbook.
The girls and I really enjoyed the stories from Tales From the Circle C Ranch. I will admit to crying a bit when I read The Best Gift of All. We definitely had some laughs reading Aunt Rebecca and the Hat and would have reacted the same as Lucy in Snakes Alive! These little short stories are great for Andi fans especially as they do fill in some of the details that we didn't learn in the books, but also would be enjoyable for those who like short stories or stories that take place during the 1800's.
the lapbook is in color but my printer is black and white only
We love lapbooks and A Journey Through Learning is one of my favorite companies. The included study guides and mini books turn a topic covered in the book into a learning experience that your child will remember. My children (not just the girls but the younger boys as well) were fascinated by the Britches Are Not For Little Girls section. They could not believe all the photos were boys!
I would highly recommend any books by Susan K. Marlow. While the Andi books are geared more towards girls, she also writes a series called Goldtown Adventures that is great for boys!
Stop by the
Crew Blog
to see what my Crew Mates had to say!