Memoria Press produces easy to use, classical, Christian materials for home and private schools. Memoria Press products require no previous knowledge of the subject being taught but are designed with high academic standards. We recently had an opportunity to use and review First Start Reading.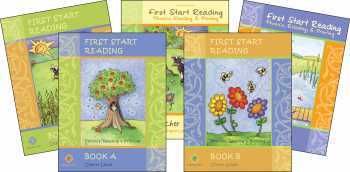 First Start Reading is not just a reading program. It is a phonics, reading, and printing program for children around kindergarten age. The program covers consonants, short and long vowels, 45 common words, and manuscript printing with a strong emphasis on correct pencil grip and letter formation. First Start Reading uses a traditional vowel consonant approach combined with word families. Students begin blending and reading in Lesson 3 of Book A. The student workbooks have letters to trace and draw on their own along with pictures to color and space to draw. The Teacher's Manual contains reading and writing teaching helps, scripted lessons, assessments, and posters. The First Start Reading Set includes a Teacher's Manual and 4 student workbooks and can be purchased for $42.95. You also have the option to buy products separately.
Book A has 25 lessons and covers letter sounds m,a,s,n,r,f,t,h,th, /z/ sound of s,/i/ sound of i,c,p, and st. In addition to the letter sounds, words, sentences, and stories students will also learn reading skills such as starting a sentence with a capital, using a period and exclamation point, when to use a and an, and plural nouns. Book B has 25 stories and covers letter sounds I,g,l,o,b,and d. This book has 12 stories and teaches reading skills such as dictation and using a question mark. Book C has 33 lessons and teaches letter sounds e,x,k,j,u,v,w,y,z,and q. There are 7 stories in this book and reading skills include dictation, quotation marks, paragraphs, and sentences continuing to the next line. Book D has 12 lessons and teaches letter sounds long a,i,o,u, digraphs sh,th,ch,wh, and final consonant blends s, r, and l. There are 3 stories in Book D.
FSR Table of Contents
Book A Sample
Book B Sample
Book C Sample
Book D Sample
I have been using First Start Reading with my daughter who just turned 6 years old. We have been doing one lesson per day 3-4 days per week. We work on a 4 day per week schedule in our homeschool.
My very first impression of this program was how visually appealing the books are. They have cute illustrations on the front and soft colors. It made us want to dive right in! I started reading through the Teacher's Guide so I would have a good overview of the program before starting it with Lily. The Teacher's Guide has a lot of helpful information on letters and their sounds, proper pencil grip, and letter formation. Each lesson is scripted for the teacher and all you have to do is follow the script. The instructions are written for a classroom teacher, but are very easily adaptable to the homeschool teacher.
The program teaches in a way that has the children reading within the first few lessons which I think is wonderful! Children at this age are eager to learn to read and if they have to learn a lot of rules without being able to use them they will get frustrated. Learning to blend and read early on shows them they can be successful!
Reading and writing go together and it is important to teach the correct way to form letters before children develop bad habits. First Start Reading gives plenty of instruction and writing practice. Children watch the teacher form the letters, draw the letters in the air, trace the letters , and draw their own.
My favorite part of the workbooks though is that children have the ability to really make them their own. Each letter has 2 pictures to color, and there is a space for them to draw something starting with the letter and to illustrate a sentence in the stories after they finish reading them.
There is review built in to the lessons, and assessments for the teacher. Grammar is also taught such as when to use "a" and "an", what is an apostrophe, differences between "to" and "too", punctuation, and more. Comprehension questions are included with the stories and students start not only reading the words but dictating them as well.
The Teacher's Guide does not tell you how many lessons per week you should complete or how many days per week you should be working, but you really can work at the child's pace and move slower for children who need it and allow children who are ready to complete multiple lessons.
With First Start Reading, Memoria Press has definitely lived up to the their goal to produce products that are easy to use, good quality and affordable. I am quite excited to have an opportunity to another of their products Famous Men of Rome that I will be receiving soon!
Members of The Crew reviewed First Start Reading and New American Cursive Penmanship Program. To see what my Crew Mates had to say, click on the banner below.