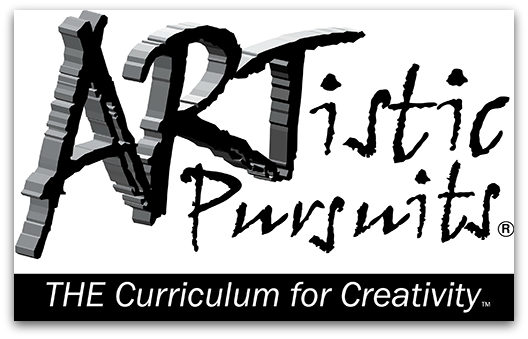 Art can be a hard subject for the homeschool mom to teach. Many of us feel inadequate to teach it and it can be hard to fit it in to an already busy schedule. I am not at all artistically talented, but I think art is an important subject to teach. ARTistic Pursuits is an art curriculum that is designed for use in the homeschool. They have books for all different age ranges and are one of my favorite vendors. Recently we had an opportunity to use and review Early Elementary K-3, Book 3: Modern Painting and Sculpture.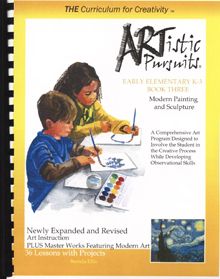 There are three books in the early elementary section for approximate grades K-3: Early Elementary K-3, Book One: Introduction to the Visual Arts , Early Elementary K-3, Book Two: Stories of Artists and Their Art , and Early Elementary K-3: Book 3: Modern Painting and Sculpture. The books do not necessarily have to be used in order. Each book contains 36 lessons and has colorful illustrations, art appreciation, and a wide variety of projects. These books are non consumable and can be used with multiple children. You can purchase each book for $47.95.
Early Elementary K-3, Book 3: Modern Painting and Sculpture. focuses on the artwork and movements that had the greatest influence on our culture. This book is divided into two sections: Impressionist Painting and Sculpture and Modern Painting and Sculpture. In the first section students will learn about artists such as Monet, Degas, Renoir, Pissaro, Cassat, Van Gogh, Seurat, and more. In the second section students will learn about Fauvism, Cubism, Assemblage, Expressionism, Realism, Land Art, Computer Art and more. The lessons have a short text for the parent to read to the child and a piece of art to look at with questions to answer. Then comes the project. Each project lists the necessary materials (there is also a page in the front of the book that lists all the materials for the book), step by step instructions, and a student gallery showing what other students made for this project.
Take a look at some samples and the Table of Contents on this page.
For review purposes, I jumped around in the book a bit so I could get an idea of the different types of projects covered throughout the year. If I had purchased the book and was using it as a regular curriculum, I would have gone in order. The first lesson we did for an art co-op. I teach a once a month homeschool art co-op and had planned on doing something about Henri Matisse. My book arrived in the mail just in time, so we did the lesson on Fauvism (Lesson 20) and made a collage. I had 15 students in the class ranging from age 4-11.
Anthony titled his piece "The Thief"
After that we used the book at home weekly. My 6,8,and 9 year olds participated along with my 4 year old as she was interested. We made a lot of great art projects!
At home we started with Lesson One on Art and the Subject. We used Gouache paints for this. We had never used them before but they have now become one of their favorite type of paints.
In Lesson 2 we learned about lines and solid shapes and painted some common household items.
We skipped ahead a bit to Lesson 11 Degas Makes Art in Public Places and learned how to shade and tint with oil pastels.
Then we did Lesson 12 on Sculpture.
Next we moved on to Lesson 13 on Modeled Sculpture and made some figures out of clay.
We LOVE ARTistic Pursuits. As a mom, I love how it easy it is to teach. A few minutes of reading through the text, a picture study with some questions for the children to answer is the only "lesson" part. Then the children have an opportunity to get to the creative part. Even a mom with no artistic talent at all (like me) can follow along with the step by step instructions to guide their children through the assignments. The inclusion of other children's art work in the book is a wonderful thing because it shows what other children on their level are creating rather than adults with years of experience and maturity have created and gives the children more realistic expectations of what their work will look like. Even though there are instructions to follow there is plenty of room for the child's creativity to shine though. The book contains a wide variety of fun and interesting age appropriate projects that explore different art mediums and teaches new techniques. I am just amazed at the really cool projects that I NEVER could have come up with myself. The books are non consumable so you do not need a separate book for each child. One book can be used for the whole family. Even though the books in the K-3 series are geared for K-3rd grade, they can be used and enjoyed by older children as well.
How much time you will spend using ARTistic Pursuits depends on the project and the child. We usually do art in the morning after our morning school work so the children can work as long as they need on their projects while I get lunch started. A few of the projects will take more than one session to allow projects to dry.
You will need specific supplies to complete the projects. There is a project list in the front of the book showing what is needed for the entire book split up into 3 sections: painting materials, sculpture materials, and odds and ends. Each project also has a box showing which material are needed for that particular lesson. ARTistic Pursuits has links on their site to buy packages containing all of the supplies, or you can purchase them anywhere at once or a little at a time. We live a good distance from places to buy art supplies, so I found that buying the whole set at once worked the best for me. If you are using with multiple children there may be a few things like clay, paper, and paint brushes that you will need to buy extra so everyone has enough.
I have reviewed other books from ARTistic Pursuits. You can find my Sculpture Technique: Model review here and my Elements of Art and Composition here. I have also purchased and used Early Elementary K-3, Book One: Introduction to the Visual Arts and loved that one as well.
Member of The Crew reviewed all of the different books from ARTistic Pursuits. To see what my Crew Mates had to say, click on the banner below.