As a member of the Schoolhouse Review Crew, I am greatly blessed to have the opportunity to review several different types of curricula, games, supplements, and more for my children. Every once in awhile, I am blessed to receive a review that is just for me. Over the last several weeks, I have had an opportunity to use and review something specifically for the homeschool mom:
Homeschool Mom's Bible
from
Zondervan.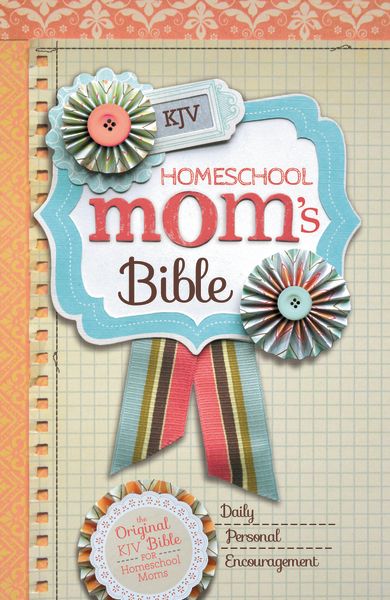 I received the
King James
version of Homeschool Mom's Bible, but it is also available in the
NIV
as well. The Homeschool Mom's Bible is a hardcover Bible that is 1504 pages long. It contains the complete King James version of the Bible, a topical index, foreward by Vickie Farris (wife of HSLDA founder Michael Farris), and 365 daily devotions and prayers written specifically for the homeschool mom by Janet Tatman a homeschooling mom of four with over 25 years of homeschooling experience.
You can purchase Homeschool Mom's Bible (King James or NIV) for $34.99. It is also available as an
ebook
or the
Italian Duo-Tone in Cornflower Blue
.
The feature that makes this Bible special for homeschool moms is the daily devotionals and prayers. There is one devotional for each day of the year, starting with January 1st near the front of the Bible. The devotionals get right to the heart of the topic and are less than one page long. Each devotional contains scripture references and a prayer. Finding the next day's devotional is very easy because at the bottom of each devotional it tells you which page the next day's devotional is on.
I was interested in reviewing the Homeschool Mom's Bible because as homeschool moms we can use all of the support and encouragement we can get. What better way to get that encouragement from the word of God? I also admit that while I do a Bible Study with my children every day, I definitely do not spend enough time reading and studying the Bible on my own. This is something that I have been determined to change and make reading the daily devotional and prayer and reading the Bible daily a priority.
The "package van" as my little girls call it, brought my Bible on September 5th. I tore open the box eagerly and turned to the devotion for September 5th. It is entitled " No other Gods" and it spoke straight to my heart. It talks about how we are not to make idols of our children (although of course a measure of love and devotion are appropriate), we should not put them before God. The Scripture references are Exodus 20:3-5 and Genesis 22. The prayer at the end is this, " Heavenly Father, forgive me for putting my children before you. All I have is from you including my family. Today I am making you first priority in my life. In Jesus' name, amen." The next several topics, Homeschooling's Price, Transitions, Holding Grudges, Who Speaks For God, Second Chances, and many more all spoke to me as well. In fact, I have not yet read a devotional that did not apply to my life as a homeschool mom in some way. Janet Tatman definitely knows the joys and struggles we face as homeschool moms and has put those feelings into words and prayers for us all.
I have very much enjoyed my daily reading of the devotions and corresponding Scripture in the Homeschool Mom's Bible. I have received some much needed encouragement and understanding from someone who has walked in my shoes as a homeschool mom and have made it a priority to spend time reading the Bible not just with my children, but on my own as well. If there was something that could improve the Homeschool Mom's Bible, it would be that in addition to the devotionals and prayers that it would also be more of a study Bible with suggested reading for completing the Bible in a year along with notes on the passages. Then it would be the only Bible a homeschool mom would ever need.
To see what my Crew Mates had to say, click on the banner below.
`