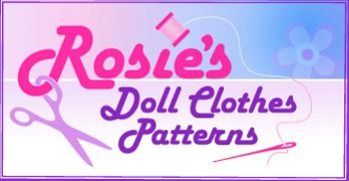 I like to sew, but my skill at sewing is less than fantastic. Often when I am reading the directions for a pattern, it is like I am reading a foreign language and I do not understand it at all. I was excited to have an opportunity to review the
Learn How to Make Doll Clothes Video Course With 8 Free Doll Clothes Patterns
from
Rosie's Doll Clothes Patterns.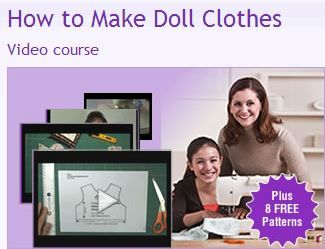 The Learn to Make Doll Clothes Video Course With 8 Free Doll Clothes Patterns is for children and adults ages 8 and up. This course contains over 130 step by step instructional videos that will take you through everything you need to know about sewing doll clothes. The videos are split up into 6 weeks worth of lessons. For each week there are 6-7 main topics with several videos to view under each main topic. The videos start with an introduction to sewing doll clothes and setting up your sewing room, and progress into topics such as: knowing your fabric, working with fabric, how to straight and zigzag stitch, sewing a hem, cool tips and tricks for working with doll clothes, creating casings, tubes, and straps, how to gather, how to attach trimmings, and many, many more. You can work at your own pace and progress as rapidly or as slowly as you need to.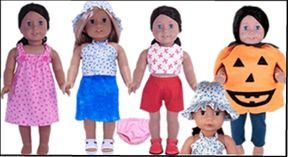 To go along with the sewing course, you receive 8 free doll clothes patterns for 18 inch American Girl dolls:
Sports Shorts
Crop Top
Sarong
Halter Top
Summer Nightie
Hat
Pumpkin
Underpants
You can download the patterns and written instructions to your computer. In addition to the written instructions, there are videos that take you step by step through the process of making the doll clothes. The number of videos varies depending on the pattern, but each set of videos takes you through the entire process of making that particular piece. These patterns are also split up into 6 weeks.
There are 3 different options for purchase:
Option 1: online access delivers the course one module at a time over 6 weeks. You will have the option to go back and rewatch any videos as often as you would like. You keep access for 12 months. $47.85
Option 2: online access :Immediate access to all of the modules for 12 months. $47.85
Option 3: You can purchase the course on DVD and it is yours to keep forever $67.02
Click
here
for ordering information. Pricing may vary as the vendor is in Australia and the exchange rate changes.
I have two little girls (4 and 2), and I thought it would be fun to be able to make some clothes for their dolls. I do have some basic sewing skills, but have a hard time reading and understanding patterns. Usually I have to make several mistakes before I finally figure out what they mean. I had never attempted sewing doll clothes before.
The first thing I did was download the free patterns to my computer so I could take a look at the supply list. We live over an hour away from any stores that sell material and if I needed to buy any, I would have to order it online. Luckily though, we had several different kinds of material that was leftover from various projects, and I didn't have to buy any! I did have to buy some elastic, velcro, and some thread, but all of those were available inexpensively at our local Walmart.
Then I went through and watched several of the videos in one sitting. The videos do not assume any prior knowledge, so even a very beginner can be successful with this course. For those who do have some basic sewing knowledge, you can pick and choose which videos you want to view. Many of the videos are at or around 5 minutes, so you can view several at a time if you choose. Or, especially if you are working with young children you can view a video and then practice the skill that you learned.
After watching several of the course videos, I decided I would try out the first pattern, the sport shorts. Since I already know how to download and print things off of my computer, I started printing the pattern and skipped watching the video on printing patterns. Wrong idea! When I printed the pattern, I measured the line like you are supposed to to ensure it printed correctly. Mine did not measure the length it was supposed to. So I went back and watched the video. My printer's default setting was shrink to fit instead of actual size. Once I fixed that the pattern measured the correct size.
I really enjoyed watching the videos for the patterns! It made so much more sense to me to see what was being done rather than trying to figure it out with written directions. Each part is demonstrated step by step with clear, concise instructions, and good camera views. If I needed more time than Rosie used on the video, I could just pause it, or if I wanted to make sure I was doing it correctly, I could back it up and start again. I love all the little tips and tricks that Rosie teaches in order to make sewing doll clothes easier. Just a bit of advice, when she says press the hem, you should. It saves a lot of time. I feel like I have learned a lot over the last several weeks. The videos made making the doll clothes so easy!
Of course with 2 girls, I have had to make two of everything. And they waited right beside the sewing machine for me to be done! So far I have made the sport shorts, crop top, sarong, and summer nightie. My girls have been very impressed with the clothes that mommy has made for their dolls so far. Next up is the halter top and then Lily really wants me to make the panties.
crop tops and sport shorts
Lily's summer nightie
Emmie's summer nightie
I still need to make a matching shirt for this sarong, but the sarong turned out great!
the short sarong
To see what my Crew Mates had to say, click on the banner below.