From the website, "
God's World News
help kids to grow in their faith and their understanding of the world around them. God's World News is like a dynamic supplement to your curriculum, combining the latest new information with a thoughtful Biblical perspective, engaging enrichment activities, and an entertaining world tour." There are 6 different age levels: God's Big World (PreK-K), Early Edition (1-2), News Flash (3-4), News Current (5-6), Top Story (Middle School), and Trak (High School.) Over the last several weeks I have had an opportunity to use and review
Early Edition
with my 1st and 2nd graders.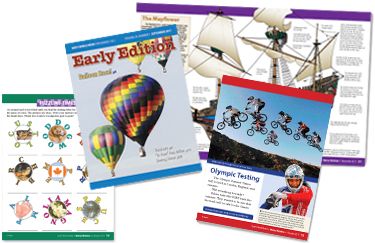 A subscription to Early Edition includes:
10 full color issues 24 pages each sent monthly (except for December and May)
Children's website access
Weekly email newsletter for parents and teachers including answer keys to quizzes and puzzles
Biographies and Topical Lessons to download and print
Full size world map (20x30) sent in September to every schoolteacher, homeschool teacher, or homeschool group coordinator (5 maps sent to homeschool groups) to coordinate with the "Map It!"locator maps inside the magazine
Early Edition contains lots of pictures and large text perfect for beginning readers. The age appropriate stories show children that God is in control of the world today. The magazine also has several different creative puzzles in each issue to help build alphabet, number, sequence, and other skills. Website access which contains colorful photos, ever changing stories, and downloadable work sheets.
You can see samples of the magazine on
this
page.
A subscription to God's World News Early Edition is $28.00. Clic
k here
to subscribe.
I had a really hard time choosing which magazine I wanted to review since I have children in each of the different age ranges. I chose Early Edition because although my 1st and 2nd graders "tag along" with the big kids for History and Science, we are not at this time working on anything directly at their level. I thought they would enjoy the magazine, and I was right! Everyday as part of their school day, Christian and Anthony sit with me and we read through several different articles together. We also have used the wall map to find the places on the map that we are leaning about in relation to where we are. We work on the puzzles in the magazine together.
Some of the things I love about the magazine is that it has color photos and the articles are the perfect length for this age group. Some of the vocabulary is a bit advanced for the boys to read on their own, but for us it's not a problem because I am reading it to them. My 4 year old enjoys listening in as well and looking at the photographs in the magazine. The boys have learned a lot of information on a wide variety of topics. They were thrilled to discover that the Queen Ann's Revenge was real , they loved the article on the newest prince with the Lego model of Buckingham palace, and they were fascinated to learn about the Wright Brothers, and the Wild Ponies. My boys also enjoy the activities, and they loved the jokes! I love the inclusion of Scripture and the Bible2Life sections.
Also included with your subscription is the online access. Here you will find answer keys, and additional articles to read and activities to complete. They also have a biography section that you can read with your child that includes a Bible2Life section for each biography and quizzes to take to show their comprehension after they have completed the reading. I thought this was a fabulous feature! You also have the option to download digital versions of the magazine, not just this month's issue, but previous months as well. The downloadable magazines that I had access to went back as far as November 2009! The website is an awesome bonus to go along with an already wonderful product!
We really have enjoyed reviewing God's World News Magazine!
There is also a magazine for adults called World Magazine. You can find out more about that
here.
This magazine for adults covers many news topics going on in the world today written within a Christian world view. It also contains reviews on TV, movies, books, music, and more.
Members of The Crew reviewed all the different levels of God's World News. To see what my Crew Mates had to say, click on the banner below.