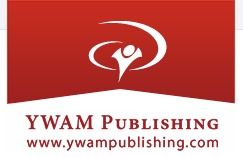 "
YWAM Publishing
is committed to the production and distribution of books that encourage Christians to make a difference in a needy world. We specialize in books that focus on evangelism, educational training, prayer, discipleship, and mercy ministries." Over the last several weeks we have had an opportunity to use and review
George Washington: True Patriot
and
George Washington: True Patriot Unit Study Curriculum Guide.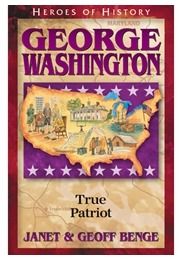 George Washington: True Patriot is part of the Heroes of History biography series. The Heroes of History series are written in an interesting narrative format that tells the story of fascinating men and women and brings history, science, geography, and government topics to life. George Washington: True Patriot tells the fascinating story of our 1st President from boyhood to death. We learn about his family and boyhood homes, the beginnings of his military career, his part in the French and Indian War, Revolutionary War, the beginnings of the new government, his two terms of Presidency, and finally his retirement and death. George Washington: True Patriot is 224 pages long and contains 19 chapters. It was written with ages 10 and up in mind, but can be read loud to children of younger ages. It is available in paperback and ebook formats for $6.99 and as an audio book for $16.49.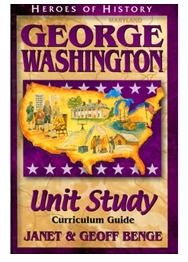 To go along with the book, there is also a George Washington: True Patriot Unit Study Curriculum Guide. The guide was created with a wide range of ages, learning styles, and abilities in mind. The guide is 64 pages long and includes:
6 key quotes to memorize, discover the meaning, or display
suggestions for a display corner
4 questions (and answers) for each chapter one is a vocabulary question, one is a factual question, one is a comprehension question, and one is an open ended question seeking opinion or interpretation
student explorations section including: essay questions, creative writing, hands-on projects, audio/visual projects, and arts and crafts
community links
social studies including: places, vocabulary, geographical characteristics, timeline, and conceptual questions
related themes to explore
culminating event
additional books and resources
You can purchase the Unit Study Curriculum Study Guide in paperback format for $7.49.
I read George Washington: True Patriot aloud to my 6,8,9, and 11 year old boys. We read 1-2 chapters a day and answered the questions in the study guide aloud. We thought the book was fantastic! We learned a lot of information about George Washington that we never knew before. The book also did a great job showing that although George Washington was one of our nation's heroes, he was also just a man who had doubts and made mistakes. I think that is a great thing for our children to realize. The chapters were a little lengthy, but the book is written in an engaging format and was not at all boring to listen to, even for young, impatient boys. My 6 year old as I was getting ready to read one day said, " Let's see what Old George is up to today." I was impressed by how much they learned and remembered from listening to me read aloud to them. They being boys were, of course, most fascinated with the chapters on the Revolutionary War and the battles.
The Study Guide has a wide variety of projects and activities. We did the chapter questions aloud every day when we finished each chapter. We also used some of the resources in the Social Studies section: the timeline, George Washington Facts Sheet, and the maps. The essay questions, creative writing, audio/visual projects, and many of the hands on projects/arts and crafts were things that were too involved for my children, but I think they would be great for middle school and up. There were many great though provoking activities that would make the reading of this book come to life for older students. One of the arts and crafts ideas was to make beeswax candles. We are taking a fieldtrip next week to a family that raises bees and will get to do this! I am very excited about that!
To see what my Crew Mates had to say, click on the banner below.