Back in 2011, we had an opportunity to review
Andi's Scary School Days
, one of the books in the Circle C Beginnings series by Susan K. Marlow. We loved that series, and my oldest daughter has also enjoyed the Circle C Adventure books. I was so excited that we had an opportunity to review a book from the new Goldtown Adventures series from
Susan Marlow and Kregel Publications
,
Tunnel of Gold.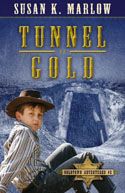 The Goldtown Adventures series was written for children ages 8-12. The series takes place in 1864, just about the end of the Gold Rush in Goldtown. 12 year Jem Coulter, his younger sister Ellie, their cousin Nathan and friends find plenty of adventures to keep them busy. Jem's life is an exciting one and he learns and grows and finds opportunities to learn more about trusting God.
Tunnel of Gold is the second book in the series. It is a paperback book that is 144 pages long. In Tunnel of Gold, there's bad news right from the beginning. The Midas Mine has dried up and the miners riot because they don't get paid. There is hope though. A new underground vein shows promise, but they must cut an air shaft through an old mine to get to the new one. But, the Chinese miners that have been working hard in the abandoned mine are not willing to give it up. Jem's father, the sheriff, sides with the Chinese workers because they legally had the right to mine, until a technicality in the law shows differently. Jem's father must evict them or loose his job. Will comes up with a plan that could stop Jem's father from needing to evict the Chinese workers, but still save the town. But it could put Jem, Ellie, Nathan, Chad, and Will in danger.
You can purchase Tunnel of Gold for $7.99, or buy it along with Book 1 Badge of Honor for $13.95. Prices include personalization. Book 3 Canyon of Danger will be released this fall.
You can read a sample chapter
here.
You can download a free enrichment guide
here.
I have to admit that since our regular school year ended I have not read aloud to my boys at all. As soon as I was chosen for this review, I decided that was going to change. The age range listed for this series is 8-12, but I knew that my 6 and 7 year olds would enjoy it as well. So I read the book aloud to all of them plus my 2 and 4 year old daughters listened in as they played quietly in the room every night before bed. We read one chapter per night except for the few nights that they were actually ready for bed on time and begged for just one more chapter please!
I have found that finding good, wholesome, uplifting stories for children in this age range can be very difficult. That is why I was so excited when I found out that Susan K. Marlow had started a new series. From our experience with her books in the past, I knew that this would be the type pf story my children would like and I would like for them to read. And I was right! The story was full of action and adventure right from the first chapter. The characters are lovable and believable. With the main characters being a brother and sister, it makes the book easy for both boys and girls to relate to. The story is set in an exciting time period in history. Who doesn't want to hear about adventures panning and mining for gold? Although there is action and adventure and some minor violence (Jem gets caught in the miner's riot, a chinese boy is bullied and Jem ends up in a fight to defend him), there is nothing graphic and gory like many books that are trying to appeal to the "tween" age range. Tunnel of Gold is a wonderful, wholesome story that the entire family can enjoy together. I love how Jem is working on developing his character throughout the book and how his actions, responses, and faith ends up being a great influence on those around him.
Tunnel of Gold has 18 chapters. The chapters are not long which I think is great for reluctant readers or moms who are trying to round up all of their children to get them to bed on time. There are also some neat illustrations and drawings throughout the book. The author has also included a historical note at the end of the book, but don't forget if you wish to dig deeper, download the free study guide to go along with the book.
We did not have a chance to read book one before this review, and followed the story just fine. But, I am planning on purchasing book one and further books in this series. In the words of my 6 year old, "Mama we really need to read more stories about Jem, Pa, Ellie, and Nathan. We really like them!"
I would highly recommend the Goldtown Adventure Series! Members of The Crew reviewed books one or two in the series. To see what my Crew Mates had to say, click on the banner below.