I was wrong. Over the last couple of years, I have heard that the
Institute For Excellence in Writing
had the best writing programs. I really thought it was an exaggeration, because there are a lot of really good writing programs and my family has had an opportunity to use several over the years. But, after having the opportunity to use and review the
Teaching Writing With Structure and Style Set
and the
Student Writing Intensive Level C Set
over the last several weeks, I now know it really is true. The Institute For Excellence in Writing has the BEST writing programs.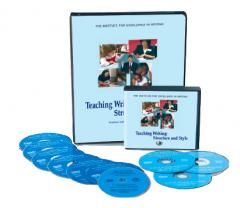 The Teaching Writing With Structure and Style Set ($169.00) is a seminar for teachers and homeschool parents to help you teach writing to your children in grades 2 and up using a system of structural models and stylistic techniques. Using this model and stylistic techniques gives students a foundation of skills while building their confidence and teaching them creativity. The set contains:
10 DVDs- 6 DVDs Teaching Writing: Structure and Style (10 hours of viewing time)
Tips and Tricks (2 hour supplemental course)
Sample Student Workshops: Elementary (grades 2-4), Intermediate (grades 5-7),
High School (8-10+)
TWSS Seminar Workbook- 3 ring binder with dividers that contains the syllabus for the course, charts, word lists, sample lesson plans,tips, online resources, and more.
You can view a sample of the seminar notebook
here.
The 6 Teaching Writing Structure and Style DVDs need to be watched in order because each disk builds on what is taught in the one before it. These DVDS can be viewed by teachers/parents all at once before the school year starts, or you can choose to watch them as the school year progresses, watching the DVD before teaching the new concept. There are 9 different units in Teaching Writing With Structure and Style:
Unit 1:
Note Making Outlines
Unit 2:
Summarizing from Notes
Unit 3:
Summarizing Narrative Stories
Unit 4/6:
Summarizing Reference and Library
Unit 5:
Writing From Pictures
Unit 7:
Creative Writing
Unit 8:
Essay Writing
Unit 9:
Critiques
You can view a sample of Teaching Writing With Structure and Style
here.
I viewed the DVDs of a period of two weeks. I wanted to have a good overview of the program before starting Student Writing Intensive C with my 16 year old. I spent about an hour per day watching the DVDs and following along with the seminar notes.
I just don't know if I can say enough in this review to convey how amazing these DVDs are! I have been homeschooling for 8 years, and have used many different writing programs over the years. But from the moment I put in and played the first DVD, I knew my search was over. Andrew Pudewa is an amazing speaker and he does a wonderful job presenting the materials throughout the DVDs. The DVDs were recorded while Mr. Pudewa was teaching the seminar, so you get to hear the interactions that he had with those teachers making it feel as though you are part of the seminar yourself. What makes the TWSS so amazing though, is it just makes sense. It explains how to teach your children to write effectively in a clear, concise manner using a method that will work for all ages. It takes away the worry about what to write while allowing them to be creative. Learning how to to use the structural models and stylistic techniques will not only make a difference in one writing class, but in all of their subjects for the remainder of their educational career and adult life.
I mentioned that the TWSS DVDs made an impact on me from the moment I put them in. Here is a great example. My 9 year old son is slightly dyslexic. He wanted to do an Illustrated Talk for a district 4 H competition. He was worried about memorizing his speech because he was afraid he would forget something. I didn't want to write out note cards for him, because I was afraid he would spend too much time trying to read the words and it would mess up his speech. My solution came a few weeks before the competition while I was watching the TWSS DVDs. Key Word Outline. Such a simple thing, but I never would have thought of it myself. We wrote note cards using key words he could easily read that would remind him of what he was supposed to say. He did a great job and won 2nd place!
The TWSS Set doesn't just tell you how to teach your children, it shows you as well. Many examples are shown throughout the DVDs that you also have in your seminar notes, giving you the ability to not only see and hear the examples, but also to practice them yourself. I love the idea of using a checklist! So simple, but so effective! I love the idea of providing children with visual reminders in the schoolroom so they don't have to remember "everything" but can concentrate on being creative in their writing instead. I now have complete confidence that I can teach all of my children to write well. I have the tools I need to show my 16 year old, who is a good writer, to become an even better writer. I have the tools I need to teach my 11 year old, who would rather do just about anything then write because he can't figure out what to say, how to become a good writer. I have the tools I need to help my dyslexic son organize his thoughts and become a good writer. Whatever the age or ability of your children, TWSS can teach you how to teach them how to write well.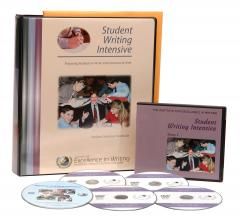 The Student Writing Intensive Courses (A,B, and C) are based on the Teaching Writing With Structure and Style syllabus. Level C is intended for students in grades 9-12. Over the course of 15-30 weeks (depending on how much you schedule per day), students will lean how to use different structural models and stylistic techniques as they write both fiction and non fiction topics. Student Writing Intensive C is $109.00 and contains:
Structure and Style Overview for parents
4 Instructional DVDs for the student
3 ring binder with dividers
100 page student pack which includes: scope and sequence, teacher's notes, checklists, assignments, and source texts
The Teacher's Notes contain a schedule for completing in the course in 30 weeks. If you follow this schedule, the teacher watches the DVD with the student (DVD lesson times vary and not every lesson requires watching the DVD), once a week, and for the rest of the week the student works on the reinforcement exercises with the teacher helping as needed. The Teacher's Notes clearly lay out what portion of the DVD is watched for the lesson, which handouts are used for the lesson, and the handouts for practice assignments. Sample key word outlines are also included in the Teacher's Notes to provide suggestions for the teacher to help the student create key word outlines.
Click
here
to view a sample.
View an excerpt of the video
here.
You have the option of purchasing TWSS and SWI Level C together for a discounted price of $249.00. Click
here
to buy.
Additional binders
can be purchased if you are using with more than one student. Or, you have the option of purchasing the student notes as an ebook allowing for copies within your own family
here.
As a homeschool mom, whenever I heard people talking about the Student Writing Intensive courses from IEW, it scared me. Why? The word "intensive" made it sound to me as if the course would be hard, not just for the student, but also for the teacher! As a mama of 7, I cannot spend the time teaching a subject that is "intensive." Have no worries if the word intensive scared you too. The reason the course is called Student Writing Intensive is because the entire course was taught and filmed over a period of 4 days (now that is intensive!) You on the other hand have 30 weeks or more to teach it.
I have been using SWI Level C with my 16 year old daughter. She will be a senior this year (gasp!) and is planning on going to college to major in Communications. She loves to write but does need some improvements in adding variety (style) to her writing. We have been using SWI C over the past several weeks, following the suggested schedule included in the Teacher's Notes with the exception that we do not do school on Fridays, instead she completed the weekly assignments by the end of the day of Thursday by doubling up one day per week.
SWI C was very easy to get started. I had already viewed the TWSS DVDs (which by the way you do not have to watch before teaching this course), so all we had to do was set up the student notebook, put in the DVD, and watch the first lesson. The lesson plans are so easy for the teacher to follow! It tells you exactly which section of the DVD you need to watch, what concepts are being taught, which handouts you need to give to your student, and shows samples of keyword outlines for the assignment assigned along with a copy of the assigned paragraph. There are also notes to tell you which parts of the TWSS DVDs and notes to review if you need a refresher before teaching that concept to your student. I really cannot think of any way it could be made better or easier. You watch the DVD with your student, give them the assignments, and provide support as needed. There is nothing "intensive" at all!
Chelsea really enjoys watching the DVDs. She thinks that Mr. Pudewa is a very interesting teacher. It was filmed during an actual seminar so you can see and his the interactions with the students. She thinks it would be a great experience to be in one of those seminars with Andrew Pudewa as the teacher. The course moves at a good pace for her and she has had no trouble completing her assignments in a timely matter. The program is flexible so that if your student masters the material you can skip over the extra practice and move on to the next lesson. Or, if you student is struggling, you can slow down and go at their own pace.
I rarely talk about prices in my reviews because I think that cost is very subjective. What I think is expensive others may think is reasonable and vice versa. I did want to mention though that if at first glance you feel like this course is too expensive, you may want to look again. I think if there is just one teaching resource you buy for writing, Teaching Writing With Structure and Style should be it. If it seems out of your budget, see if you can get together with other homeschool families, purchase the DVDs as a group and buy additional seminar notebooks for each teacher. You won't be disappointed. The SWI courses can be used with multiple children in your family and IEW offers student notes as ebooks allowing families to make as many copies as they need for their families which makes the cost very reasonable. If you could only teach one writing course to your child, this should be it.
Reviewing TWSS and SWI Level C has absolutely convinced me that IEW has THE best writing courses! I have now purchased the Level A materials is use with my 9 and 11 year olds this year as well as having Chelsea continue with Level C.
Members of The Crew reviewed TWSS , SWI Levels A,B,C and Teaching the Classics. To see what other Crew Mates had to say, click on the banner below.