My very first year of homeschooling I had a 3rd grader, 4 year old, 20 month old, and a newborn. Since that year we have had 3 more children. I am no stranger to homeschooling preschoolers or homeschooling with preschoolers. But, I am always looking for new, fun, educational activities to do with my preschoolers. That's why I was excited to have an opportunity to review
The Homegrown Preschooler: Teaching Your Kids in the Places They Live
from
Gryphon House.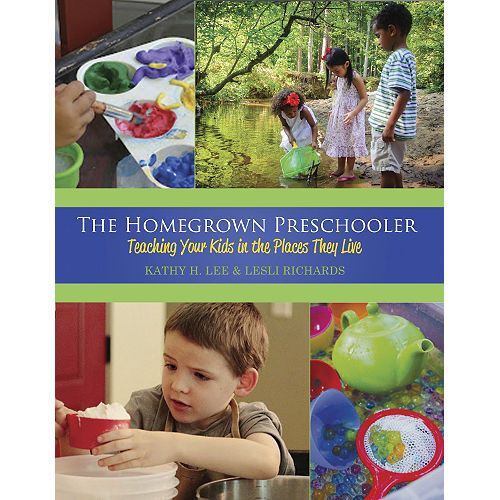 Written for parents or caregivers of preschoolers, The Homegrown Preschooler by Kathy Lee and Lesli Richards is a 204 page paperback book that you can purchase for $29.95. The authors use their combined early childhood and homeschooling experience of over 20 years to inspire you to turn your home into a learning environment better than you will find in any preschool classroom and to take advantage of learning experiences that take place in everyday life. Inside the book you will find over 200 pull together activities, recipes, organizational tips, scheduling ideas, support and encouragement, and more.
Table of Contents
Introduction: Our Journeys to Growing Our Children at Home
Chapter 1: Homeschooling-Harvesting a Bountiful Life
Chapter 2: Learning Through Play
Chapter 3: Sowing the Seeds-Preschool Learning
Chapter 4: Setting the Stage
Chapter 5: Home Life=Learning-Slow Down and Teach
Chapter 6: Who Has Time For This?
Chapter 7: Organizing It All
Chapter 8: Days and Seasons that Don't Fit In the Box
Chapter 9: Special Circumstances
Activities
Home Life
Science
Gross Motor
Fine Motor
Math
Language and Emergent Literacy
Art
Social-Emotional
Appendix Including:
Activity Checklist
Getting Started Checklist
Resources
Instructions for DIY Plexiglas Easel
Instructions for DIY Light Table or Sensory Sand/Water Table
I read through the Home Grown Preschooler over the course of week. I wanted to get some new ideas for activities I could do with my 4 year old and 2 1/2 year old daughters. The book is very well laid out so you can easily find and read through sections you are interested in, or just read it cover to cover. It is full of beautiful color photographs of preschool children engaging in the activities that are being discussed. I love the inclusion of the recipes. Not just food recipes either, although those sound yummy, there are plenty of other recipes in the book such as homemade sidewalk chalk, paint, watercolors, modeling clay, fly guts, and more. The activities section was my favorite part of the book. There were many different ideas that I had never done before with my preschoolers. We had hours of fun clipping clothes pins to plastic cups, finger using shaving cream for sensory play, and making our own paint. I also purchased some fun items for sensory play and lacing cards that Lily (4) absolutely loves. I thought the literature suggestions and activities were wonderful, and loved the ideas for baggies!
One of the best things I think is that the book focuses on things that are not very expensive. Some of the suggested items might be more expensive than others, like if you chose to buy a sensory table, but for the most part the focus is on easy to find inexpensive items that you may already have laying around the house or can pick up at the Dollar Store or Walmart. The authors even include DIY instructions for making a sensory table instead of purchasing one. You do not need to spend a fortune to successfully teach your preschoolers at home. You do not need to have a special classroom or expensive equipment. You can teach your children using real life activities; folding socks, grocery shopping, cleaning house and fun activities that are like play to them.
It probably goes without saying, but I did want to mention you do not have to do every suggestion in this book to be a successful at homeschooling your preschooler. Some things that they suggest may not work for you and that is ok. One of the suggestions they give in the book is to get up before your preschoolers in the morning. That does not work for me. As you go along you will figure out a schedule and routine that will work for you.
The Homegrown Preschooler: Teaching Your Kids in the Places They Live has given me a ton of wonderful ideas to use with my preschoolers!
Members of The Crew reviewed The Homegrown Preschooler and Global Art. To see what my Crew Mates had to say, click on the banner below.