From the website, "
Classical Academic Press
produces superlative educational materials to advance the revival of classical education. We specialize in subjects such as Latin and logic, presented clearly and creatively, to equip and engage both students and teachers. These programs are the continuing, collaborative effort of distinguished scholars, teachers, and designers." Classical Academic Press is one of my favorite homeschool companies! In the past, I have had an opportunity to review
Latin Alive
,
The Art of Argument
, and
God's Great Covenant New Testament One
. I was very excited to review
God's Great Covenant Old Testament One
Student Text, Teacher's Edition, and Audio Files.
God's Great Covenant Old Testament One, A Bible Course for Children is written at about a 3rd grade level, but can be used with children in 3rd-6 th grade. The text contains 32 chapters with each chapter designed to take a week to complete. It begins with Genesis and goes through the Book of Ruth. Throughout these lessons, children will learn about God's power, promises, and faithfulness to his people. Students will also learn about how the Old Testament stories point us to the coming savior, Jesus Christ.
The 32 chapters are divided into 5 themed units:
Unit One- In the Beginning- God's Power-
the mighty Elohim spoke creation into existence, barred man from the garden, and sent a world wide flood, while at the same time showed the power of His mercy and secured man's future existence.
Unit Two-By the Patriarch's-God's Promises-
Through a covenant the Lord gave Abraham 3 promises: land, to make him the father of many nations, and to bless the world through him. Through these promises and God's faithfulness the foundation is formed for the rest of God's story.
Unit Three-Out of Egypt-God's Redemption-
The Lord redeemed Israel from sin and slavery and renewed the covenant He had made with Abraham. Despite their sin He continued to bless them and desired to dwell with them.
Unit Four-Through the Wilderness-God's Provision-
God showed the people He would care for them and give them whatever they needed despite their grumbling and complaining.
Unit Five-In the Promised Land-God's Faithfulness-
Even though they continued to turn away from Him, God heard His people's cries and delivered them from their enemies.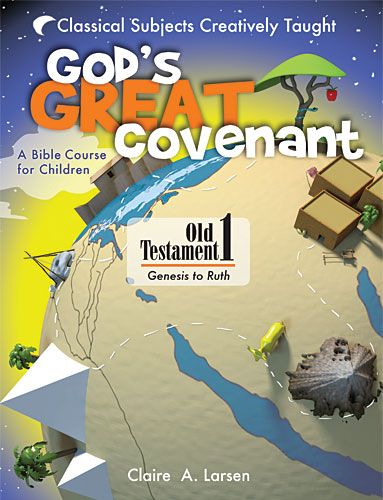 The
Student Text
($22.95) is paperback and is 240 pages long. Each chapter begins with a Memory Page that includes the memory verse, a key facts chart, and important vocabulary words. There also is a Who Is God? question Next comes the story. After that there is a Student Worksheet and a Chapter Quiz. At the end of each unit is a review chapter with extra puzzles and activities. Throughout the text you will find illustrations. In the back of the book there are appendices containing: Memory Verse Summary, Who Is God Summary, Chapter Word Banks, The Ten Commandments, The Tabernacle, Israel's Wilderness Journey, Glossary, and Maps.
You can view a sample by clicking
here.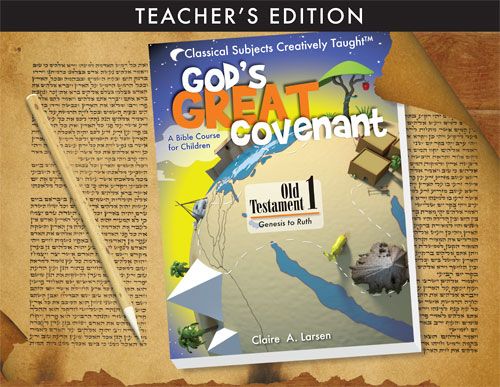 The
Teacher's Edition
is also paperback and contains 242 pages ($24.95). It contains the entire student text and also answer keys and additional information to expand on the historical, geographical, cultural, and theological concepts in the text. The Teacher's Edition does not contain a suggested schedule but there is a schedule on the CAP website
here
.
You can view a sample by clicking
here
.
Classical Academic Press also offer
s mp3 files
to go along with the text. For $9.95 you receive an mp3 download with 2 hours of recording time covering 27 stories read by Christopher Perrin. Once downloaded, files can be played on your computer or portable devices or burned to a CD to take with you in your vehicle.
To hear a sample click
here.
CAP also offers a
Timeline and Map set
for $36.95 to go along with Old Testament One or you can purchase a
bundle
containing the Student, Teacher, audio files, and timeline and map set for $79.95.
I have been using Old Testament One with my 3rd and 5th grade boys. We use a modified version of the suggested schedule that I linked to above.
Day One- We read Memory Page, discuss theme, read memory verse, key facts, and things to remember, and read story pages orally.
Day Two- Read Scripture Passage Orally , reread memory verse, discuss
Day Three- Worksheets, review memory verse, discuss Who Is God and Think About This
Day Four- Quiz
A few of the sections, Chapter One for instance (Creation) that is already so familiar and they already knew the memory verse we completed even more quickly. My 3rd grader is dyslexic and has difficulty reading and getting his thoughts down on paper, but is comprehension is very good. To better adapt to his needs, we do all of the readings and answering the worksheet questions and quiz questions orally.
I love Classical Academic Press and the quality of their products. God's Great Covenant Old Testament 1 is a wonderful Bible course. It teaches key bible stories that we know and love but in a way that gives children in that 3-6th grade age range a deeper understanding of who God is and shows them how He keeps His promises. It also gives insight to the Scriptures that point to Jesus Christ. I love the Bible Stories and illustrations. The course is set up so very little teacher preparation is needed. All you need is the book and a Bible and you are ready to start. It is very helpful to have the entire student text contained in the Teacher's Manual. This way you can easily see everything that you need without having to reference back to the Student Book. The Audio Files are a great companion if you would rather have the story read for you, or even want the children to listen to them while traveling in the car.
I look forward to finishing Old Testament 1 and moving on to Old Testament 2!
To see what other Crew Mates had to say click on the banner below.


Disclaimer
: I received a free copy of this product through the Schoolhouse Review Crew in exchange for my honest review. I was not required to write a positive review nor was I compensated in any other way. All opinions I have expressed are my own or those of my family. I am disclosing this in accordance with the FTC Regulations.