From the website" Let's be honest, instilling virtues in kids is hard work. But can it be fun too? We think so. In fact, there's no better way to learn. So
We Choose Virtues
brings memorable catchphrases, endearing characters, and just plain fun to simply inspire character that lasts. It's the best choice you can make for the kids in your life."
We Choose Virtues
has several different products designed to be used everyday as character development tools for your children (and maybe a bit of a reminder for moms and dads too ;) You introduce the virtues, demonstrate them, memorize the catch phrases, learn the antonyms, and take advantage of the teachable moments that present themselves to you throughout the day. There are several different products available for ages 3-18 for churches, homes, homeschools, and private schools. You can see all of the different products by clicking
here.
We were given a brand new product to use and review called
Virtue Clues
.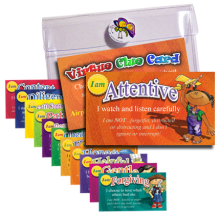 Virtue Clues are a take everywhere set of cards featuring the Virtue Kids, their names, catch phrases and antonyms, and a "You Can Do It" challenge listed on the back. The set includes: 13 cards (2x3.5 in) with the following virtues: I Am Obedient, Forgiving, Diligent, Helpful, Perseverant, Content, Self-Controlled, Patient, Kind, Gentle, Attentive, and Honest. The cards come in a plastic carrying pouch (3x4) with a velcro closure for $5.99.
The card we have been working on says, "I am obedient. Ok, whatever you say I will obey, right away. I am NOT argumentative, slow, or unwilling, and I don't refuse to do what I am told." The backside says, Choose to go the whole day doing everything exactly as you are asked to do it...with a smile! Oboe Joe knows you can do it!"
We were also given a complimentary download of the
Kids of Virtues Coloring Book
available by download for $3.00 to compliment the Virtue Clues.
And the
Teacher's Handbook
$4.99 as a download and $19.99 for a hard copy.
There are also many free assessments, reports and schedules that you can download for free
here
(scroll to the bottom of the page.)
"Like"
We Choose Virtues Facebook
page for tips on parenting, leadership, and inspiring lasting virtue.
Here are the current specials being offered:
Kids Virtue Poster now $11.99 (from $14.99)

3 Rules Poster now $9.99 (from $11.99)
100 Days of Virtue Chart with Butterfly Stickers now $13.99 (from $14.99. The stickers are still pretty pricey for me)
What will happen to the

3

posters

we currently have in stock

? CLEARANCE SALE!
2011

Kids Virtue Poster $9.75 (from $14.99, 35% savings)
2011 100 Days of Virtue Chart and Butterfly Stickers $11.99 (from $14.99, 20% savings)

2011 3 Rules Poster

$7.75 (from 11.99, 35% savings)
There is a CLEARANCE category on our website only while supplies last.
I loved the Virtue Clue Cards and the whole idea behind We Choose Virtues. It makes it easy to spend a few minutes a day teaching and talking about an important virtue in a way that is fun and easy for children to understand. Then you can revisit that lesson during appropriate moments throughout the day. I listed the "Obedience" card as my example. After teaching and discussing that card, when the children do not remember to obey right away without arguing, I remind them of the card and ask them to tell me what it said. It is making a difference. The cards are high quality and the colors are beautiful! The size makes them very easy to put in your purse, bag, or backpack to take with you when you are on the go.
I do worry about losing the cards though, especially if we take them out of the house. I think it would help to have a way to keep them altogether. I will probably punch a hole in mine and put them on a small plastic or metal ring.
To see what other crew mates had to say click
here.
I received a complimentary set of Virtue Clues for the purpose of writing a fair and honest review. I received no other compensation.