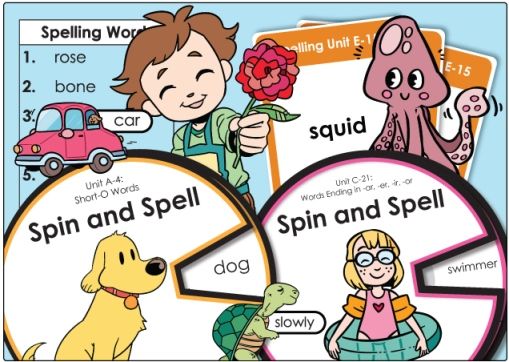 Worksheets can come in very handy in a homeschool. There are lots of times that I have a child that may need some extra reinforcement on a math or language arts topic. Time is precious and I don't want to spend a lot of it searching the internet for what I need, or having to buy an entire workbook for one topic. I also have a child that just loves to do worksheets. With such a wide range of ages in my homeschool, there are times I need to give my children something to do while working with another child. Worksheets can be perfect during that time. When there are holidays, or special days in history, we like to use worksheets to learn about those topics.
Super Teacher Worksheets has a HUGE variety of worksheets on their site including:
Math

Handwriting

Spelling

Reading

Science

Social Studies

Grammar

Phonics

Holidays

Puzzles and Brain Teasers

and more!
They also have teacher helps such as awards and certificates, and a worksheet generator. With the worksheet generator if you can't find exactly what you need, you can make it! The cost of an Individual Membership is $19.95 per year.
The majority of worksheets on the site are for elementary ages, but there are also Pre-k worksheets and some things such as math that can be used for older students.
How have we been using Super Teacher Worksheets?
The very first thing I did was find some multiplication flashcards. My boys are still working on their multiplication facts and I wanted something I could work on them with. We have been using those 3-4 days a week. They also have been struggling with the proper usage of some homophones, so I printed out some worksheets for them to complete to help them remember the difference. We also printed a map of the thirteen colonies to go along with our history lessons.
I have not been using a grammar curriculum with my 8 year old yet this year so I decided to check out the grammar worksheets. We started out with nouns and have done some worksheets on cutting and glue nouns in proper categories, the difference between a common and proper noun, capitalizing nouns, and making nouns plural. She also has loved the reading comprehension worksheets where you read the story and answer the questions about the story. She enjoys the math worksheets, especially ones where you add and color.
For my 5 year old I had her complete some of the phonics and early literacy worksheets. She also colored a scarecrow.
I have been very impressed with how easy it has been to use Super Teacher Worksheets and the variety of available worksheets. I am planning on continuing to use the grammar, math, maps, and reading comprehension sheets. I will also be using some science worksheets in the future and I am going to try out the worksheet generator. Members of The Crew used Super Teacher Worksheets in a variety of ways. To see what my Crew Mates had to say, stop by the
Crew Blog!