Channie's Visual Handwriting & Math Workbooks
were developed when a mom saw how much her son struggled with handwriting issues and she wanted a way to help him. She created some worksheets that had visual guides to help children see and practice exactly how they needed to make the letters. Channie's grew from there and now they offer a variety of math and handwriting workbooks for ages 3-10. The workbooks can be used by beginning writers, struggling writers, special needs students, homeschooler, or students that just need practice. Over the last several weeks, we have had the opportunity to use and review
Easy Peasy Alphabet.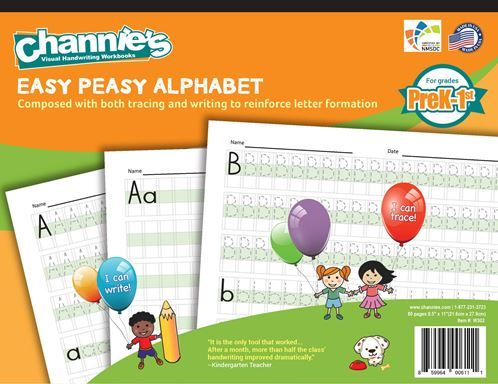 Easy Peasy Alphabet is a consumable workbook for children in grades Pre-K-1st grade. The workbook teaches all uppercase and lowercase letters from A-Z. Each letter has two pages for children to trace the letters and a page for them to write them on their own. Each letter is in a block that is colored coded to help children write the letters the correct size, guide with writing straight lines and learn to leave a space in between. You can purchase Easy Peasy Alphabet for $12.95
When I ordered my homeschool curriculum for this year, I completely forgot to order a handwriting book for Emmie who is 6. I did not realize I forgot until the 1st day of school when the other children were doing their handwriting lesson. Shortly after that I had an opportunity to review the Easy Peasy Alphabet book, and I was very thankful!
Emmie likes to draw and write, but she still has trouble with writing some of her letters, especially capital letters, and definitely needs to work on neatness. I really liked the entire concept of these handwriting books. I think it is very helpful to have plenty of tracing practice before writing the letters on their own. I really like the colored blocks. It does help children with knowing how big or small to make their letter and writing the letters in the blocks helps them to keep them neat. I'm glad that the workbook works on both upper and lowercase letters. I wish it also included numbers.
There are a lot of boxes to fill on each page. Some children that age might find it frustrating to complete an entire page in one sitting. I had Emmie just complete one row of the capital and lowercase in one sitting. She loves working in her handwriting book.
Members of The Crew reviewed a variety of products including:
To see what my Crew Mates had to say, stop by the
Crew Blog
!