Grammar can be a difficult subject to teach, and it's not very exciting for most children. Over the last several weeks we have had an opportunity to use and review the
English Grammar Teaching Method
from
English on a Roll
. This method uses manipulative blocks to teach grammar.

English on a Roll
was created when Linda Hopkins Koran was looking for a way to help her ESL students learn English. Even though the program was originally used with ESL, it can also be helpful for special education, dyslexia, and basic literacy. It can be used in a classroom, homeschool, or one on one tutoring for ages 5 and up.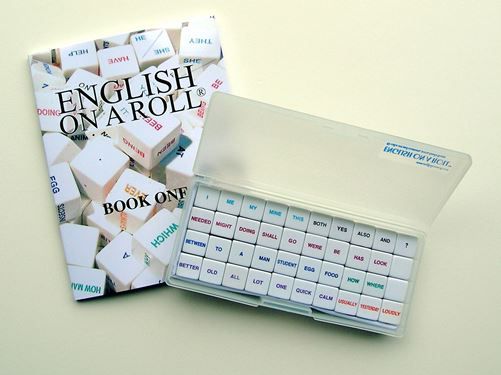 We received:
English on a Roll Instructor's Manual
English Grammar Cube Set
The English on a Roll Instructor's Manual is a 142 page paperback book. In it you will find step by step teaching instructions for each of the 37 lessons. It also has a cube guide telling which words are on the cubes, what type of word they are, what color they are, and what their function is. There are worksheets included in the book that can be reproduced for your students.
The English Grammar Cube Set is a set of 40 cubes in a plastic case. Words are written in different colors depending on their part of speech. For example, pronouns are blue, nouns are dark blue, verbs are red, adjectives are purple, question words are green, and conjunctions are black. There is also a punctuation cube , 2 blank cubes and labels that can be written on and stuck to a blank cube.
Each lesson follows a similar format. The instructor needs to look over the lesson, take out the cubes that are needed for that lesson, and copy the worksheet page. First the teacher teaches the concept for the lesson. Each lesson has a different focus such as subject pronouns, yes/no questions, noun/pronoun relationships, verb tense concepts, etc...After you have taught the basic concept you have a conversation and play a game with the cube. The last step is to complete the worksheet.
I have been using English on a Roll with my 8 year old daughter. I thought she would have fun using the cubes to learn some grammar concepts since I had just started teaching the parts of speech to her last spring. We have enjoyed using manipulatives in math and also for teaching spelling and I thought grammar cubes would be a great way to teach a subject that is not always so interesting.
The cubes are made of a sturdy plastic and come in a strong case. They are a good size for all ages to be able to hold and roll. The words are written clearly on the cubes and show no signs of rubbing off. I liked the inclusion of the sticky labels that can be removed so you can add words that may not be included with the set.
The lessons that are taught in the book are important grammar lessons for students to learn and the use of the cubes does make it more fun. You are given a scripted lesson, but it is easily adaptable. To me it seems that the lessons were geared towards ESL students in a group setting but again you can look over the lesson part and adapt what to say depending on the age/ability of your student.
There are a variety of ways you can use the cubes besides following the grammar lessons in the book. If you have a beginning reader you can use the cubes to teach some sight words. Lily had fun rolling a cube and then building a sentence around a word that she rolled. This may work for older students free writing assignments as well. They could roll a cube, build a sentence, and write a short paragraph about that sentence.
English on a Roll is a fun way to teach grammar! To see what my Crew Mates had to say, stop by the
Crew Blog
!