Last spring we spent several weeks studying Ancient Greece and became interested in learning more about the Greek language. I was glad to have an opportunity to use and review
Hey, Andrew! Teach Me Some Greek!-Level 3
Set from
Greek 'n' Stuff
, which teaches koine Greek, the language of the New Testament.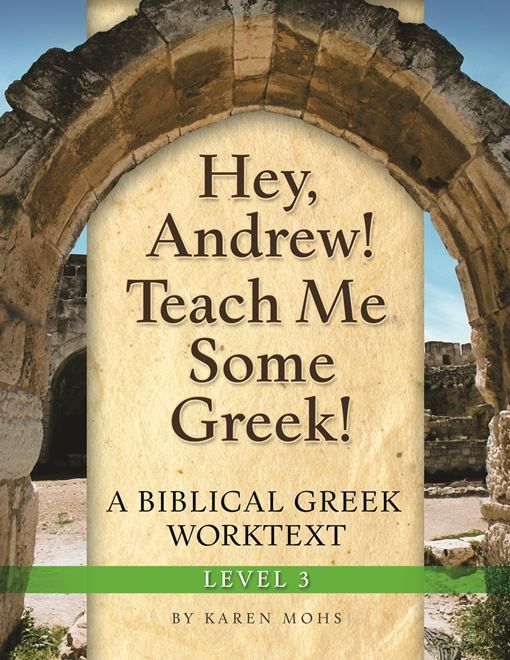 We received:
Hey, Andrew! Teach Me Some Greek!- Level 3 Student Workbook
Hey, Andrew! Teach Me Some Greek!- Level 3 Full Text Answer Key
Hey, Andrew! Teach Me Some Greek!-Level 3 & 4 Pronunciation CD
The Student Workbook is a 180 page, spiral bound, paperback book. There are 36 lessons in Level 3 with a recommendation of completing one page per day. The workbook is consumable and intended to be used by one student. It starts with the Geek alphabet, then moves on to words and building simple sentences. For each lesson there are different activities for the student to do such as: writing words, drawing pictures, matching the English word to the Greek, puzzles and more. In the back of the book are flashcards to cut out. There is also an appendix with a glossary, information about the Greek letters, vowels and diphthongs, breathing marks, punctuation, word order, tenses, cases, gender, and declensions.
The Answer Key is also a 180 page, spiral bound, paperback book. The Answer Key contains the complete Student Workbook with all of the answers filled in. In addition to the appendices, the Answer Key has a suggested schedule, some helpful teaching tips, and resources to look for more information.
The Pronunciation CD is a CD for levels 3 and 4. It starts with the alphabet song and then has a short track with a voice pronouncing each of the words that are introduced. Most of the tracks are only 6 or 7 seconds long.
In addition to the products we received Greek 'n' Stuff also a Quiz and Exam book and flashcards on a ring to go with their Greek sets. They also have a Reader, Bible Copybook, Sheet Music, and Bookmarks.
We chose Level 3 even though we have had no previous experience with the Greek language because of the recommendation on the website that this level is appropriate for upper elementary aged children. My first impression was that I was excited that I both the student workbook and answer key are spiral bound (so they can lay flat on the table!) and have a nice glossy cover. We started our lessons with listening to the alphabet song on the CD several times so we would have an idea of what the letters should sound like. It does move kind of fast so listening several times helped to be able to understand it better. Next we moved on to learning and writing the letters of the alphabet, then moving on to learning some Greek words.
I love that it is very easy to pick up and work through the exercises. Parents, you do not have to have any Greek in your background in order to help your child work through this course. Everything you need to know is explained in the book, even an explanation of how to write each letter. Learning to write and recognize a few of the letters was a bit challenging for my son, but I love that there is a lot of practice and review included in the book. There is a ton of variety in the type of activities that the student completes, and I think that it helps to keep the student interested and appeals to different types of learning styles. Lessons are short and easy to understand. You can move at the recommended pace of one page per day, or choose to complete multiple pages in a day. The workbook pages are in black and white and look clean, uncluttered, and free of any distractions. I like that the flashcards were included in the workbook not as an extra purchase.
I have been hoping for an opportunity to try out Hey, Andrew! Teach Me Some Greek! for a long time and have been very impressed with the product. I am considering getting another workbook for my 8th grade son because he has shown some interest in the Greek language as well.
Members of The Crew also reviewed the Hey, Andrew! Teach Me Some Greek! Level 2 Set, and the I Can Study Bible Studies. To see what my Crew Mates had to say, stop by the
Crew Blog
!