Writing With Sharon Watson has several writing courses that were designed to be easy to use in homeschools, co-ops, and Christian schools. We recently had an opportunity to review her newest program Illuminating Literature When Worlds Collide.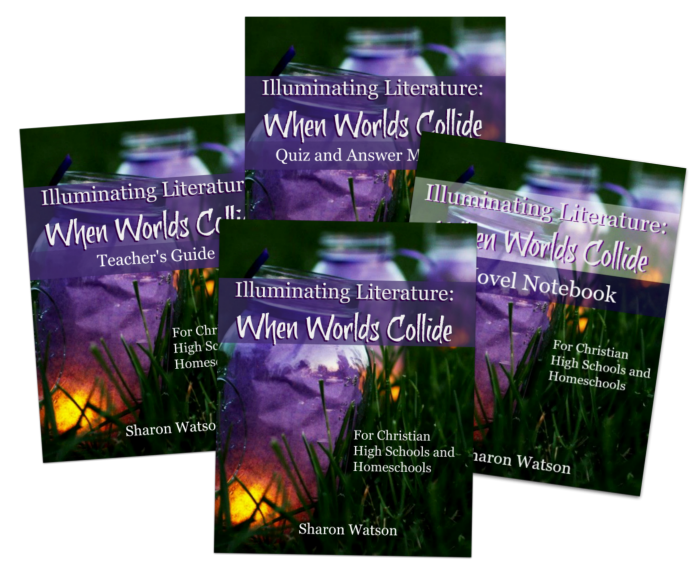 As part of our review we received:
Illuminating Literature When Worlds Collide (Student Book)- ($39.49)The Student Book is a 285 page paperback book. It contains information about the course, suggested reading and homework plans, quiz instructions, assignments, further reading suggestions, and much more.
Illuminating Literature When Worlds Collide (Teacher Guide)- ($16.49)The Teacher's Guide is 182 page paperback book. It contains information about the course, grading suggestions, book of the month club suggestions, answer keys, and more.
Illuminating Literature When Worlds Collide: Quiz and Answer Manual($8.49)- The Quiz and Answer manual is a 101 page paperback book. This book is optional. Students have an opportunity to take quizzes online (passwords for each quiz in in the Teacher's Guide) but if you would rather have them taken on paper and grade them yourself you have the option of purchasing this manual.
Illuminating Literature When Worlds Collide: Novel Notebook (Free PDF Download)-The Novel Notebook is a free 102 page PDF download. It coordinates with the student book. In it students will record favorite passages, answer questions, and draw conclusions about what they have read.
And Ms. Watson included the first two books for us as well (Thanks!)
Pudd'nhead Wilson by Mark Twain
The War of the Worlds by H.G. Wells
Illuminating Literature is a literature course for high schoolers that will help prepare them for college literature courses. The course contains 70 lessons split into two semesters. Lessons are student directed and after completing the course students will earn one credit in language arts or English. Chapter 0 is a Welcome Chapter and after it there are 8 books that your child will read with each one taking about a month to finish if you follow the suggested schedule. Students will read the following books:
Pudd'nhead Wilson by Mark Twain
The War of the Worlds by H.G. Wells
The Friendly Persuasion by Jessamyn West
Peter Pan by Sir James Barrie
Warriors Don't Cry by Melba Patillo Beals
A Tale of Two Cities by Charles Dickens
Fahrenheit 451 by Ray Bradbury
The Screwtape Letters by C.S. Lewis
It is recommended that you use the author's suggested versions of the books so that page numbers and assignments will line up. You can find them at the bottom of this page.
There are numerous skills and objectives for this course. Students learn literary terms, writer's devices, and story elements. They will increase vocabulary, and develop their writing through writing exercises. They will also understand conflict, become discerning and savvy readers, and understand what authors do to mold their hearts. The author has created a course in which she believes that even those who do not love to read and have not enjoyed other literature courses will be able to be successful and thrive in this course.
I am reviewing Illuminating Literature with my 8th grade son. He is a little bit under the suggested age range. I was interested in reviewing this program because I have not been able to find a literature program that I thought would be well suited to him. I really liked Sharon Watson's philosophy, that it is basically a student lead course, and the book selections were choices that I thought Nick would enjoy reading.
So we started with the "Start Here" section which gives the student information about what literature is and then asks the student a few questions. A few examples of the questions and my son's answers(there are different choices and they could check one or more):
Why Should I Study Literature?
Reading literature gives me less of a headache than math does.
I'll get in trouble with my parents if I don't read this stuff,
What Do I want to learn from this course?
I want to learn how to get through literature without losing my mind.
Aren't teen age boys fun?
One of the things I really like (and Nick may even admit that he likes it too) is the author has a very conversational tone and writes on the student's level without talking down at all to them. She isn't stuffy or formal and explain things in a way that makes sense. She goes into a lot of detail for the student about the author, and the background of the stories and time period. In addition to the vocabulary questions and questions about literary elements there are suggested activities for each book. Some of the activities are things like: creating a calendar, painting or drawing a picture, watching the movie and writing a review, creating a timeline, doing an interview, writing a short story, and more. I also really like the option of having the online quiz and that the student can go through and do most of the work on their own with the teacher being there for guidance and discussion. The idea of turning this course into a Book of the Month club or a co-op can also be a great option and you will find plenty of help and direction in the Teacher's Guide to help with that.
Because Nick is on the youngest end of the age range for this course, we are not planning on completing it all this year. I am planning on having him work through half of the books this year and then picking it up again next year.
To see what my Crew Mates had to say, stop by the Crew Blog!